Muhlenberg welcomes C.F. Martin IV of Martin Guitar as 2016-2017 Executive-in-Residence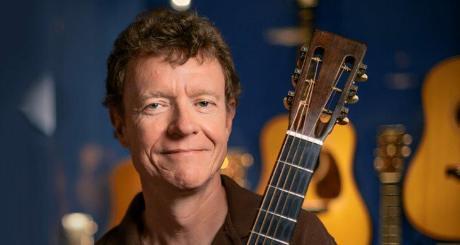 From March 20-21, Martin will become a part of Muhlenberg's community, speaking with students and faculty in both classroom settings and personal meetings to discuss career development and entrepreneurship.
By: Victoria Marsala '17 Thursday, March 16, 2017 00:16 PM
He will also present a lecture, "Building and Leading a Cultural Enterprise," to the campus community.
C. F. Martin & Co. has been in business for over 150 years, and their guitars are recognized worldwide for their outstanding quality. The company's contributions to the music industry and music history in general are considerable.
C. F. Martin, IV, or "Chris" as he prefers, is the sixth generation of Martin family members to take the reins of the family business. Martin is a New Jersey/Pennsylvania native and a graduate of UCLA. After gaining much experience working in the Martin guitar factory, he went on to become Assistant to the President and then Vice President of Marketing. When C. F. Martin III passed away, the then-30-year-old Martin took over his position as Chairman & CEO.
Under Martin's leadership, the company has thrived and reached new levels of success, while still maintaining its integrity and esteem. He has refocused the company on its strengths of steel-stringed acoustic guitars and strings, helping to reestablish Martin Guitar's international reputation as the best quality acoustic guitars.
The Executive-in-Residence program is sponsored by the business administration program at Muhlenberg College. The program is designed to immerse business leaders into Muhlenberg's campus community while introducing students and faculty to the executive experience, providing an in-depth and personal understanding of the operation of specific companies.
Founded in 1848, Muhlenberg is a highly selective, private, four-year residential, liberal arts college located in Allentown, Pa., approximately 90 miles west of New York City. With an undergraduate enrollment of approximately 2200 students, Muhlenberg College is dedicated to shaping creative, compassionate, collaborative leaders through rigorous academic programs in the arts, humanities, natural sciences and social sciences as well as selected pre-professional programs, including accounting, business, education and public health. A member of the Centennial Conference, Muhlenberg competes in 22 varsity sports. Muhlenberg is affiliated with the Evangelical Lutheran Church in America.