This Adweek "Young Influential" Recounts Muhlenberg's Influence on Her
Kate McLaughlin Santore '06 recently received the honor for her work on The Coca-Cola Company's marketing team.
By: Meghan Kita Tuesday, November 28, 2017 04:25 PM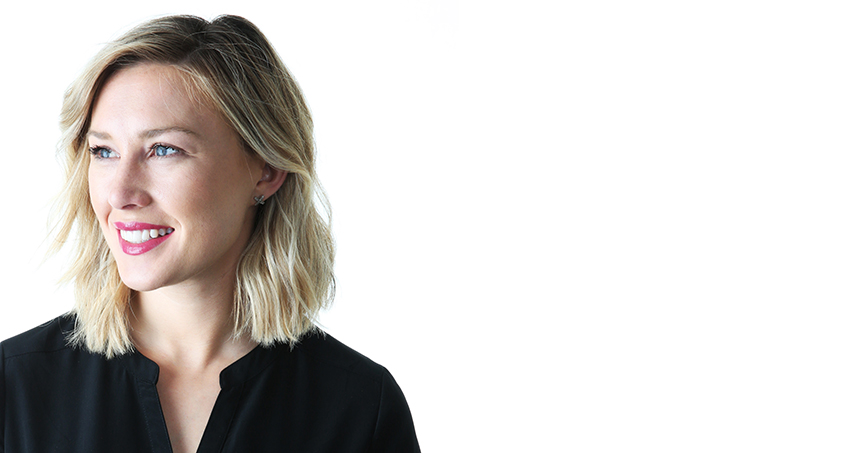 Kate McLaughlin Santore '06 was named one of Adweek's 10 Young Talents Who Are Defining the Next Generation of Marketing. Photo by Marc Andrew Stephens.
Now that Kate McLaughlin Santore '06 and her husband live in Atlanta, they have plenty of friends who attended schools that are part of the Southeastern Conference (SEC)—public universities like the University of Georgia with tens of thousands of students and a social scene that centers around football fandom. While the two transplants from the Northeast have embraced this somewhat foreign culture of "tailgating on Saturdays and over abundant school spirit," as Santore puts it, her allegiance lies with her alma mater.

"At Muhlenberg, I had the opportunity to speak up and take on things that probably would have been way too intimidating for me to do at a large school," she says.

She ran for student government, for example, and she felt comfortable enough with her professors to challenge and question them. Santore was a business major, and she recounts negotiating with one professor in that department, saying, "What you're asking us to memorize seems irrelevant. It's a lot of details we won't apply elsewhere, but we do need to practice the application of those details, so can we have an open-book test?" He asked her to write up an argument supporting her position. She did, and it convinced him.
"Muhlenberg helped spark a fire in me; that ability to challenge the status quo, not everyone likes it or is comfortable doing it," Santore says. "But you can't make headway or drive innovation if you keep doing the same things over and over again."
Santore, who works at The Coca-Cola Company as their senior integrated marketing content manager, was named last month to one of Adweek's Young Influentials lists, 10 Young Talents Who Are Defining the Next Generation of Marketing. Her job requires her to think creatively about one of the most well-established brands in the world to tell a unified story across a multitude of platforms and screens.
"Our wildly successful Share A Coke campaign is an example—the idea you can find your name on the iconic Coca-Cola contour bottle. It's my job to help bring the story of Share A Coke to life and think through what that campaign looks like on TV, on social media, on packaging, on mobile devices, et cetera," Santore says. "Each element is a piece of the larger story delivering different dimensions of what it means to Share A Coke."
Santore arrived at Coca-Cola in 2012—her husband, a pediatric surgeon, was beginning his fellowship at Emory, and they planned to move back to NYC shortly after he finished. Santore remembers thinking, "If we're only going to be here in Atlanta for two years, I have to work at Coke. I'm a big fan of their work and their creative thought leadership. I wanted to figure out their secret, thinking of it like a two-year master's program in marketing completely opposite from my previous work in startups." Instead, they both enjoyed the south so much—and excelled at their jobs so much—that they're still there, five years later.
"It's very difficult to move into a 100-plus-year-old company like Coca-Cola and be the marketer that she is," says Sam Laposata, part-time lecturer in accounting, business, economics and finance whom Santore recalls as a mentor. "If I were starting a business, I would hire Kate. I'm not even sure for what, just to have her there, because she's such a hardworking, bright, innovative person."
When Santore was a student, she says, her rapport with Laposata extended beyond the classroom. "We'd go to lunch once a month and talk about current business challenges," she says. "He encouraged me to push, to think differently and not accept the status quo, which prepared me for some things I would encounter working in both the startup and corporate world."

"That's one of the benefits of Muhlenberg," she adds. "My husband and I have some SEC jealousy, but I don't know if many of those students had the opportunity to have lunch monthly with one of their professors."