To Tell Stories for Others, First Learn to Share Your Own
Mike Doyle '94 stressed the importance of building strong relationships with peers and alumni to visiting students interested in public relations.
By: Meghan Kita Monday, October 9, 2017 08:10 AM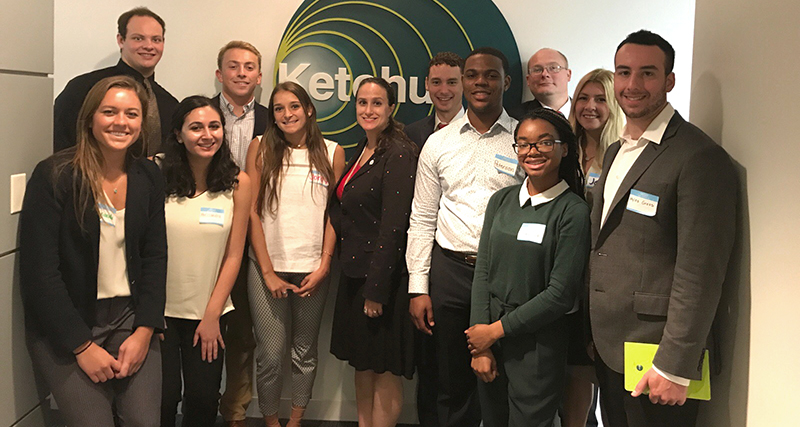 Muhlenberg students visit public relations firm Ketchum on the 2017 Career Road Trip to New York City. Photo courtesy of Tom Dowd.
For Mike Doyle '94, Muhlenberg was love at second sight. He considered going elsewhere, but his father convinced him to make one return trip to Muhlenberg. On that visit, the two of them stepped in to see Egner Memorial Chapel. They ran into the late Frank Marino, who coached football, volleyball and men's and women's lacrosse for 28 years. Marino was sitting quietly when they entered, and then, as he rose to leave:
"He said hello, he put his hand on my shoulder and he said, 'You're going to come here, and your life is going to change,'" Doyle says. "And it did change, in 100 ways I didn't expect. Going to Muhlenberg was one of the most important decisions I've ever made."
More than 20 years later, Doyle married his husband—a fellow Mule he met as a college student—in that same chapel. It was the first same-sex marriage of two graduates at Egner.
This is just one of the stories Doyle shares with the 10 current students who came to visit his workplace, Ketchum. The public relations firm was one of six places students could visit on the second annual Career Road Trip to New York City. Doyle is a charismatic teller of tales, and as regional president of Ketchum North America, he has built a career using his gift to help clients shape their own narratives. And while he didn't set out to work in public relations, he credits his Muhlenberg degree—in English and psychology—with preparing him for the field.
"The work that we do is very much about understanding relationships and the power of motivation," Doyle says. "I tap things that I learned in school all the time."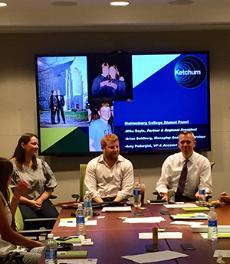 After the group toured the office and participated in a brainstorming exercise, Doyle (pictured, right) fielded questions from students with his coworkers and fellow alumni Amy Podurgiel '01 (left), vice president and account director, and Brian Goldberg '08 (center), managing account supervisor.
"Having the chance to hear from alumni who used to be in our position and now are successful professionals was extremely insightful," says Jordy Bonvini '18, a media and communication and business administration major. "They gave us advice on how to network and communicate with others and what the PR world is really like."
Jordy already had some networking experience: Last year, the Career Center helped her get in touch with Doyle as she searched for internships. "I got a chance to have an informational phone call with him," she says. "I actually used one of his pointers to help me land my summer internship," at Gillian Small PR in Hoboken, N.J. After she signed up for the Ketchum visit, Jordy sent Doyle an email, reminding him of their previous conversation and letting him know she was looking forward to meeting him in person.
Doyle uses this as an example of what students should be doing: "Everything starts and ends with relationships," he says. "It will always be about the people you maintain relationships with."
This rings true for him personally: He spent a year working in the shipping industry when he was fresh out of college, thanks to a lead from a fellow alumnus. When he realized that wasn't for him, he was hired in Ketchum's Washington, D.C. office by a hiring manager who had spent a year at Muhlenberg. "I don't think I've had a step in my career that didn't tie back to Muhlenberg," Doyle says. "I'm incredibly grateful to the College."