Watch and Learn at the International Week Performance Night
One group performing knows that dance is a universal language—especially at Muhlenberg.
By: Meghan Kita Thursday, October 19, 2017 10:35 AM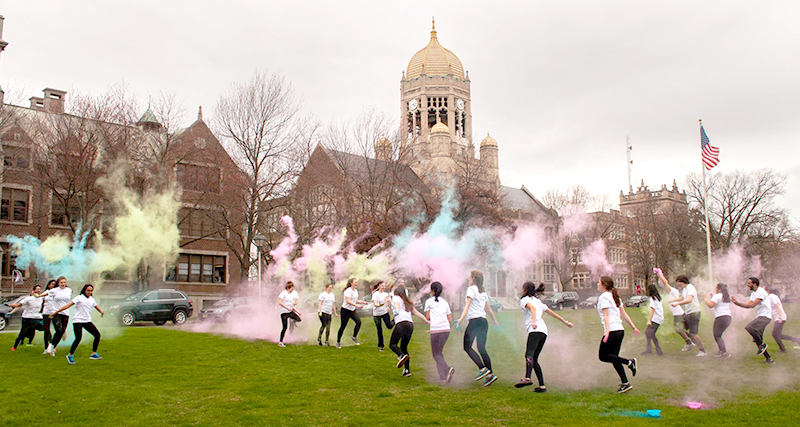 The Top Naach Dance Club wraps up its performance at Holi, the Hindu festival of colors, in spring 2017. Photo courtesy of Taj Singh '19.
When Amisha Datta '21 pictured her college experience, she figured she'd join her school's Indian Student Association. Amisha's parents are both from India, and while she was born in the United States, she lived in India for a year and a half before her family moved to China. After Kim Nguyen '07, Muhlenberg's international student coordinator at the time, visited Amisha's high school in Shanghai, she liked her first impressions enough to pay a visit to campus.
But though her class was to be among the most diverse Muhlenberg had ever enrolled, she could see the College was predominantly white. While there is an International Student Association (ISA) at Muhlenberg, there's not an Indian Student Association specifically. Still, Nguyen connected Amisha with Taj Singh '19, one of the founders of Top Naach Dance Club, a Bollywood dance group that's open to students of all backgrounds. To Amisha, it seemed a perfect fit.
"I've been a dancer my whole life," Amisha says. "Dance is an easy way to show people a culture. You just have to watch. You don't have to know anything to understand it."
Now, in her first semester on campus, Amisha is helping to choreograph Top Naach's fall routine. The club will make its current-academic-year debut at the International Week Performance Night that caps off International Week, a cultural celebration that begins today. (The full schedule is available below.)
International Week evolved out of a single-day food and performance festival hosted by the department of languages, literatures & cultures. Two years ago, the department began partnering with the ISA to expand the programming.
"Students on this campus have wonderful opportunities around them to learn from other students about their cultures," says Eileen McEwan, associate professor of French and department chair of languages, literatures & cultures. "International Week is meant to showcase these other cultures and languages and to explore what it means to be a global citizen."
At a College like Muhlenberg, dance is an especially effective way to do that, Taj says. "If it was at another institution of the same size, not as many people might join or be interested," he says. "A lot more people on this campus have prior experience with dance."
Top Naach's two major performances are timed to coincide roughly with Diwali, the festival of light, in the fall and Holi, the festival of colors (see above), in the spring. But there's an upside to being a part of the International Week Performance Night: "Not only can we perform there, but our members can stay and watch other cultural performances," Taj says. "We want to educate people on Indian culture, religions and stereotypes, and every other group performing is trying to find ways to do the same with their cultures. "It's a fun and engaging way to do it, instead of it being a passive and serious conversation, which can sometimes discourage people from getting involved."
International Week (October 19-26) Schedule:
Thursday, October 19, 7-9 p.m., Seegers Event Space: comedian/guest speaker Javier Avila, "The Trouble with my Name"

Sunday, October 22, 4-5:30 p.m., St. John's Lutheran Church, 37 South Fifth Street, transportation from CA at 3:30 p.m.: "Katherine Luther," a play by John Trump, Muhlenberg alumnus and pastor in Columbia, S.C., performed by Muhlenberg College Theatre students

Monday, October 23, 4-6 p.m., Parents Plaza: International Week banner decorating and raising (organized by ISA)

Monday, October 23, 7-9 p.m., Fireside Lounge: International Poetry Night and dessert reception

Tuesday, October 24, 12-7 p.m., Seegers Union: International Clubs Fundraising

Tuesday, October 24, 7 p.m., Civic Theatre (19th Street): "Embrace of the Serpent" (Colombian film), $8 with Muhlenberg ID

Tuesday, October 24, 7-9 p.m., Trexler Library: "Where in the World…" Trivia Night (teams of 3-6 players)

Wednesday, October 25, 12:30-2:00 p.m., Ettinger 103 LC Commons: International Alumni and Student Panel via Zoom

Thursday, October 26, 6:30-8:30 p.m., Seegers Event Space:

International Week Performance Night

, international menu options in Wood Dining Commons
Fundraising all week for Puerto Rico: Look for bins on campus and at events that specify which products are suitable for donation.