Hearing Students' Voices, No Matter the Language
Working with adults through the office of community engagement helped shape this aspiring elementary school teacher's approach in the classroom.
By: Meghan Kita Thursday, June 7, 2018 03:09 PM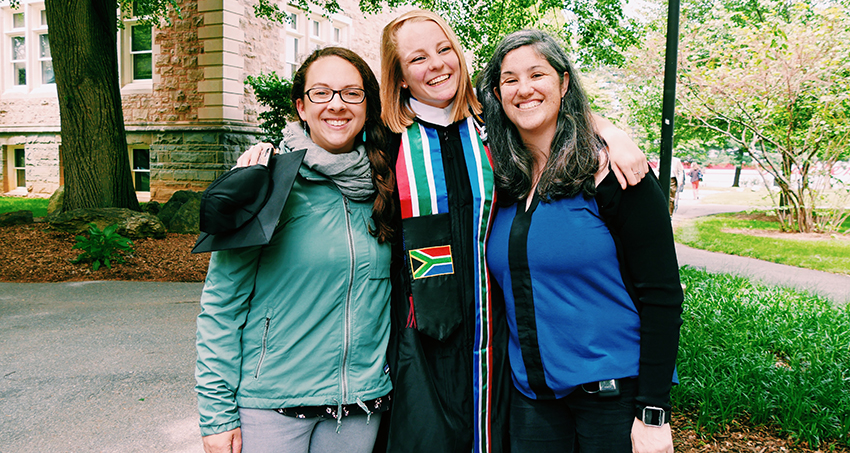 Cat Ward '18 (center) with Eveily Freeman (left) and Beth Halpern (right) of the office of community engagement. Photo courtesy of Cat Ward.
Cat Ward '18 spent almost as much time in local elementary schools as she did on campus as she pursued an English degree and completed the pre-kindergarten through grade 4 education program. In addition to her semester of student-teaching at Muhlenberg Elementary, just blocks away, she spent several semesters working with Roosevelt Elementary in the southeastern section of Allentown. As a student employee of and volunteer with the office of community engagement (OCE), she participated in the America Reads tutoring program at Roosevelt starting in her first year, and she worked with Muhlenberg Community Dance Center (MCDC) to launch a dance program there during the spring semester of her junior year.
So, when Beth Halpern and Eveily Freeman, director and associate director of the OCE, approached Ward before her final semester and asked her to co-coordinate an adult English Language Learners (ELL) program, it was solidly outside Ward's comfort zone.
"It was a total learning and growing experience," she says. "I liked to think I was receptive to feedback, but younger students tend to be less vocal. The adults were unafraid to give their opinions, which helped me realize how important it is to make sure students' voices are heard in the classroom regardless of age."
Though Ward had some experience working with ELL children, the in-school environment tended to be more controlled and predictable than the weekly meetups she'd be organizing for adults.
"The students who have stuck with ELL have really grown to recognize the lived experience of people," Halpern says. "Sometimes your kids get sick and you can't come. Sometimes you lose your housing so you're unable to stay in this particular space. Sometimes you have to work. It allows the students to really be present, to think, 'How can we work together in this moment?'"
Ward, who describes herself as "a really organized person," came up with lesson plans for each week at the start of the semester—plans that needed to evolve or, sometimes, be scrapped entirely depending on the students' goals.
"Talking to the students helped shape how the class went: I wanted to create a classroom culture that promoted collaboration and community," Ward says. For example, she'd planned to have each Muhlenberg student work with one ELL student each week, but when the ELL students asked for a conversation circle, Ward held a session that way. After that, sessions were split into one-on-one work and group-conversation work.
This collaborative model reflects Ward's talents as an educator: "She makes people feel valued," Halpern says. "She can make them see the power within themselves that already exists and help them build on those strengths."
Ward is moving on to the University of Pennsylvania to pursue her M.S.Ed. in Teaching English to Speakers of Other Languages (TESOL), a path she decided on after taking her cluster courses (ELL and geography) with Freeman and Mark Emerick, lecturer in education. But she credits her time co-coordinating the adult ELL program with helping her find a "love for language in the classroom."
"We did our best to create that equitable environment, making whatever language the adults were bringing to the table as valuable as the English we were bringing to the table," Ward says, adding that the student she worked with most helped her learn a lot of Spanish. "It's about letting the students know they have something to offer the teacher, who's thought of as this all-knowing figure, which is so not true. We're all learning."