Muhlenberg College's Institute of Public Opinion Earns Top Rating
Powered by student pollsters, the Institute earned an A in the 2018 national rating published by polling analysis website FiveThirtyEight.
By: Kristine Yahna Todaro Wednesday, August 15, 2018 04:45 PM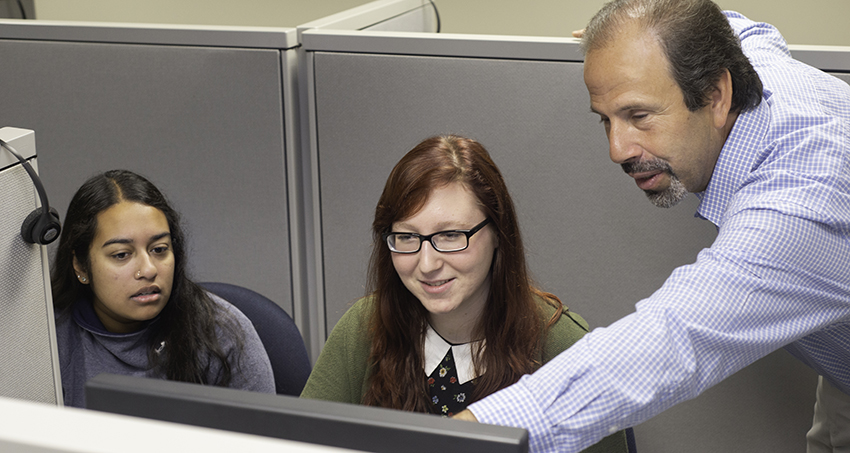 Student supervisors Prianka Hashim '19 and Abigail Edwards '19 work with Chris Borick, director of the Muhlenberg College Institute of Public Opinion.
FiveThirtyEight's most recent national polling analysis gave Muhlenberg College's Institute of Public Opinion (MCIPO) an A rating, putting it again among the nation's top pollsters.
MCIPO was also recognized by FiveThirtyEight in 2016 when it received an A- grade, as well as in 2014, when it ranked first among all colleges and universities in the nation and 10th overall.
FiveThirtyEight's ratings are calculated by analyzing the historical accuracy of each organization's polls along with its methodology. Accuracy scores are adjusted for the type of election polled, the poll's sample size, and the performance of other polls surveying the same race, among other factors.
MCIPO is a state of the art public opinion research center that measures the public's views on electoral and public policy issues with a concentration on environmental and health matters. Founder and director Christopher Borick, professor of political science, is a nationally recognized researcher who has conducted more than 300 large-scale public opinion surveys over the past two decades.
One feature sets MCIPO apart from all other college- or university-affiliated polling organizations: All the interviewing is done—after thorough training by Borick—by Muhlenberg students.
"It's great to have the tremendous work of the Institute recognized by FiveThirtyEight," said Borick. "Our student management team and interviewers work extremely hard to produce high quality public opinion research, and over the years our track record of performance has been outstanding."
"I'm extremely proud of all the hard work the students do and the initiative they take to be engaged with the community in a non-partisan and equitable manner," added MCIPO's head supervisor Prianka Hashim '19, a neuroscience major. "Working at the Institute has allowed me to gain insight by being exposed to the diversity of opinions held by the American population and being involved with important topics I am not directly studying."
FiveThirtyEight isn't the only one recognizing the outstanding work of the student-powered Institute. The surveys the team conducted, including the Pennsylvania 2018 Midterm Election Poll, have garnered steady national and international media attention. Because experts consider the state's recent elections an indicator for the upcoming national elections, MCIPO's spring midterm election surveys have been featured in outlets such as Associated Press, CNN, CNBC, NPR, Daily Mail, Huffington Post and more, reaching over 100 million readers.
In addition, a series of national climate and energy-related surveys the Institute's student team completed, released in partnership with the University of Michigan's Center for Local, State, and Urban Policy (CLOSUP) have received coverage this spring in national outlets including The Guardian (U.S.), United Press International (UPI), Axios, ThinkProgress, EcoWatch and GreenWire, plus several international news outlets, including Globo.com (Brazil)
"Working at the Polling Institute has definitely increased my interests in politics and environmental issues," says Jordan Zanetti '19, a neuroscience major and MCIPO's spring student director. "After taking Professor Borick's Public Health Policy class, I began working at the Institute with some knowledge about how much goes into politics and how much it takes to get policies implemented.
"The Institute has deepened that knowledge by allowing me to see first-hand how many varying opinions there are about each policy and politician. It's also been interesting to see how many people want their voices to be heard, and giving them a chance to state their opinions and beliefs has been such an eye opening experience," she added.
The Institute collaborates with Muhlenberg's public health program and its psychology department to ensure unbiasedness and survey accuracy. In order to provide research that meets the high standards of the American Association of Public Opinion Research (AAPOR), all student researchers are trained to follow standard scientific practices. The facility is equipped with a computer-aided telephone polling system, as well as a web-based interviewing system that allows for online polling. The Institute also employs quality control mechanisms such as multiple call-backs, survey pre-testing, and data entry verification to assure high quality data and analysis are provided for each project.
To learn more about Muhlenberg's latest polls and find detailed survey results, visit the MCIPO website.
About Muhlenberg College
Founded in 1848, Muhlenberg is a highly selective, private, four-year residential, liberal arts college offering baccalaureate and graduate programs. With an enrollment of approximately 2,200 students, Muhlenberg College is dedicated to shaping creative, compassionate, collaborative leaders through rigorous academic programs in the arts, humanities, natural sciences and social sciences; selected preprofessional programs, including accounting, business, education and public health; and progressive workforce-focused post-baccalaureate certificates and master's degrees. Located in Allentown, Pennsylvania, approximately 90 miles west of New York City, Muhlenberg is a member of the Centennial Conference, competing in 22 varsity sports. Muhlenberg is affiliated with the Evangelical Lutheran Church in America.