Annual Holocaust Program Teaches Middle School Students What "Never Forget" Really Means
For 26 years, Muhlenberg College has hosted "Youth and Prejudice: Reducing Hatred; Lessons of the Holocaust" for middle school students in the Lehigh Valley, a program designed to connect the atrocities of Nazi Germany to modern-day actions of hate.
By: Heather Mayer Irvine Wednesday, November 27, 2019 08:20 AM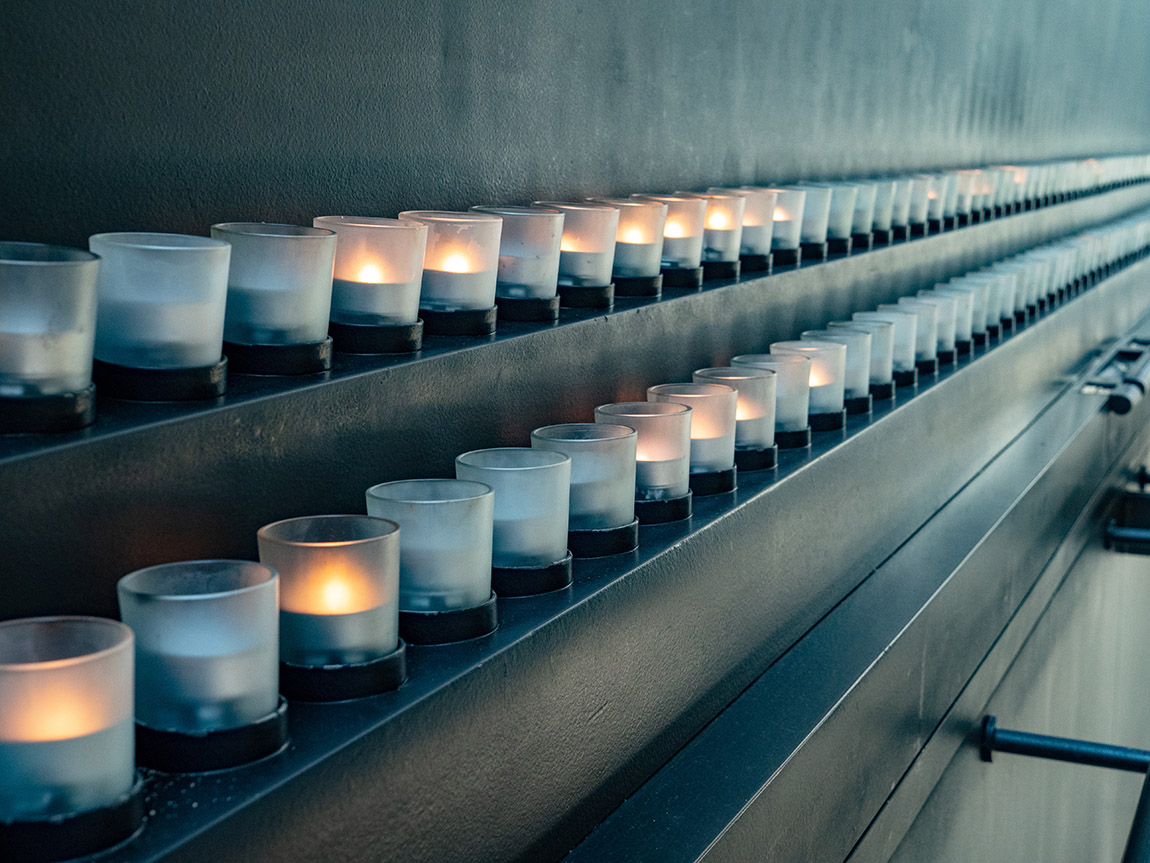 The Hall of Remembrance at the United States Holocaust Museum (photo by David Tran)
This year's lessons hit especially close to home, as acts of anti-Semitism and racism are on the rise.
Shari Spark, of the Jewish Federation of the Lehigh Valley, told an audience of middle school students that this year she stopped showing a 10-year-old movie about the threat of anti-Semitism to her eighth grade Hebrew school class. It was outdated.
"The danger is no longer of rising anti-Semitism," she said. "The danger is ignoring it. We cannot stay silent. It isn't lurking in the shadows. It's firmly out."
That's the message leaders of the program hoped to convey to this year's 640 participants: The Holocaust didn't happen all at once. It was years of rising anti-Semitism and of bystanders staying silent that led to the mass murder of millions of people.
"The 'little steps' idea illustrates how easy it is to be a bystander and let small acts of cruelty slip by because 'things aren't that bad yet,'" said Marcie Lightwood, schools program coordinator for the college's Institute for Jewish-Christian Understanding, who runs the program. "The long-term goal of the program is to inspire young people to pay attention to even small acts inspired by prejudice so they can continue to carry the pledge, 'never again' and understand that never again means—never again to anyone, anywhere, to any group of people."
The program kicked off with a student-directed play, "The Library," which depicted the life of Rachel, a young Jewish girl, growing up in Nazi Germany.
"It happened slowly. In little steps," Rachel, played by Ariella Markus '23, warns the audience of Hitler's rise to power.
In a talkback after the performance, assistant director Bekka Broyles '22 explained how everyone is guilty of unconscious prejudice "in some form or another."
"You have to be aware of the prejudices you hold and find ways to be an upstander instead of a bystander," Broyles said, pointing to how those small steps led to the Holocaust.
After the performance, the students broke into groups to hear survivor stories—moving presentations about escapes from Nazi Germany.
Collective Reflections
Nicholas Blue '20, a history major and business administration minor, has given six workshop presentations for the conference. He shares the story of his grandparents' escape from Germany on the Kindertransport, a British program that brought 10,000 children from Europe to Great Britain during Hitler's reign.
"This presentation is more important than ever in our current times," Blue said. "Middle and high school students are at the perfect point in their lives to understand the significance of the Shoah [Holocaust], develop a deeper internal meaning of it, make connections between what they learn about the Holocaust and the hatred they see on a daily basis and take action in their own lives to stand up to the hatred they see."
While Blue has a personal connection to the Holocaust, he hopes his story goes beyond sharing his family's past.
"I want to connect my family's story to larger themes and actions of hatred and prejudice that are evident on a global scale today," he said.
Kelly Flynn, an eighth grade language arts teacher at Orefield Middle School, has been bringing her students to the conference for the past five years.
The program, she said, is especially important today because of how exposed children are to messages of hate and cruelty through the news and social media.
"This overexposure to violence, prejudice and racism has undoubtedly desensitized them to varying degrees and distanced them from the damaging implications," Flynn said. "Our students today may not truly be able to understand the impact of the Holocaust on our world, but they can draw powerful connections between our society today and, hopefully, learn from the lessons of the past."
In January, Flynn's class will start a unit on the Holocaust and those who attended the conference will serve as facilitators and present their experiences.
She wants her students to understand the implications of the Holocaust and the human tendency to pass judgment on those who are different. She reiterates the point keynote speaker, Harrison Bailey III, principal of Liberty High School in Bethlehem, made to close the conference: Hate is a choice.
"Behind every emotion, feeling, there's a reason," Bailey told students. "It doesn't just happen. Hate is a choice. Choosing to treat each other well is a choice. You can't control what other people choose to do. You can only choose what you do. Tell hate you choose love."