Applied Knowledge
Associate Professor of Spanish Erika M. Sutherland teaches students interpretation skills that they use as they work with community partners.
By: Meghan Kita Wednesday, March 20, 2019 03:52 PM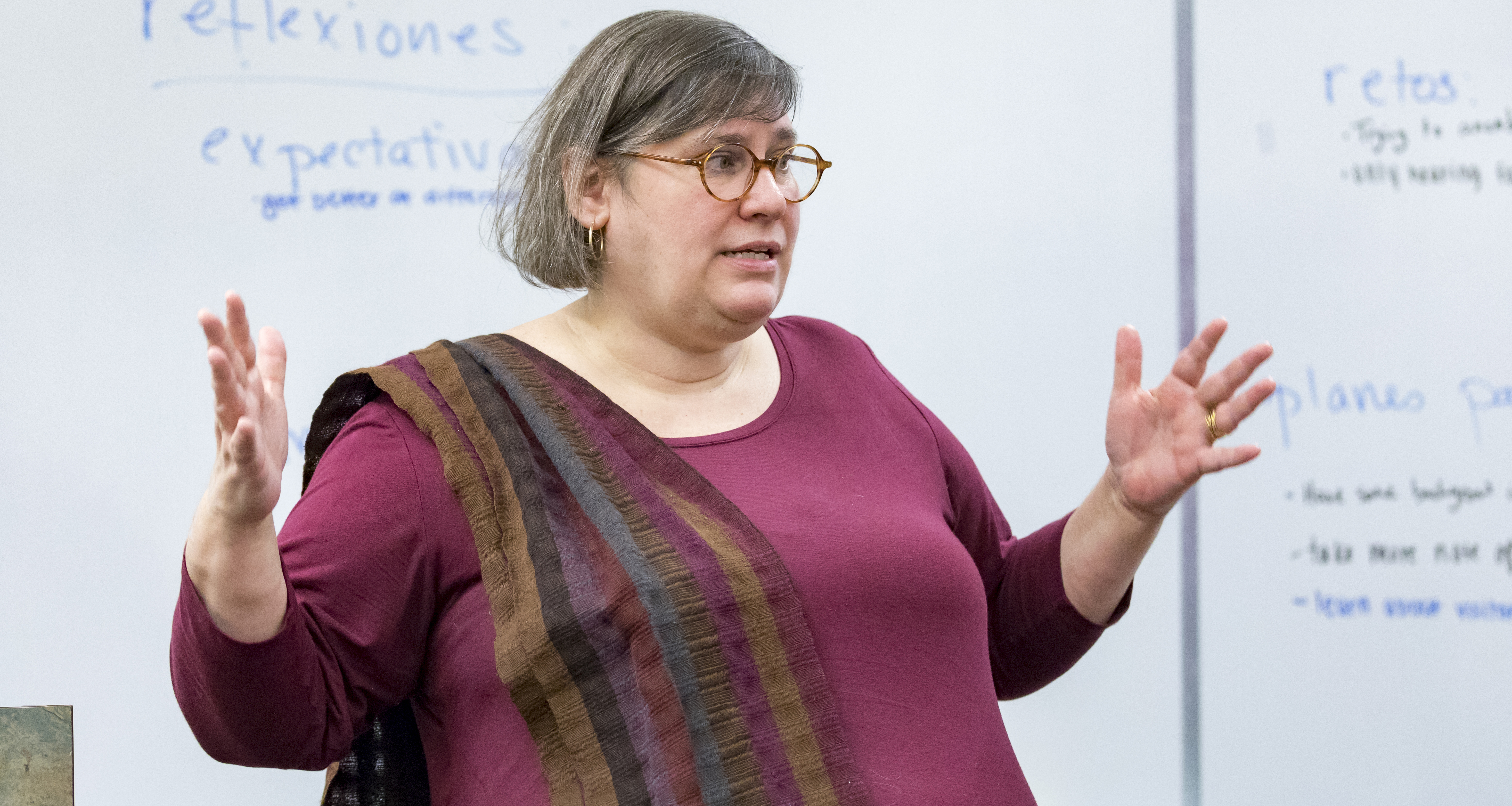 Associate Professor of Spanish Erika M. Sutherland leads her Spanish Interpreting class.
Tonight, the six students in Spanish Interpreting are experiencing one benefit of the small class size: There are more tamales than there are students. Ana Lopez '21 gets to take home the three leftovers from the batch the evening's visitor, Hilda González, brought to share.
González is in Ettinger 205 to talk about tamales, a traditional Mexican dish comprised of a meat, vegetable or sweet filling encased in corn dough, then wrapped in a corn husk and steamed. Speaking in Spanish, she discusses when they'd be served and the different ways they might be prepared and filled. Some students jot down notes; some stare at the floor, deep in concentration. Every few minutes, Associate Professor of Spanish Erika M. Sutherland asks the students to repeat back what they just heard, sometimes in English and sometimes in Spanish. This week, they're practicing their memory, a critical skill for interpreters. At the end of class, Sutherland previews next week's lesson: learning to interrupt people in a way that's not offensive, to break down their speech into translatable chunks.
Sutherland has been teaching interpretation to high-level Spanish students at Muhlenberg for 15 years. The class, which meets for two hours each week, begins with a group reflection on the previous week's experience. Then, a Spanish-speaking guest from the community comes, and students practice specific skills and hone their communicative capacity in the safe space of the classroom. The sessions get progressively more challenging, in terms of subject matter and understandability. For example, Sutherland recounts working with one guest to stage a mock interview for an immigration benefit. Another guest had dentures that affected the way she spoke.
The course also requires 40 hours of community-engaged-learning work. The first opportunity this semester is to interpret during parent-teacher conferences at an Allentown School District elementary school. The most skilled interpreters can end up working as medians in an immigration law office.
"As college professors, we are trained to be gentle as we correct our students or redirect mistakes, but when students are out in the community, people will be much more blunt about errors or points where comprehension is limited," Sutherland says. "When they're making mistakes, it's not that they don't know. It's that they're nervous. What I want to cultivate in the classroom is, 'This is your space to make mistakes. We'll keep pushing you and molding you to get the confidence.'"
Because almost 50 percent of the Lehigh Valley's population is Hispanic, Sutherland says, the demand for interpreters is high. As such, the course is not just about the how of interpreting, but also about the why: the politics behind interpreting services (or the lack of them) and behind students engaging with their community in this way. The constraints of the academic calendar can present a challenge for local partners, Sutherland says: "Their work goes 12 months a year, so it's hard for them to get specific assistance for just three months." For this reason, she has worked hard to develop and cultivate relationships with the organizations that welcome Muhlenberg students into their work.
In addition to teaching, Sutherland does medical interpreting, and she works with Lehigh County to train poll interpreters: She trained 87, including some Muhlenberg students, before the 2018 midterms, and she'll next hold the Spanish Interpreting class to coincide with the fall 2020 presidential elections.
When they graduate, Sutherland says, Muhlenberg Spanish students often report wishing they had more opportunities to use the language in real life—but there are plenty of such opportunities in the Lehigh Valley. She hopes more students will overcome the intimidation factor and learn to apply their Spanish knowledge in this way. "This is one of our classes that gets its hooks into students," she says. "Once a student feels that, 'I could do this. I see the need for it, the desperate need for it. I am bilingual. I can bring those interests and skills together in this really extraordinary way.'"