Community Cabinet Among New Initiatives Designed to Overcome Student Hardship
The debut of a College food pantry provides resources for Muhlenberg students experiencing scarcity or other hardship.
By: Bill Keller Tuesday, September 10, 2019 08:45 AM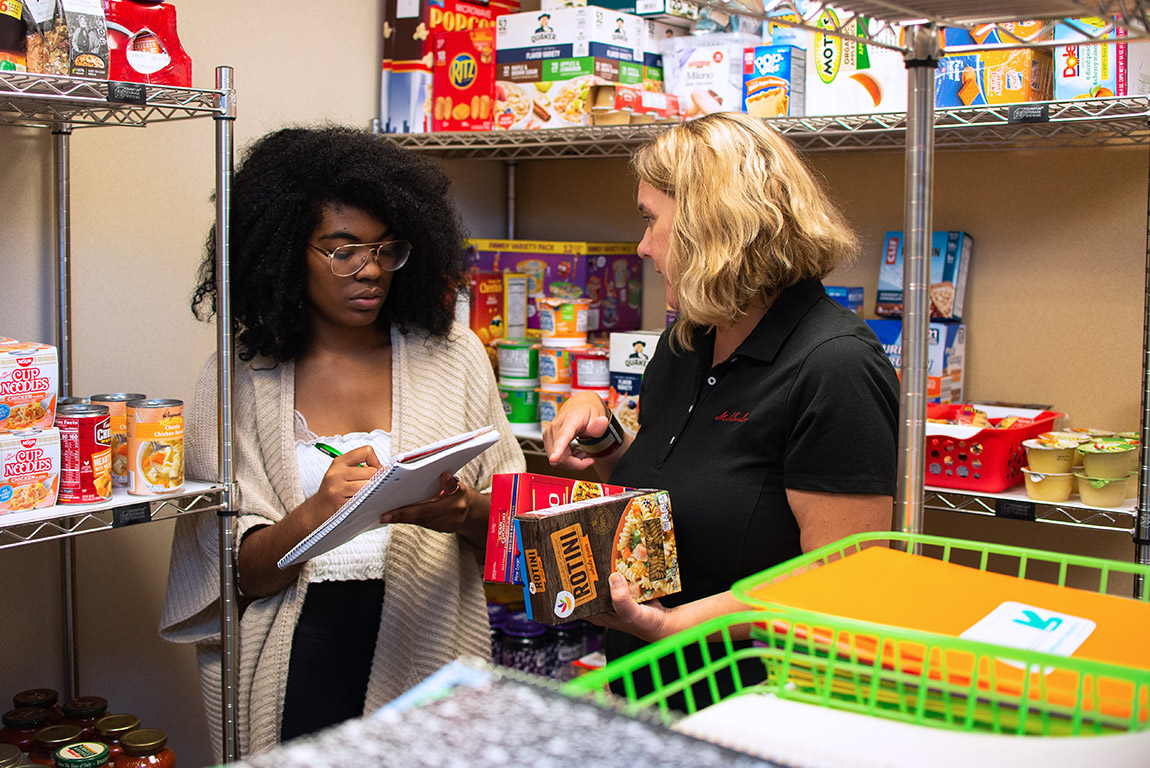 Student Director of the M.U.L.E. Community Cabinet Krystal Hall '21 and College Chaplain Kristen Glass Perez discuss inventory in the recently debuted space.
The M.U.L.E. (Muhlenberg Useful Living Essentials) Community Cabinet was designed to both meet existing student need and reduce the stigma around using hardship resources—specifically by soliciting campus community input, advertising inventory and means of access and placing the resource at the center of campus, where students are most likely to utilize it. The U.S. Government Accountability Office estimates that 57 percent of college students at risk of food insecurity (the lack of reliable access to a sufficient quantity of affordable, nutritious food) and eligible for assistance did not pursue or collect benefits available to them.
Students who live on campus (approximately 91 percent of the Muhlenberg student body) are required to have one of the College's meal plan options. But the presence of a meal plan doesn't always negate issues students experience with meeting nutritional needs or getting access to food at the right times of the day. And meal plans may be prohibitive for part-time, adult and commuter students.
The M.U.L.E. Community Cabinet, which opened in August, holds a supply of supplemental non-perishable food items, personal hygiene products and school supplies. Muhlenberg students may sign in on an iPad to gain access to the cabinet (located on the lower level of Seegers Union, room 059) for any items they need in any necessary quantity and will not be expected or asked to prove a need.

Community support has been encouraging, according to College Chaplain Kristen Glass Perez. She, along with Dean of Students Allison Gulati, led the on-campus planning and launch of the Community Cabinet. Following an afternoon working with Krystal Hall '21, student director of the M.U.L.E. Community Cabinet, to organize shelves full of donations, Glass Perez said, "I have heard from both students and staff that they're so glad we have this and wish it had been available earlier. And many noted that they've used a resource like this many times themselves."
In 2018, a survey distributed by the Muhlenberg Dean of Students' office explored the financial barriers to student success by asking for individual Muhlenberg student experiences and responses from faculty and staff who have served as confidants to students in need. The project sought to explore the issues that stop students from graduating or fully experiencing what Muhlenberg has to offer and followed up on frequent anecdotes from employees about students who needed "just a little more help."
Responses indicated that students experienced a variety of financial difficulties beyond what their family resources or financial aid could support--everything from pursuing academic and student life opportunities to returning home and securing food between semesters to paying for medical exams and prescriptions to obtaining course materials like books, art supplies and printed documents.
Glass Perez and Gulati know that student hardship isn't a concern unique to Muhlenberg but rather represents a broader national trend: A recent #RealCollege survey of more than 85,000 college students exploring issues of affordable food and housing found approximately 41 percent of four-year college students experienced food insecurity within the last 30 days. At even higher risk are marginalized student populations, first-generation college students, students without sufficient medical insurance and individuals who are considered financially independent from parents or guardians. Muhlenberg will be a participating institution in the #RealCollege survey for the first time this fall semester.
The M.U.L.E. Community Cabinet isn't the only attempt to combat issues of food insecurity on campus. Responding to student input, Muhlenberg Dining Services has implemented a meal-swipe donation program, allowing students to share unused meals with peers. The department also recently debuted Berg Bites—a new program where students can be notified via the iMuhlenberg mobile app when catered campus events have leftover food. Hillel's Challah for Hunger bakes challah bread for sale to combat food scarcity.
Combatting Financial Hardship
Food scarcity remains just one type of challenge that students face. For some, hardship takes the form of a missing safety net. Tuition is paid, costs are managed, everything goes fine—until it doesn't. A laptop breaks and needs to be repaired or replaced. A family emergency necessitates unexpected travel. A national study completed in partnership between the National Association for Student Personnel Administrators and the Gates Foundation found that students often need $500 or less in assistance to ensure that a financial emergency does not derail their timely graduation from colleges like Muhlenberg.
In other cases, the issue for a student might be that an opportunity that could help transform an academic career sits just out of reach. "There are costs that, as a student, you know you're going to pay for: room, board, books, tuition," says Glass Perez. "But then there are the additional costs to what we call high-impact practices— in-depth, intensive activities and experiences that facilitate learning beyond a traditional classroom environment—that separate an under-resourced student's experience from that of their peers."
According to Glass Perez, many of those additional student needs and opportunities (think athletics, academic conference participation, study abroad or unpaid internships) are also relatively small.
"When we look at our strategic plan for the College—which prioritizes diversity, equity, inclusion, access—we start to have students compromised because they cannot participate fully in the life of the residential liberal arts college experience that we want every Muhlenberg student to get," says Glass Perez. "It's our mission, as Muhlenberg College, as part of who we are called to be, to provide opportunities that are equitable and accessible for all our students."
This fall, students can apply for emergency and experiential learning grant funds to help cover expenses, beyond what is available through federal financial aid. The resources, made possible through College and alumni support, are designed to meet immediate student needs—like transportation home during a family emergency, the costs associated with a course field trip or a professional development certification.
A Collective Effort
In communication from their offices, Gulati and Glass Perez have shared ways for Muhlenberg community members to contribute to this effort and support students in need. A list of in-demand items are posted to the M.U.L.E. Community Cabinet website, and donation drop-offs can be coordinated by emailing mulecabinet@muhlenberg.edu. Individuals passing along concerns about a student can contact the Dean of Student's office at deanofstudents@muhlenberg.edu, by calling 484-664-3182 or by filling out an anonymous student concern form.
Faculty have become involved as well; this fall, a memo to faculty preparing class syllabi encouraged all course introductions to include information on the resources available for students experiencing financial hardship.
"Once students are admitted to Muhlenberg, they are part of this community," says Gulati. "Every student in this community should have the support and resources they need to thrive here and be able to equitably experience all that the institution has to offer."