Dare to Fail
Muhlenberg College wants its students to fail—not in a just-give-up way, but in a don't-be-afraid-to-aim-high-and-miss way.
By: Heather Mayer Irvine Thursday, April 4, 2019 03:22 PM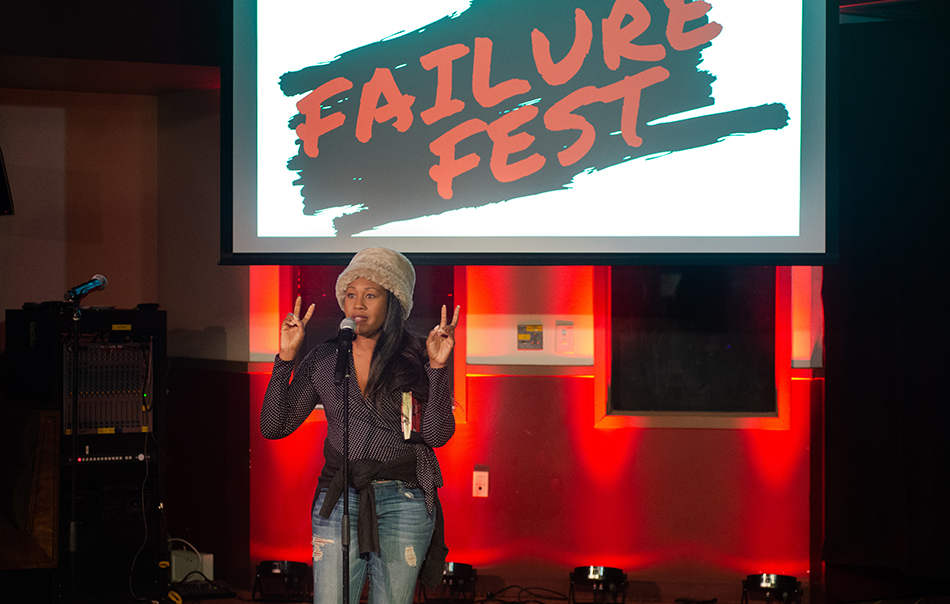 Actor Tanya Wright discusses the value of failure with Muhlenberg College students. Photo by Phelize Bristol '19
In an effort to help students embrace the spirit of messing up, the entrepreneurship club, BYOB (Be Your Own Boss), presented the second annual Failure Fest on April 3.
"This program is crucial because growing up in an age when we're taught to only show our perfect selves—on social media, on resumes—there is so much trial-and-error, so much behind the scenes and so much hurt that doesn't get spoken about," said sophomore Emily Sinensky, the founder of BYOB.
Failure Fest, inspired by a global event in which F stands for something other than failure, was held in Seegers Union's Red Door Café. The venue helped the presentation feel more like a stand-up set than a college lecture, which allowed the speakers to bring a sense of humor to their failures.
Tony Dalton, digital cultures media assistant, talked about how his 2-year-old daughter's can-do attitude inspires him to not give up and to trust leaps of faith.
Mohsin Hashim, professor of political science, said he owes his failure at economics to finding his success and passion in the field of political science.
"Fail and find your true calling," Hashim said.
The program's keynote speaker was the epitome of finding "blockbuster" success after hundreds and hundreds of failures. Tanya Wright of Orange is the New Black and True Blood fame emphasized the importance of persistence and embracing outcomes that weren't what you'd hoped or planned for.
"Failure can give you time to pivot, regroup and reassess what you were doing and how you were going about doing it," Wright said. "Look at failure as an opportunity."
Rita Chesterton, director of the Innovation and Entrepreneurship Program and faculty advisor for BYOB, hopes Failure Fest will remain an annual program that moves closer to finals time. Eventually, she would like to see it become a whole-day or weeklong program designed to promote resilience after setback.
Failure Fest seemed to be a success among the student audience: "The program was done very well, and it's very helpful to know that everyone fails, and the ratio of failure to success is much more failure," said Savannah Hastings '22, a theatre major. "But that makes the successes that much more valuable. We should embrace failure and not let it stop you from doing what you want to do."