Fellowships Help Power Research at the College
Strong financial support for student research makes exceptional undergraduate opportunities possible.
By: Meghan Kita Friday, December 13, 2019 11:09 AM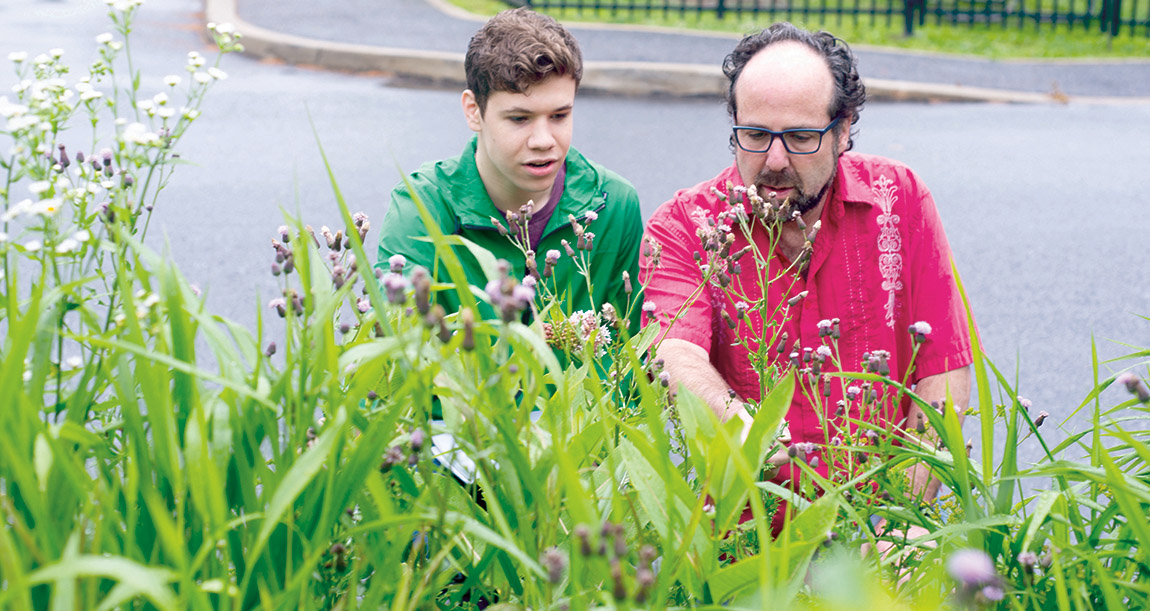 Research grants provide intensive experiences for students like Cole Geissler '21, seen here with his mentor, Professor of Biology Richard Niesenbaum.
In 2019, Muhlenberg experienced a record-breaking year for its Alumni Weekend research poster session—81 students presented their work, 62 of whom had conducted on-campus summer research. Those students had spent eight to 10 weeks exploring a topic of their choosing with a faculty advisor or participating in an existing faculty project. On-campus, part-time research continues throughout the academic year, with options to pursue both independent research for credit or paid research assistantships in faculty labs.
"Undergraduate research is a high impact practice that leads to powerful learning and personal development outcomes for students," says Kathleen E. Harring, interim president. "These experiences involve close faculty mentorship, regular feedback, opportunities to practice the liberal arts and the development of a scholarly identity. The skills, knowledge and confidence that students acquire as a result of these experiences prepare them for graduate and professional school as well as career opportunities."
Funding for research at Muhlenberg comes from a variety of sources, including national grants and the Office of the Provost. Donors, too, are increasingly stepping up to support this critical aspect of the Muhlenberg experience.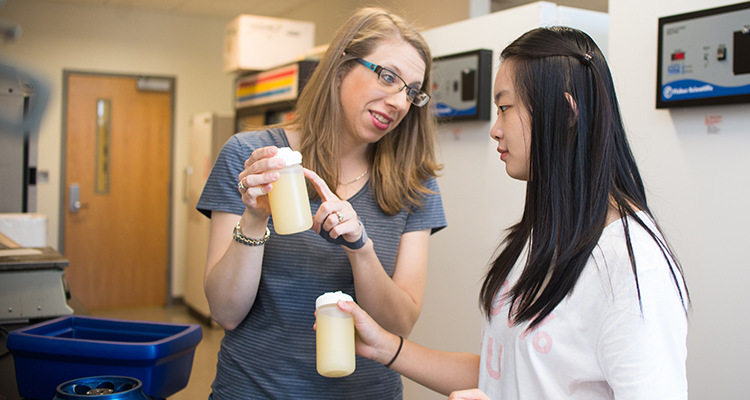 Professor of Chemistry Keri Colabroy works with summer researcher Yizhi (Vera) Fu '19.
For Timothy and Kathleen Mazur P'19, the decision to establish the Mazur Research Fund for Musical Inquiry, which will begin to be awarded next year, grew out of witnessing their daughter conduct research at Muhlenberg. Lauren Mazur '19, a double major in music and English who's now a law student at Marquette University, began conducting music research on American and Afro-Cuban jazz the summer after her first year at Muhlenberg with Kassie Hartford, assistant professor of music, as her advisor. Lauren continued work on the project throughout her time as a student, and it became her senior thesis.
"Her enthusiasm and her detailed knowledge of what she was researching, her happiness level, her sense of pride, her work ethic—it was amazing to listen to her," Kathleen says. "The opportunity to work one-on-one with a professor she admired was just such a great thing for her." The Mazurs wanted other music students to have the same kind of opportunity, which is why they set up the fund.
Jack Ladley '70 P'01 and Diane Schmidt Ladley '70 P'01 don't recall these kinds of research opportunities being available when they were both mathematics majors at Muhlenberg. But Jack, through his role on the Board of Trustees, has heard a great deal about the transformational power of these student/faculty collaborations. He and Diane recently established the Ladley Endowed Student Research Fellowship, which will support student research, focused on STEM projects, beginning in 2020. Both felt that this is ideal timing, coinciding with their 50th reunion next year.
"Our students are excited by these research opportunities, and the faculty is enthusiastic as well," Jack says. "[Establishing a fellowship] sounded like an excellent idea, a way to support highly motivated students but also to support the faculty. It really resonated with us."
During the 2019 Alumni Weekend, the Ladleys were able to see details and results of student/faculty research and the types of outcomes their fellowship might fund when they attended the aforementioned poster session. Both were impressed by the quality of the research and by the number of students participating.
"The students get to expand their learning in the classroom to projects outside the classroom," Diane says. "The chance for students to be funded, to get a stipend and to have a meaningful summer is important."