Robert Mahar Recognized at 2019 Honors Convocation
Mahar, director of infrastructure and networking in the Office of Information Technology, was named the recipient of The Chairman's Award.
Wednesday, May 8, 2019 04:49 PM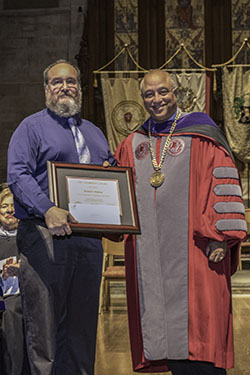 Director of Infrastructure and Networking Robert Mahar (left) is congratulated by President John I. Williams Jr.
The Chairman's Award is granted to a College staff member whose record of achievements have significantly contributed to the mission of Muhlenberg College. The award was presented by President John I. Williams Jr. and the citation was read by Trustee Julie Hamre '72.
Mahar has been employed at Muhlenberg for more than two decades, and he served as one of the architects of the College's existing network, server and storage infrastructure. At Honors Convocation, he was commended for his daily attitude and productivity and for his particularly prompt and effective response to a network outage that significantly impacted College technology in 2018.
For more information on Muhlenberg's 2019 Honors Convocation, including a full list of award recipients, view our recent article.