An Environmental Educator
In her role at the Audubon Naturalist Society, Nora Harkness Kelly '11 shares her love of nature with the next generation.
By: April Johnston Wednesday, March 11, 2020 08:03 AM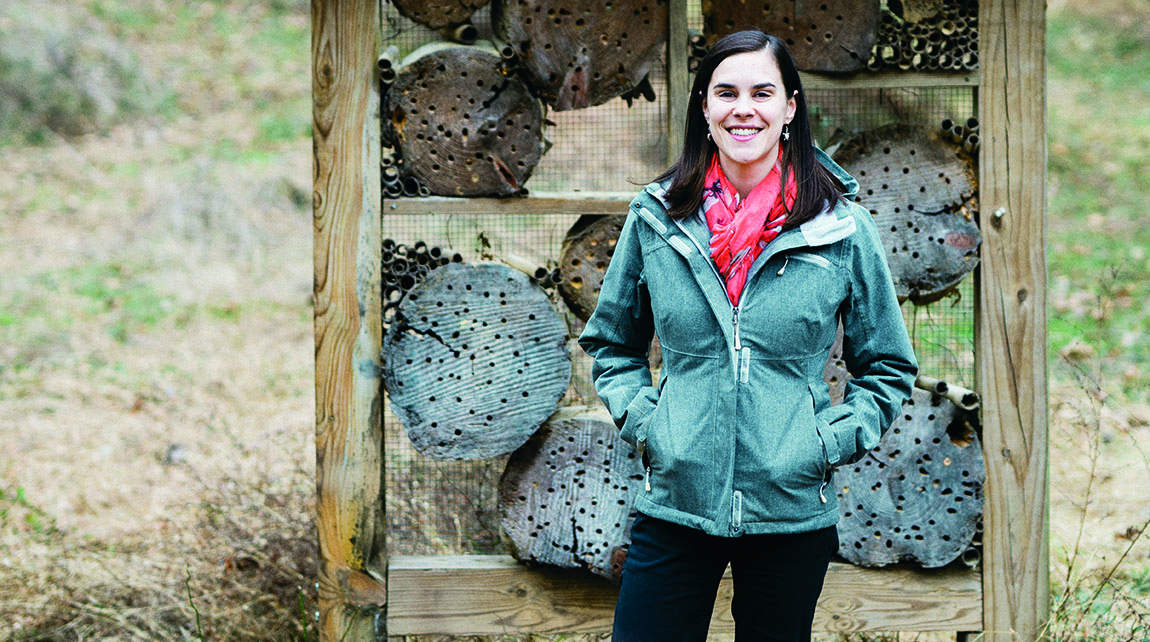 Nora Harkness Kelly '11 in front of a "bee hotel." Photos by Joshua Fernandez.
In her first job out of college, at the Nantucket Conservation Foundation in Massachusetts, Nora Harkness Kelly '11 led a group of high schoolers on a nature walk through the organization's grasslands. As they snaked their way along a sandy path, Kelly, an environmental science major who was working as a field research assistant, talked about the importance of land management. She hoped they'd be lucky enough to spy an interesting insect or two along the way—collecting bee and beetle specimens was part of her role.
Instead, the group stumbled upon a turtle laying her eggs in the sand. The students that day were visiting the tiny island off the coast of Cape Cod from inner-city Boston. They had never seen anything like this.
"I really got to teach them something," Kelly says
At that moment, she found her passion, at the intersection of teaching and nature. She'd never been particularly fond of what she calls "the nitty-gritty science" that happens in a lab or in fieldwork. She'd been drawn to her major by her own fond childhood memories of being outside: As kids, Kelly and her sister spent hours in their big backyard in Alexandria, Virginia, their imaginations transforming the expanse of green into a woodsy wonderland. Bowls of mashed up leaves and berries became elaborate meals; they became princesses (or adversaries) from neighboring lands. What if she could nurture this kind of early love of the outdoors in the next generation? What if she could carve out an entire career in environmental education?
After six months on Nantucket, she made it happen: She moved to Virginia to work as a youth educator with the Norfolk Botanical Garden. Since then, she's held several education positions at some of the mid-Atlantic's leading environmental centers, including the Virginia Aquarium and Marine Science Center and the National Aquarium in Baltimore, Maryland.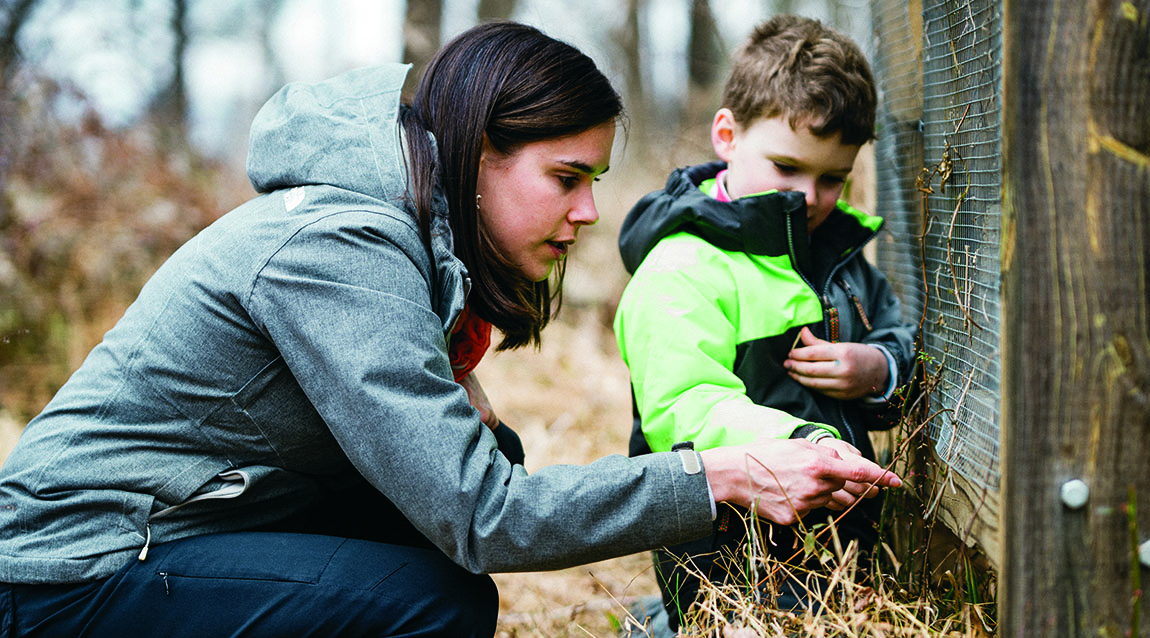 Today, Kelly is the camp director at the Audubon Naturalist Society, the oldest independent environmental organization in the Washington, D.C. area. The title is a bit of a misnomer, as she presides over more than just summer camps. During the school year, she travels to area elementary schools and presents programming like Garbology, which asks students to go through the cafeteria trash to see how much of it could have been recycled or composted.
"Their minds are blown," Kelly says with a laugh.
During the summer months, she coordinates 80 different camps for 1,300 students at the society's 40-acre nature sanctuary in Chevy Chase, Maryland. The camps are so popular that many fill up in the first 10 minutes of registration, and 90 percent of participants are return campers.
"A lot of what makes my job so fulfilling to me is that I'm connecting kids with nature," Kelly says. "They're going to be the next generation of conservationists and environmentalists. They're going to decide the fate of the earth. The earlier you can reach them, the better."
Among the camp offerings are Beginning Backpacking, in which teens hike 24 miles of the Appalachian Trail; Camp Cuisine: Master Chef, which has middle schoolers making meals using produce from an on-site garden; and Slugs to Bugs, in which the youngest campers (ages 4 and 5) get to turn over logs and investigate what lies beneath.
"The world is so fast-paced; we're giving them the opportunity to be present in the moment," Kelly says. "They don't have to memorize facts. There's no right answer. That can be really liberating for kids."
It's a lesson in mindfulness that Kelly finds herself returning to as she hikes the hills around her home with her dog. She always stops, removes her earbuds and closes her eyes, slowly picking out the sounds of nature all around her.
"It really reconnects you with the earth," she says.