Report Shows Progress on College Access, Opportunity Goals
The American Talent Initiative, of which Muhlenberg College is a member, is on track to enroll 50,000 more lower-income students by 2025.
By: Bill Keller Wednesday, February 19, 2020 04:01 PM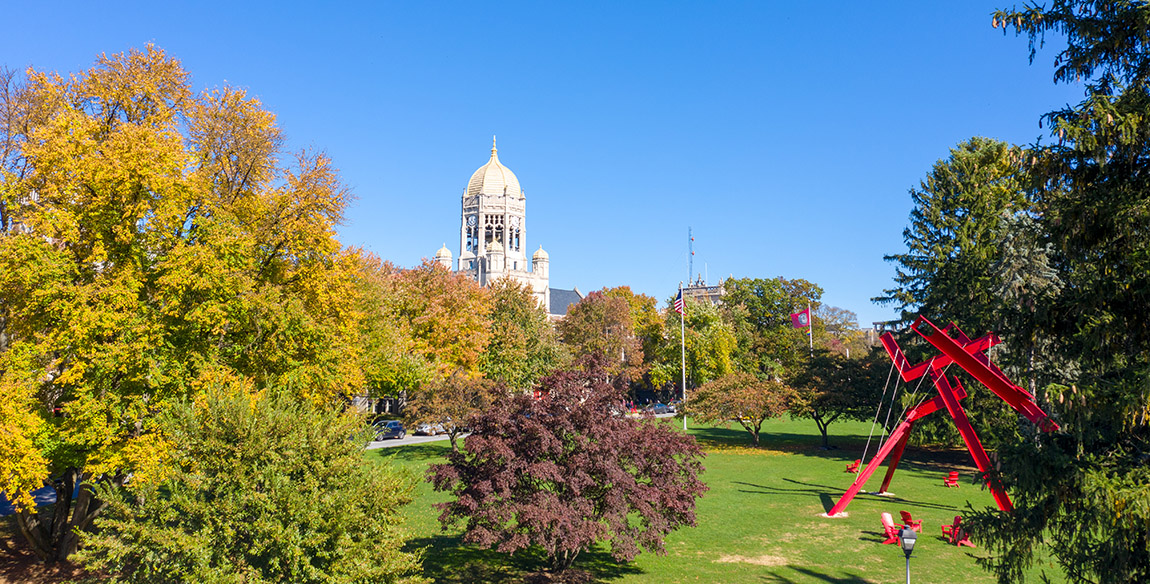 Photo by Shaun MacWilliams
The latest report from the American Talent Initiative (ATI), a nationwide consortium of colleges and universities committed to expanding higher education access for low- and moderate-income students, notes significant progress towards the enrollment goals set forth in 2016. ATI membership, which includes Muhlenberg College as well as many of the nation's other high-graduate rate colleges and universities, has grown from 30 founding institutions to 128 members by the end of 2019.
Muhlenberg and the other members of the national alliance have taken leadership roles in the enrollment of nearly 21,000 new Pell-grant eligible students between the 2015-2016 and 2017-2018 academic years. ATI members are responsible for a disproportionate increase in the number of total enrolled students who qualify for federal Pell grants, which provide need-based grants to low-income college students.
According to the report, member institutions sustaining or making the most progress take a comprehensive approach to socioeconomic diversity: having a visible, concrete commitment to this mission and strategy among senior leaders and trustees; expanding beyond traditional pipelines of incoming students; prioritizing need-based financial aid; and making sure lower-income students have what they need to thrive on campus in an inclusive environment.
In 2018, Muhlenberg enrolled more than 100 Pell-eligible first-year students for the first time, representing nearly 20 percent of the Class of 2022. Since joining ATI, Muhlenberg increased its enrollment of first-generation students across all class years from 230 in Fall 2017 to 354 in Fall 2018. Of those students, those eligible for Pell grants increased from 84 in 2017 to 169 in 2018.
Muhlenberg has remained focused on retention efforts for its students as well. The College has consistently maintained a six-year graduation rate in excess of 80 percent; importantly, those numbers have remained high for all students, including those eligible for Pell grants.
"When we speak to students and their families about paying for college, our advice goes much deeper than just information on tuition and scholarships, grants and loans," says Robert Springall, vice president for enrollment management at Muhlenberg. "Graduating—and graduating on time—provides an incredible advantage for college students. That is why we remain focused not just on getting students to enroll at Muhlenberg, but to support them, by all-means-possible, so they can complete their degree."
Muhlenberg continues to invest in strategies to make a four-year education attainable for first-generation students, including community college students: In 2019, Muhlenberg became just the fourth college in the nation to launch a chapter of Alpha Alpha Alpha, a first-generation college student honor society. That year the College also established a Phi Theta Kappa Scholarship program that provides $15,000 annual scholarships. Phi Theta Kappa is the world's largest and most prestigious honor society for two-year college students.
Muhlenberg faculty from a variety of academic programs serve as advisors to accepted transfer students, helping to answer questions and select classes. Transfer students also receive a specialized orientation experience to assist with the transition to Muhlenberg; for some, it's their first experience at a four-year institution.
Springall says, "It is important to Muhlenberg that our new transfer students feel that this is their college, even in the first few days, regardless of their last institutions."
The American Talent Initiative is supported by Bloomberg Philanthropies and managed by the Aspen Institute College Excellence Program and Ithaka S+R. The initiative is also funded by the Gray Foundation and the Jeffrey H. and Shari L. Aronson Family Foundation. ATI has grown from 30 founding members in 2016 to 128 members by the end of 2019. Muhlenberg joined ATI as a member in 2018.
About Muhlenberg College
Founded in 1848, Muhlenberg is a highly selective, private, four-year residential, liberal arts college offering baccalaureate and graduate programs. With an enrollment of approximately 2,200 students, Muhlenberg College is dedicated to shaping creative, compassionate, collaborative leaders through rigorous academic programs in the arts, humanities, natural sciences and social sciences; selected preprofessional programs, including accounting, business, education and public health; and progressive workforce-focused post-baccalaureate certificates and master's degrees. Located in Allentown, Pennsylvania, approximately 90 miles west of New York City, Muhlenberg is a member of the Centennial Conference, competing in 22 varsity sports. Muhlenberg is affiliated with the Evangelical Lutheran Church in America.