Campaigning Together Again
Two political science alumni who volunteered together in 2016 are collaborating on a Pennsylvania House of Representatives race in the Lehigh Valley this fall.
By: Meghan Kita Monday, November 2, 2020 10:41 AM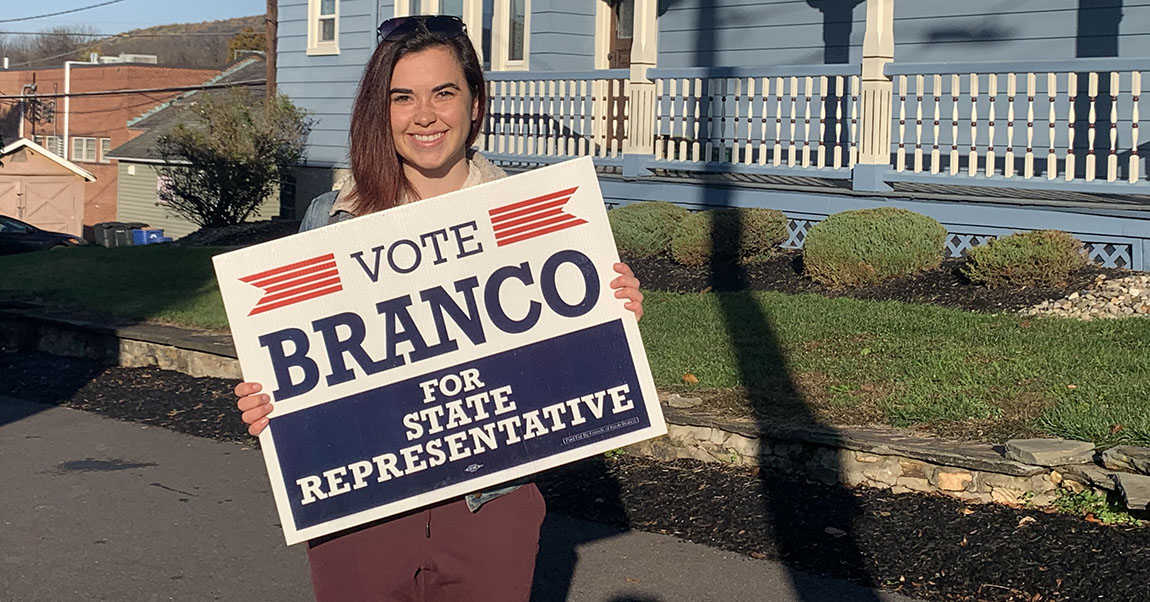 Maddy Vaver '20 is the field organizer for Kevin Branco, a Democratic candidate for the Pennsylvania House of Representatives.
Megan Lafayette '17 and Maddy Vaver '20 met during the Fall 2016 semester, when Lafayette was president of Muhlenberg's College Democrats and Vaver was a new member. They knocked on doors together on behalf of Hillary Clinton's presidential campaign.
Today, Lafayette, who's northeast regional director of the Pennsylvania House Democratic Campaign Committee (PA HDCC), supervises Vaver, who's field organizer for Kevin Branco, the Democratic candidate for the Pennsylvania House of Representatives in District 131.
"It's been so great working with Megan," says Vaver, who was a political science major and Spanish minor at Muhlenberg. "Since I lost two months of my time at Muhlenberg, it's nice to have someone who understands how hard and sad that was and can put herself in my shoes."
This pairing came to be through a web of local political connections. As a senior at Muhlenberg, where she was a double major in political science and history, Lafayette interned for Peter Schweyer, a Democratic member of the Pennsylvania House of Representatives representing District 22 in Lehigh County. Vaver interned for Schweyer as a junior.
Both stayed in touch with him, and Schweyer brought Lafayette on as a campaign manager for his primary race this spring. She transitioned to the PA HDCC role in June. Around the same time, Schweyer reached out to Vaver—he'd encouraged Branco to run and thought Vaver could be an asset to his campaign. Both Lafayette and Vaver have mostly been working remotely from their homes in New Jersey and Massachusetts, respectively.
Vaver's role has involved coordinating voter contact: recruiting volunteers, running phone banks, planning the routes for "lit drops," in which volunteers deliver campaign literature to voters' homes. (The campaign is not utilizing door-to-door interactions with voters due to COVID-19.) For Election Day, she needed to recruit and coordinate poll greeters (who stand outside with a candidate's campaign materials) and poll watchers (who need to be certified and keep an eye out for violations).
Lafayette's role has been to make sure the competitive races in the eight counties she oversees are following their campaign plans. She works with about 20 races, but six or seven (including Branco's) take up the bulk of her time. Tomorrow, she'll be in Harrisburg with the other members of her team, serving as a point of contact for the individuals she's been managing.
After Election Day, both Lafayette's and Vaver's current roles will end. But thanks to COVID, Lafayette was able to start remotely as a full-time master's in public administration student at the University of Washington this fall. She works 9 a.m. to 7 p.m. Eastern time then takes classes from 8:30 to 10:30 p.m. It's been a lot, but she has no regrets: "I'm bettering myself, getting an education and fighting for an election cycle I think I'd really regret sitting out of," she says.
Vaver hopes to find a more permanent position in Harrisburg next year, after the new Pennsylvania General Assembly has been sworn in and budgets have been worked out.
"I've made enough connections now where it is really viable for me to get a job," she says. And, she's built skills—including some experience with graphic design and social media management—that she never would have developed on a larger campaign. "I love local elections. If I were working for the Biden campaign, I'd be at the lowest level. Here, for this state race, I got to have so much creative control over so many things."