Community Engagement Goes Remote
While learning online himself this fall, Mike Albdewi '22 made a daily commitment to help students from Allentown's Roosevelt Elementary with reading and math via Zoom.
By: Meghan Kita Tuesday, November 24, 2020 03:51 PM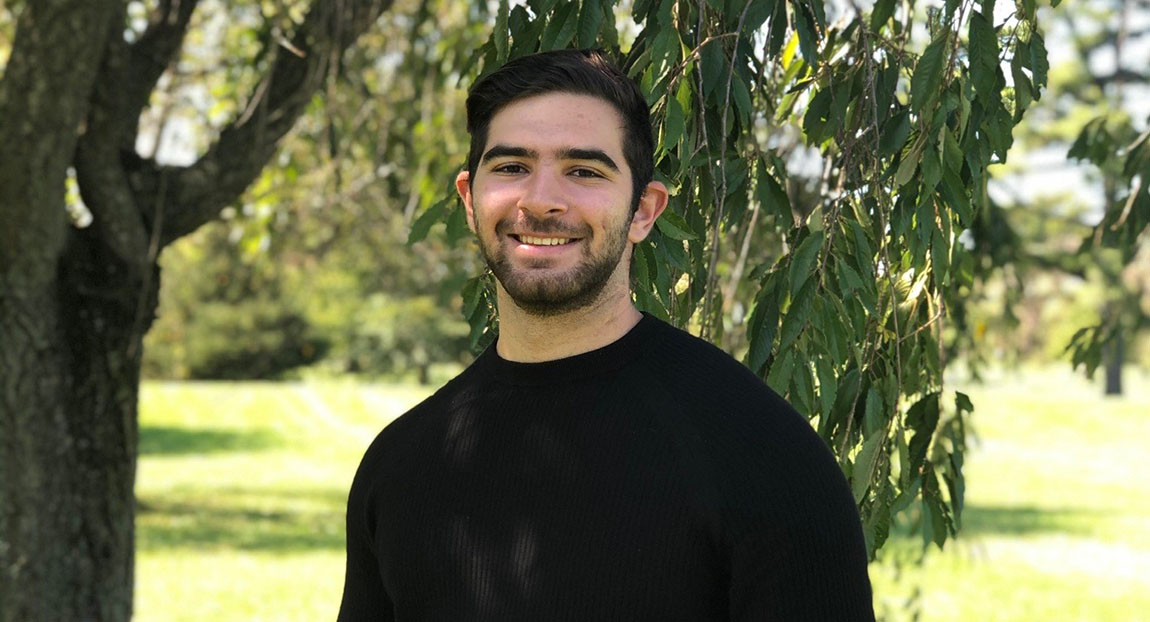 Mike Albdewi '22
Mike Albdewi '22—a biochemistry and Russian studies double major, a learning assistant for General Chemistry, a resident advisor, a student researcher in Associate Professor of Chemistry Sherri Young's lab, a member of the Muhlenberg Activities Council's executive board and a student-athlete on the football team—thrives when he's busy. When he returned home to Brooklyn this spring as campus closed for COVID, he found himself decidedly not busy.
Stuck at home, he found himself living the adage "work expands to fill the time you have." To lend his days some structure and curb a newfound tendency to procrastinate, he took part in an online volunteering program that paired him with middle-school students in Tennessee for remote tutoring.
"It was a similar situation this semester. Since a lot of my extracurriculars were canceled, I had some free time on my hands," says Albdewi, who, like many upperclassmen, continued learning from home this fall. "I wanted to fill my time with something meaningful."
And he wanted that "something meaningful" to hit a little closer to his College home, so he connected with Muhlenberg's Office of Community Engagement. Director Beth Halpern pointed him toward America Reads, a tutoring program that matches students with nearby elementary schools. Since the fall semester began, Albdewi has been spending seven hours per week on Zoom with a fourth-grade class from southeast Allentown's Roosevelt Elementary—an incredible time commitment that has allowed him to quickly bond with the students he helps with reading and math.
"I've worked with kids here and there, but I've never had a dedicated opportunity to be constantly engaged. At first, I didn't know how to act. I didn't want to be a scary teacher, but I also had to make sure they were doing their material," he says. "Once I got comfortable with them and they got comfortable with me, it was easier to be the person to help them with questions and to push them if they needed it."
Albdewi says that most of his own classes are asynchronous, so having an hour or two each day when he is committed to tutoring actually makes him more productive: He needs to designate windows to complete his own work, as well. The experience has helped him appreciate the challenges of virtual learning—how hard teachers have worked to adapt to this new modality while continuing to keep students engaged, and how difficult it can be for some students to learn from home.
"School for a lot of people is a sanctuary away from home: No matter what's going on at home, you have the ability to go somewhere where you have people your age and you can have fun with them. These students have been robbed of that opportunity," he says. "I can't go to college physically right now, but I can't imagine how it feels to be an 8-year-old and not be able to talk to your friends at school."
It also took the pandemic—and the end of Albdewi's many on-campus activities—to pique his interest in what's happening just off campus, in the city Muhlenberg is situated in.
"The surrounding Allentown community, just like any other, isn't perfect, but they're welcoming [the College's students] with open arms," he says. "The community is very kind to us. We live in this community, and I feel like we have an obligation to be part of it in whichever way we can."