Jackson Davis '21 Earns Rossing Physics Scholarship
Davis is among the scholarship recipients honored for outstanding academic performance in physics.
By: Josh Lederman '20 Friday, April 17, 2020 04:50 PM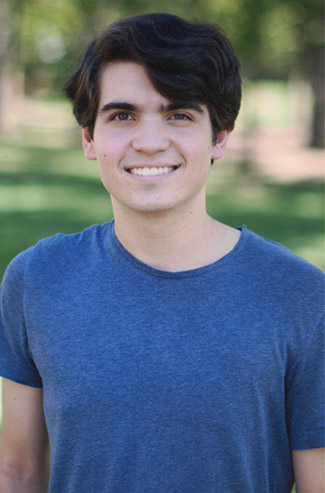 Jackson Davis '21 was one of 11 students nationwide to receive the 2020-2021 Thomas D. Rossing Fund for Physics Education. The scholarship honors students studying physics from the 26 colleges and universities associated with the Evangelical Lutheran Church in America (ELCA) who have displayed exemplary academic excellence. In addition to the recognition, Davis was named the recipient of a $10,000 prize, the highest-award tier offered by the Rossing Fund.
Upon receiving the award, Davis expressed his gratitude toward the selection committee and his professors that helped earn the prestigious award. "I was extremely grateful, both to the award committee for selecting me and to my professors who have helped me and written recommendation letters throughout the past few months."
At Muhlenberg, Davis has had the opportunity to conduct research that is fueled by his own interests and has grown to enjoy the challenges of research. "I've been given a lot of opportunities to work on research that has felt somewhat independent, and through this I have come to realize that I love the research process."
"Jackson is an outstanding physics student," says Professor of Physics Brett Fadem. "In his summer research, he was able to update the way a canonical undergraduate physics experiment, measurement of the lifetime of the muon (an elementary particle) is usually performed by using silicon photomultipliers and field-programmable gate arrays. He displays both ingenuity and tenaciousness in his work, and it was a great pleasure to collaborate with him."
Davis appreciates Muhlenberg's small, close-knit campus as he has built meaningful relationships with his physics professors and fellow physics majors. "I love the small community—I feel like I know pretty much every physics major and all of the faculty to some degree, which you wouldn't get at a larger school." After graduating from Muhlenberg, Davis plans on pursuing a Ph.D. in experimental condensed matter physics and then beginning a career conducting research.
About Muhlenberg College
Founded in 1848, Muhlenberg is a highly selective, private, four-year residential, liberal arts college offering baccalaureate and graduate programs. With an enrollment of approximately 2,200 students, Muhlenberg College is dedicated to shaping creative, compassionate, collaborative leaders through rigorous academic programs in the arts, humanities, natural sciences and social sciences; selected preprofessional programs, including accounting, business, education and public health; and progressive workforce-focused post-baccalaureate certificates and master's degrees. Located in Allentown, Pennsylvania, approximately 90 miles west of New York City, Muhlenberg is a member of the Centennial Conference, competing in 22 varsity sports. Muhlenberg is affiliated with the Evangelical Lutheran Church in America.