Kyra Hickey '21 Honored as a Newman Civic Fellow
Students selected for the fellowship are campus leaders who demonstrate a commitment to finding solutions for challenges facing communities locally, nationally and internationally.
By: Kristine Yahna Todaro Monday, March 9, 2020 08:45 AM

Kira Hickey performs in Master Choreographers 2019, in "Gambit of Humanity," choreographed by Randall Anthony Smith. Photo by Brian Megnini
Kyra Hickey '21 has been named a 2020-2021 Newman Civic Fellow—one of just 290 students nationwide—by Campus Compact, a Boston-based non-profit organization working to advance the public purposes of higher education. The Newman Civic Fellowship is a yearlong program for students from Campus Compact member institutions.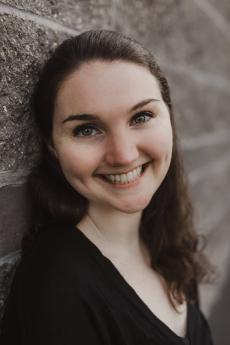 A dance and Italian double major and women's & gender studies minor, Hickey was nominated by Muhlenberg President Kathleen Harring on the basis of her potential for public leadership.
In her statement for the fellowship, Hickey wrote, "I believe in the transformative force of movement. Whether it's dance, sports, yoga or simply walking, movement enhances our inter- and intrapersonal connections. Access to regular physical activity and movement practice drives my work in community. I conceptualize access to activity as tied to food security and body positivity….Nurturing young people and their wellness is a responsibility and a public priority if we hope for a brighter, more inclusive future."
During the course of the fellowship, Campus Compact provides the students with a variety of learning and networking opportunities that emphasize personal, professional and civic growth. Each year, Fellows are invited to a national conference of Newman Civic Fellows and participate in numerous virtual training and networking opportunities. The fellowship also provides recipients with pathways to apply for exclusive scholarship and post-graduate opportunities.

"For more than three years, Kyra has collaborated with three different groups of children within two local elementary schools and on-campus on a weekly basis, while exploring structural barriers to equity," wrote Harring in her nomination of Hickey. "She is committed to exploring issues of body positivity, food security and access to holistic education, and she feels passionately about building spaces where people can feel strength within their own bodies despite societal pressures and social circumstances."

The fellowship is named for the late Frank Newman, one of Campus Compact's founders, who was a tireless advocate for civic engagement in higher education. In the spirit of Newman's leadership, Campus Compact member presidents and chancellors may nominate one student from their institution for the fellowship.
"We are proud to recognize each of these extraordinary student leaders and thrilled to have the opportunity to engage with them," said Campus Compact President Andrew Seligsohn. "The stories of this year's Newman Civic Fellows make clear that they are committed to finding solutions to pressing problems in their communities and beyond. That is what Campus Compact is about, and it's what our country and our world desperately need."
The Newman Civic Fellowship is supported by the KPMG Foundation and Newman's Own Foundation.
About Campus Compact
Campus Compact is a national coalition of colleges and universities committed to the public purposes of higher education. Campus Compact supports institutions in fulfilling their public purposes by deepening their ability to improve community life and to educate students for civic and social responsibility. As the largest national higher education association dedicated solely to campus-based civic engagement, we provide professional development to administrators and faculty to enable them to engage effectively, facilitate national partnerships connecting campuses with key issues in their local communities, build pilot programs to test and refine promising models in engaged teaching and scholarship, celebrate and cultivate student civic leadership, and convene higher education institutions and partners beyond higher education to share knowledge and develop collective capacity.
About Muhlenberg College
Founded in 1848, Muhlenberg is a highly selective, private, four-year residential, liberal arts college offering baccalaureate and graduate programs. With an enrollment of approximately 2,200 students, Muhlenberg College is dedicated to shaping creative, compassionate, collaborative leaders through rigorous academic programs in the arts, humanities, natural sciences and social sciences; selected preprofessional programs, including accounting, business, education and public health; and progressive workforce-focused post-baccalaureate certificates and master's degrees. Located in Allentown, Pennsylvania, approximately 90 miles west of New York City, Muhlenberg is a member of the Centennial Conference, competing in 22 varsity sports. Muhlenberg is affiliated with the Evangelical Lutheran Church in America.