Muhlenberg Hosts First Generation Panel for Family Weekend
November 8 is National First Generation Student Celebration Day and the College will hold an inaugural event to honor students.
By: Kristine Yahna Todaro Thursday, November 5, 2020 00:38 PM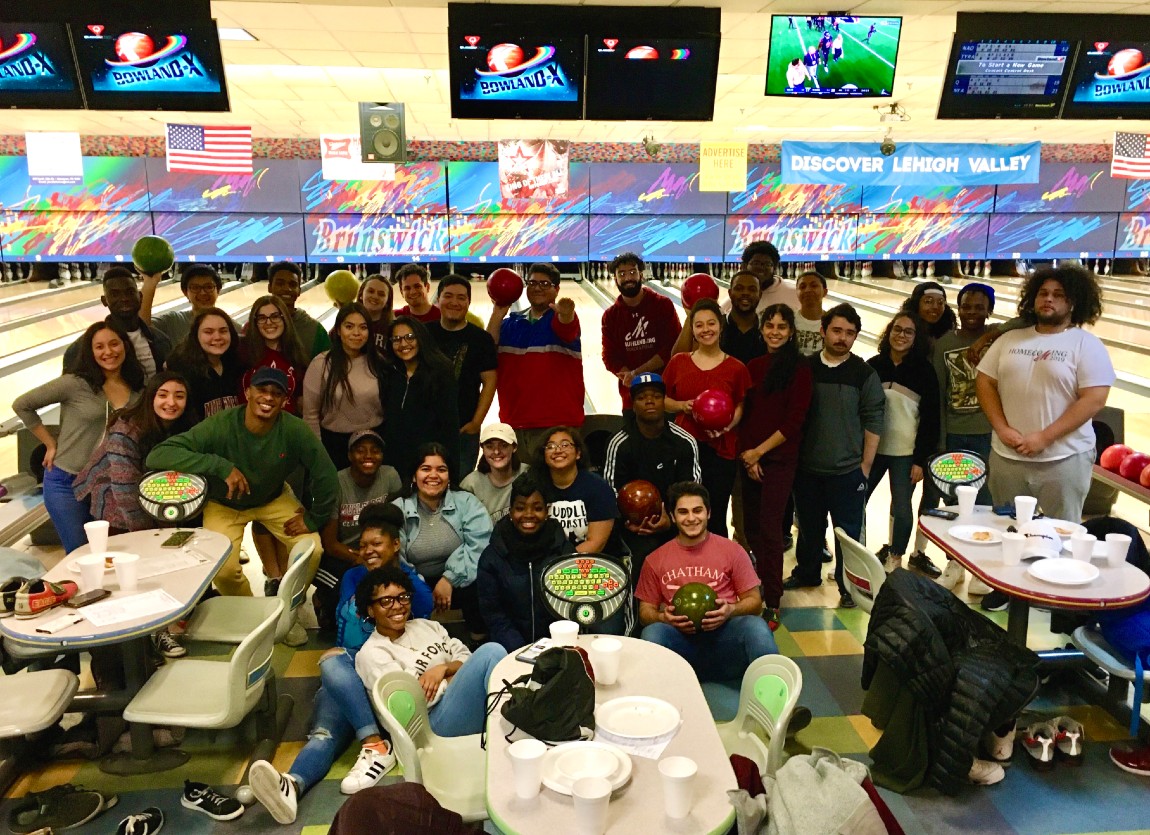 Fun activities, like this bowling trip in February, are part of the First Generation Advocacy and Support Group's efforts with Muhlenberg students.
As part of Muhlenberg's planned Virtual Family Weekend 2020 festivities, the College will hold a special event from 2 to 3 p.m. on Sunday, November 8, in recognition of its first-generation students.
During the College's National First Generation Student Celebration Day event, President Kathleen E. Harring and a special guest speaker will welcome the attendees and first-generation students will share their experiences and have a chance to meet one another.
The entire College community, and especially the families and friends of Muhlenberg's first-generation students, are invited to attend the virtual celebration. Register online here before 11 a.m. on Sunday to receive a Zoom link for the event.
The event is organized by the College's First Generation Advocacy and Support Group, which provides faculty and staff mentoring and institutional and peer support to first-gen students. Dawn Lonsinger, associate professor of English and herself a first-generation student, initiated the advocacy and support group in 2019 and co-directs it with Gregg Scully, associate dean of the School of Continuing Studies.
Muhlenberg is also the country's Delta, or fourth, chapter of Tri-Alpha, a first-generation college student honor society that was founded in 2018 at nearby Moravian College.


In April 2019, 66 Muhlenberg students were the inaugural inductees into the campus chapter of Tri-Alpha, a first-generation college student honor society.
To be eligible for the Tri-Alpha Honor Society, students must have completed at least three full-time terms, earned an overall GPA of 3.2 and come from a family where neither parent nor any legal guardians earned a bachelor's degree.
At the inaugural 2019 Tri-Alpha event on campus, Lonsinger said the honor society is important in that it recognizes "students who largely have had to work harder and with fewer kinds of support to be at college in the first place, and who have not stopped there, have continued to excel in multiple ways in college—to become independent thinkers, advocates for each other and leaders in the community."
Please contact [email protected] and [email protected] with any questions about the event.