Out of Office
Justin Axelrod '20 spent four days all over Jersey City, New Jersey, during his externship with real-estate developer Paul Silverman '78.
By: Meghan Kita Thursday, March 5, 2020 10:06 AM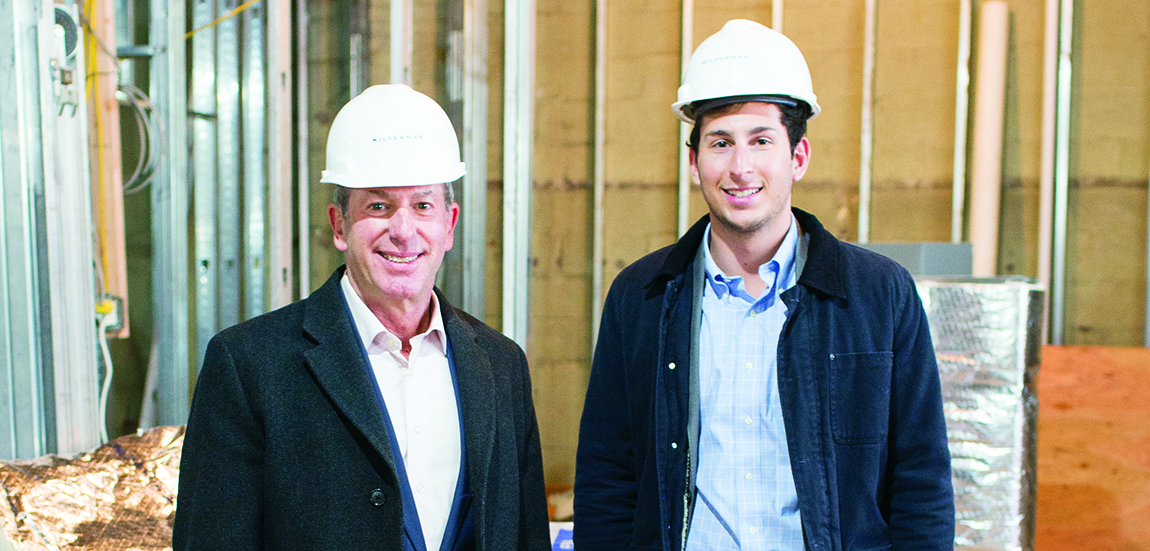 Paul Silverman '78 and Justin Axelrod '20 during Axelrod's externship. Photo by Aaron Karaan.
When Justin Axelrod '20 first declared his intended fields of study, they were economics and education. He stuck with the first—it's his minor—but he tried out some other majors (media & communication, business administration) before settling on psychology. He has a wide variety of interests, academically and professionally, so he's done the Career Center's shadow program three times. He enjoyed his one real-estate shadow day (with Adam Brodsky '95), so when he saw an externship opportunity available at SILVERMAN, a real-estate development firm co-founded by Paul Silverman '78, and his brother Eric, he jumped on it.
"I think a lot of real estate firms are larger and focused more on monetary compensation," Axelrod says. "SILVERMAN is still medium-sized but more focused on resident and employee satisfaction, and that drew me to it."
The two spent four days together in Jersey City, New Jersey, which allowed Axelrod to get a sense of the scope of what Silverman does. They visited construction sites and apartment buildings. They had breakfast at Silverman's coworking space, spoke with the owners of retail stores in SILVERMAN buildings and at the end shared a farewell beer made by Silverman's brewing company, New Jersey Beer Co.
"The most valuable part of this experience was sitting in on the meetings," Axelrod says. "One of my favorites was the negotiating of a lease signing—they were working to figure out a price both parties were comfortable with. Being in those negotiation meetings, with Paul being an exemplary negotiator and so personable, he showed me some skills that are pivotal in any career field."
Silverman documented the week on his Instagram account, @paulsilverman—there are photos of the pair in hardhats, on a rooftop, in a meeting room. "I feel it's a good way to give back to the College, to have these types of mentoring programs for students. I know it's only one student, but it spreads. When Justin talks to his friends and colleagues, it multiplies," he says. "Promoting the program on Instagram and Facebook and in Muhlenberg Magazine is really good publicity showing the connections Muhlenberg can afford its students."
And Axelrod made plenty of connections during his externship: He estimates that he met about 60 people. One was the project manager of a construction site, who described the master's program he completed in order to enter his field. The role, like Silverman's, was intriguing to Axelrod—he's not sure what he wants to do, but he knows he doesn't want to be stuck behind a desk. "While Paul was doing a lot in the office, he was also meeting with different departments and going out to construction sites," he says. "There's a lot of mobility, and I like that."