Spring 2020: Art Exhibitions at Muhlenberg College
A talk by artist Heide Fasnacht kicks off the new year, followed by exhibits by Anthony Cervino, Felice Moramarco, Burak Delier, Pilvi Takala and Vesna Pavlović, and culminates with Muhlenberg's Student Thesis Exhibition.
Tuesday, January 21, 2020 04:38 PM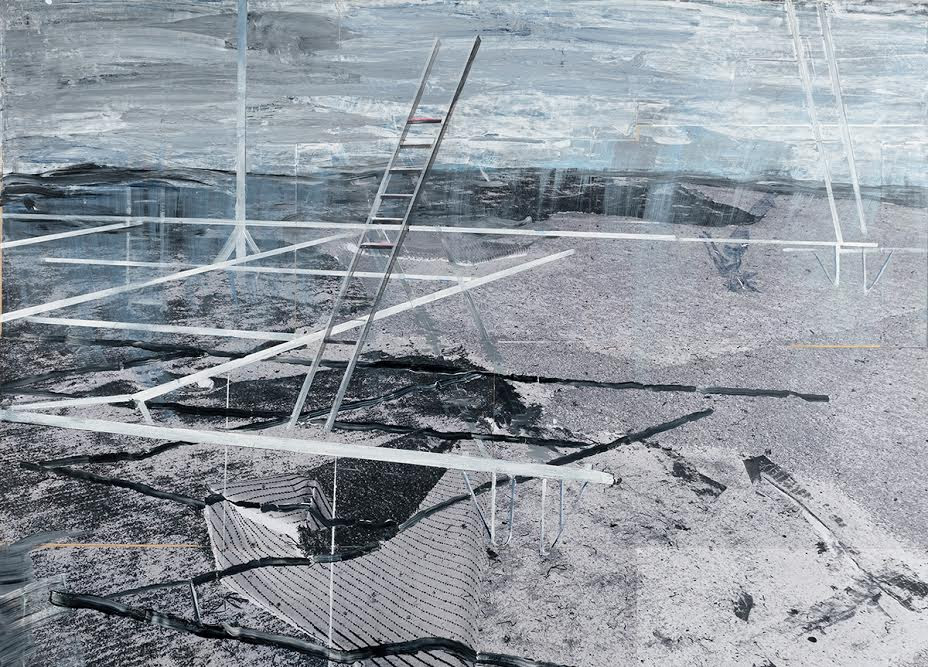 Invertigo A, 2019, 48" x 60", Heidi Fasnacht
Muhlenberg College offers exhibitions of multiple genres and media in the Martin Art Gallery and the Galleria, both housed in our Philip Johnson-designed Baker Center for the Arts at 2400 Chew Street. The year-round exhibition schedule is supplemented with gallery talks, artist receptions and interdisciplinary programs.
The Martin Art Gallery is open Tuesday-Saturday from noon–8 p.m. The Galleria Lobby, an adjacent exhibition space, is accessible daily from 9 a.m.–9 p.m. All exhibits and events are free and open to the public; ample on-street parking is available.
Spring 2020 exhibitions and related events include:
Heide Fasnacht: Past Imperfect
November 19–February 8
Martin Art Gallery, Baker Center for the Arts
Artist Talk, Thursday, January 23, 7 p.m.
Recital Hall, Baker Center for the Arts
Heide Fasnacht, a 2019 Anonymous Was A Woman Grantee, will give a public talk at 7 p.m., Thursday, January 23 in the Recital Hall, located in Baker Center for the Arts on the Muhlenberg College Campus.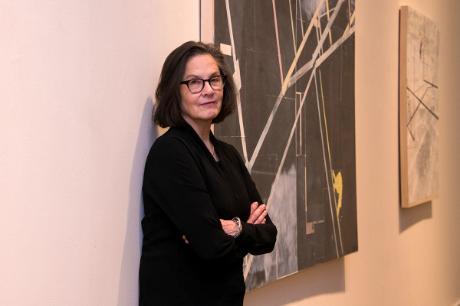 This talk is in conjunction with her exhibition, Past Imperfect, in the main Martin Art Gallery, and adjacent Galleria display spaces on view through February 8th. Copies of Heide's Catalog, with an introduction by Martin Art Gallery Director Paul Nicholson and an essay by art writer Nancy Princenthal, are available at the Gallery desk.
Fasnacht has returned to painting after several decades. This return has ushered in a commensurate new area of interest: the depiction of neglected and long-forgotten playgrounds. This work is more personal in nature than her previous sculptures. The bodily feelings evoked by climbing and swinging include vertigo, confusion, excitement and mastery. All of this and more are explored through the more direct and fluid medium of paint.
Fasnacht has been in exhibitions at MOMA, The Aldrich Museum for Contemporary Art, RAM Galerie, Rotterdam, Galeria Trama in Barcelona, The Worcester Art Museum and many others. She is in many permanent collections including the MFA Boston, the Philadelphia Museum of Art, the Fogg Art Museum at Harvard University, The Walker Art Center and the Yale University Art Gallery. Fasnacht is also the recipient of numerous awards, including The Guggenheim Fellowship, several National Endowment for the Arts, New York Foundation for the Arts, The Gottlieb Foundation Grant, and two Pollock-Krasner Foundation Fellowships. She has taught at Harvard, Princeton, U Penn, UCLA, Parsons School of Design, and others. Further visiting lectures include Yale, The Whitney Museum, RISD and VCU.
---
Burak Delier, Pilvi Takala, and Vesna Pavlović: Life of the Mind
January 20–March 15
Galleria, Baker Center for the Arts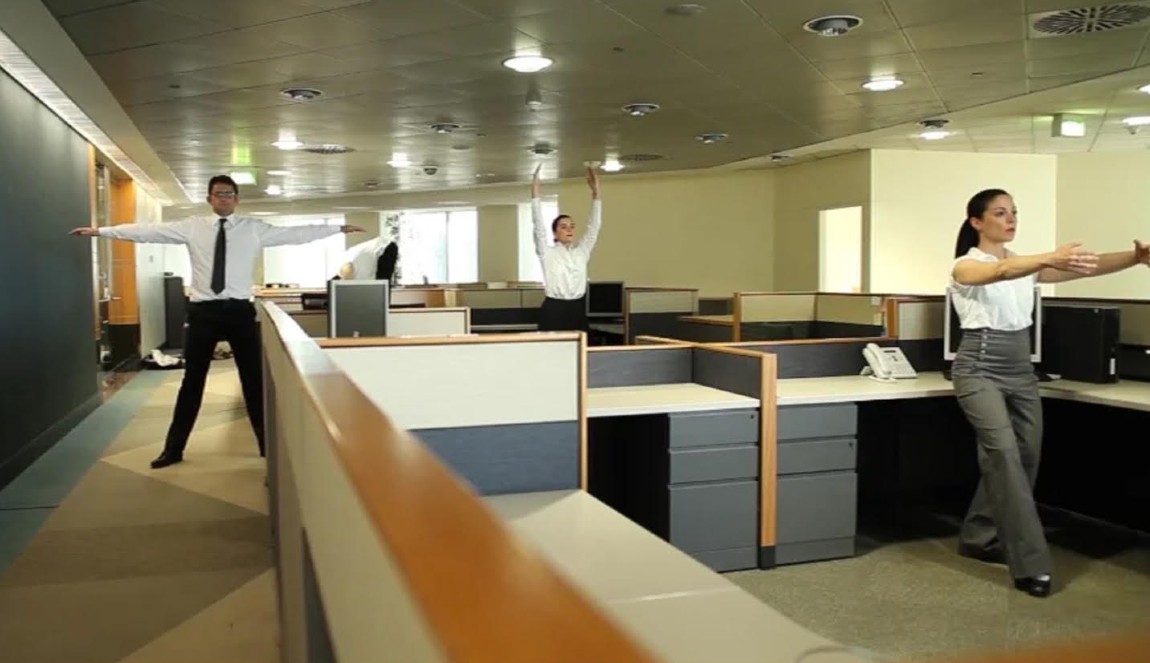 Burak Delier, Crisis and Control, 2013 (Still from video)
Life of the Mind is a video exhibition comprised of three projects that probe just what exactly we are selling when we are at work. Any and all work requires an output, and when we are selling our labor, that labor takes the form of some combination of physical or mental energies. Through the projects in this exhibition, Burak Delier, Vesna Pavlović and Pilvi Takala examine the context and costs of our mental life while at work.
The title of the exhibition is taken from the moral philosopher Hannah Arendt's (1906–1975) final work of the same name. Posthumously published in two volumes in 1977 and 1978, Life of the Mind begins with a quote from Cato the Elder (234–149 BCE), "Never is he more active than when he does nothing, never is he less alone than when he is by himself." Arendt saw modernity as an age of bureaucratic administration filled with anonymous labor, dominated by elites who manipulate public opinion. Her perspective was shaped by her experience under totalitarianism, and it is as relevant now as ever. Today, the consequences of neoliberal capitalism and increased authoritarianism here and elsewhere are exponentially amplified by deindustrialization, automation and artificial intelligence, which are reshaping not only workplaces but the mental lives of white-collar workers all over the globe.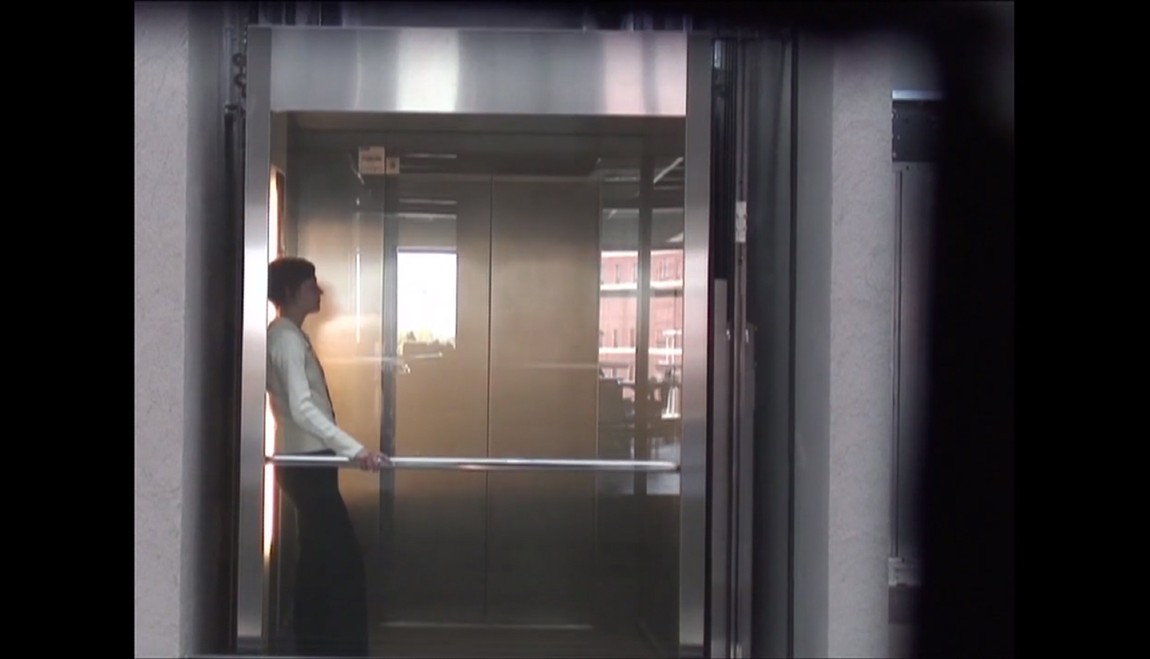 Pilvi Takala, The Trainee, 2008 (Still from video)
We all seek to be free and to think and do what we want, but in order to survive under any economic system, most of us need to go to work. Many of us take pride in our careers, and for those who do, it's an integral part of our personal identity. Through the work of these three artists, we don't find satisfying or tidy answers to questions about personal and professional boundaries but instead are given further avenues of inquiry about the norms, compromises and control that our workplaces offer in exchange for what we hope amounts to a living wage.
Curated and organized by Paul M. Nicholson, Director of the Martin Art Gallery.
---
Anthony Cervino: Hurry with the Furies
March 10–April 11
Martin Art Gallery, Baker Center for the Arts
Public Reception
Wednesday, March 25, 5:30–7 p.m.
Artist Talk
Tuesday, March 17, 7 p.m.
Recital Hall, Baker Center for the Arts
---
The Autonomist Anomaly: Felice Moramarco, Curator
March 25–May 25, 2020
Galleria Space, Baker Center for the Arts
Public Reception
Wednesday, March 25, 5:30 –7 p.m.
The reception will include a walkthrough discussion with the curator at 6 p.m.
Companion Talk by Silvia Federici
Date TBA, Recital Hall, Baker Center for the Arts
---
Senior Thesis Exhibition, Led by Assistant Professor of Art Emily Orzech
April 29–May 16
Martin Art Gallery, Baker Center for the Arts
Opening Reception
April 29, 5:30–7 p.m.
About Muhlenberg College
Founded in 1848, Muhlenberg is a highly selective, private, four-year residential, liberal arts college offering baccalaureate and graduate programs. With an enrollment of approximately 2,200 students, Muhlenberg College is dedicated to shaping creative, compassionate, collaborative leaders through rigorous academic programs in the arts, humanities, natural sciences and social sciences; selected preprofessional programs, including accounting, business, education and public health; and progressive workforce-focused post-baccalaureate certificates and master's degrees. Located in Allentown, Pennsylvania, approximately 90 miles west of New York City, Muhlenberg is a member of the Centennial Conference, competing in 22 varsity sports. Muhlenberg is affiliated with the Evangelical Lutheran Church in America.