Martin Art Gallery looks forward to welcoming campus and community partners back into our galleries in person this year with a series of dynamic exhibitions.
Nothing is more important to us than the health and safety of our community, and so safe access to the Gallery and the Campus will be determined by the leadership of the College following the advice of an advisory council informed by state and national health guidance. Conditions of access may be subject to change without notice and so we encourage you to check here and with the College's main website for guidance as to masking policies and general access to our spaces.
---
Martin Art Gallery will be temporarily closed as we search for a new director, but please check back in the fall for updates once we're back up and running.
2022 Senior Thesis Exhibition
May 2 - May 21, 2022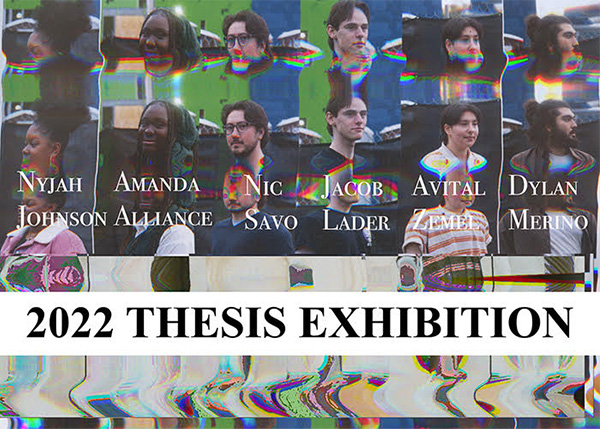 The Martin Art Gallery at Muhlenberg College is proud to host The 2022 Senior Thesis exhibition featuring works byAmanda Alliance, Nyjah Johnson, Jacob Lader, Dylan Merino, and Avital Zemel. This year's CUE [Thesis] course wastaught by Associate Professor Frederick Wright Jones.
---
The Past Five Years
James F.L. Carroll
Postponed until further notice
Untitled # 2 of 64 in grid installation, acrylic on canvas, 18 in, h x 24 in w, 2016
This summer we look forward to hosting James F.L. Carroll for a solo exhibition in the Martin Art Gallery. Carroll is a well-known and prodigious artist, is also an energetic and iconic force who has been promoting the visual arts in the Lehigh Valley and beyond for decades as the founding director of the New Arts Program in Kutztown. His adventurous mark making on canvas or hand-made paper is the result of his insatiable curiosity to explore new possibilities.
---
Collection Works Currently on Display in the Baker Center for the Arts
Throughout the year the Martin Art Gallery rotates permanent collection works that are on display in the Center for the Arts. These large works are hung throughout the common spaces, and extend into areas outside of the Baker Theater building [aka the Fishbowl].
Currently works are on display by Marjory Edwards, Heide Fasnacht, Jen Huh, David Mann, Liz Whitney Quisgard, Robert Rauschenberg, Alberto Rey, and others.
---
The Martin Art Gallery is open Tuesday - Saturday 12 - 8pm, and The Martin Art Gallery's Galleria Space is open Monday - Sunday, 9:00am - 11:00pm*. All of our exhibitions and programming are free and open to the public. For further information, please call us at 484 664 3467
Artists may submit an exhibition packet or proposal for consideration to the gallery. Packets should include contact information and web portfolio link. Our gallery mailing address is: Martin Art Gallery, Muhlenberg College, 2400 Chew St., Allentown, PA 18104. Proposals will be accepted on an ongoing/rolling basis, and prospective artists will be contacted by the gallery. Please do not submit original art work as the gallery cannot be responsible for caring for or returning unsolicited submissions. Promotional materials submitted for consideration will not be returned.


All art images are the property of Martin Art Gallery, Muhlenberg College, Allentown, Pennsylvania. Any reproduction or distribution of this material without the expressed, written consent of the Martin Art Gallery is prohibited and a violation of federal law. All rights reserved.