Heide Fasnacht
Past Imperfect
November 19 - February 8

Invertigo A, 2019, 48" x 60"
Martin Art Gallery is pleased to host Heide Fasnacht for her exhibition, Past Imperfect, in the main Gallery, and adjacent Galleria display spaces at Muhlenberg College. We will hold a public reception on Tuesday November 19, from 5:30 – 7:00pm. Additionally, Fasnacht will give an artist talk on Thursday January 23rd at 7:00pm, in the Recital Hall, adjacent to the Gallery.
Heide Fasnacht has returned to painting after several decades. This return has ushered in a commensurate new area of interest: the depiction of neglected and long forgotten playgrounds. This work is more personal in nature than her previous sculptures. The bodily feelings evoked by climbing and swinging include vertigo, confusion, excitement and mastery. All of this and more are explored through the more direct and fluid medium of paint.
For this show, Fasnacht is working from scanned negatives which she digitally manipulates and prints in a cut up and collaged layer over wooden panels. She then applies paint to the surfaces, inexorably tying the two media together. Our focus alternates between photographic and painted images, allowing for the emergence of improvised spaces of playful engagement. Complicated by their dystopian monochromatic tenor, the obliterated settings have a frenetic Rube Goldbergian feel. Ladders, tightropes, swings, and cats make these dreamscapes a kind of diagram that outlines the machinery of childhood.
Fasnacht has shown an abiding interest in states of instability. These concepts have been explored through large scale drawings and sculptures, photo-based work, and prints. The aftereffects of historical occurrences (iconoclasm), risk economics (implosions) and geological processes (earthquakes & implosions) are revealed in fracturing and damage. Deforming and reforming reveals fissures: damage and contortions on the landscape, in culture, in the built environment. Fasnacht's process reflects these shifting events in both content and process. Her works have been on view at Preview Berlin, Qbox Gallery and Art Athina in Athens Greece, Kent Gallery, Socrates Sculpture Park, and the American Academy of Arts & Letters in NYC.
Since her first one-person show at P.S. 1 in 1979, Fasnacht has exhibited worldwide. She has been in exhibitions at MOMA, The Aldrich Museum for Contemporary Art, RAM Galerie, Rotterdam, Galeria Trama in Barcelona, The Worcester Art Museum and many others. She is in many permanent collections including: the MFA Boston, the Philadelphia Museum of Art, the Fogg Art Museum at Harvard University, The Walker Art Center and the Yale University Art Gallery. Fasnacht is also the recipient of numerous awards, including The Guggenheim Fellowship, several National Endowment for the Arts, New York Foundation for the Arts, The Gottlieb Foundation Grant, and two Pollock-Krasner Foundation Fellowships. She has taught at Harvard, Princeton, U Penn, UCLA, Parsons School of Design, and others. Further visiting lectures include Yale, The Whitney Museum, RISD and VCU.
The Martin Art Gallery is open Tuesday - Saturday 12 - 8pm, While works in the Galleria space can be seen anytime the Center for the Arts is open, typically 9am - 9pm
Download the press release for this exhibition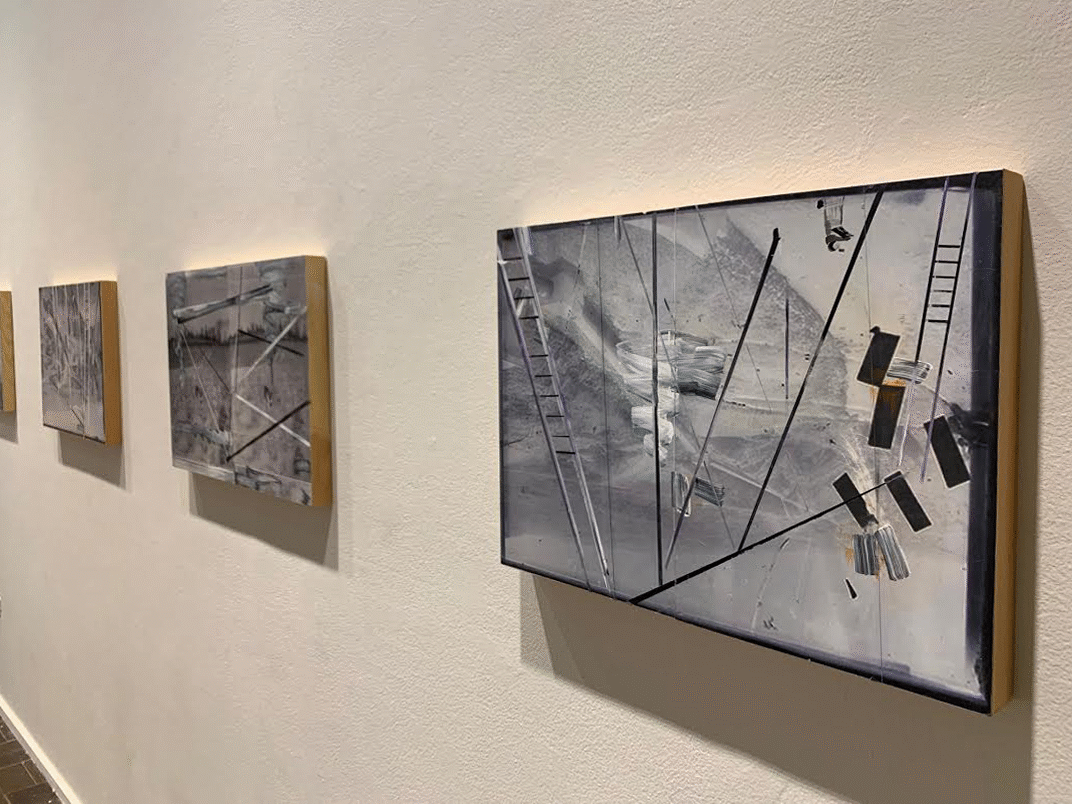 ---
Life of the Mind
Burak Delier, Pilvi Takala, and Vesna Pavlović
January 20 – March 15

Life of the Mind is an exhibition comprising three parts, each probing what exactly employers are asking of us while we are on the job. Any and all work requires an output, and when we sell our labor, that labor consists of some combination of physical and mental energies. Through the projects in this exhibition, Burak Delier, Vesna Pavlović and Pilvi Takala examine the context and costs of that transaction on our mental lives.
The title of the exhibition is taken from moral philosopher Hannah Arendt's (1906–1975) final work of the same name. Life of the Mind (posthumously published in two volumes in 1977 and 1978) begins with a quote from Cato the Elder (234–149 BCE) "Never is he more active than when he does nothing, never is he less alone than when he is by himself". Arendt saw modernity as an age of bureaucratic administration filled with anonymous labor, dominated by elites who manipulate public opinion. Arendt's perspective was shaped by her experience under totalitarianism, and it is as relevant in the present day as ever. Today, the consequences of neoliberal capitalism and increased authoritarianism here and elsewhere are exponentially amplified by deindustrialization, automation and Artificial Intelligence, which are reshaping not only workplaces, but the mental lives of white collar workers all over the globe.
We all seek to be free, and to think and do what we want, but in order to survive under any economic system, most of us need to go to work. Many of us take pride in our careers, and for those who do, it's an integral part of our personal identity. Through the work of these three artists, we don't find satisfying or tidy answers to questions about personal and professional boundaries, but instead are given further avenues of inquiry about the norms, compromises, and control that our workplaces offer in exchange for what we hope amounts to a living wage.
Ongoing Events and Exhibitions:
Jen Huh : God's Eyes


God's Eyes by Jen Huh will remain on extended loan and is on view in the Baker Center for the Arts Galleria through 2018. Jen Huh is showing five of her God's eyes sculptures as an overhead installation adjacent to the pitched glass atrium ceiling.
---
The Martin Art Gallery is open Tuesday - Saturday 12 - 8pm, and The Martin Art Gallery's Galleria Space is open Monday - Sunday, 9:00am - 11:00pm*. All of our exhibitions and programming are free and open to the public. For further information, please call us at 484 664 3467
Artists may submit an exhibition packet or proposal for consideration to the gallery. Packets should include contact information and web portfolio link. Our gallery mailing address is: Martin Art Gallery, Muhlenberg College, 2400 Chew St., Allentown, PA 18104. Proposals will be accepted on an ongoing/rolling basis, and prospective artists will be contacted by the gallery. Please do not submit original art work as the gallery cannot be responsible for caring for or returning unsolicited submissions. Promotional materials submitted for consideration will not be returned.


All art images are the property of Martin Art Gallery, Muhlenberg College, Allentown, Pennsylvania. Any reproduction or distribution of this material without the expressed, written consent of the Martin Art Gallery is prohibited and a violation of federal law. All rights reserved.