A Transfer Success Story
Gnim Bazim '21 had a difficult choice ahead—what does one do when the first year of college just doesn't feel right?
By: Grace Oddo '22 Tuesday, June 15, 2021 01:22 PM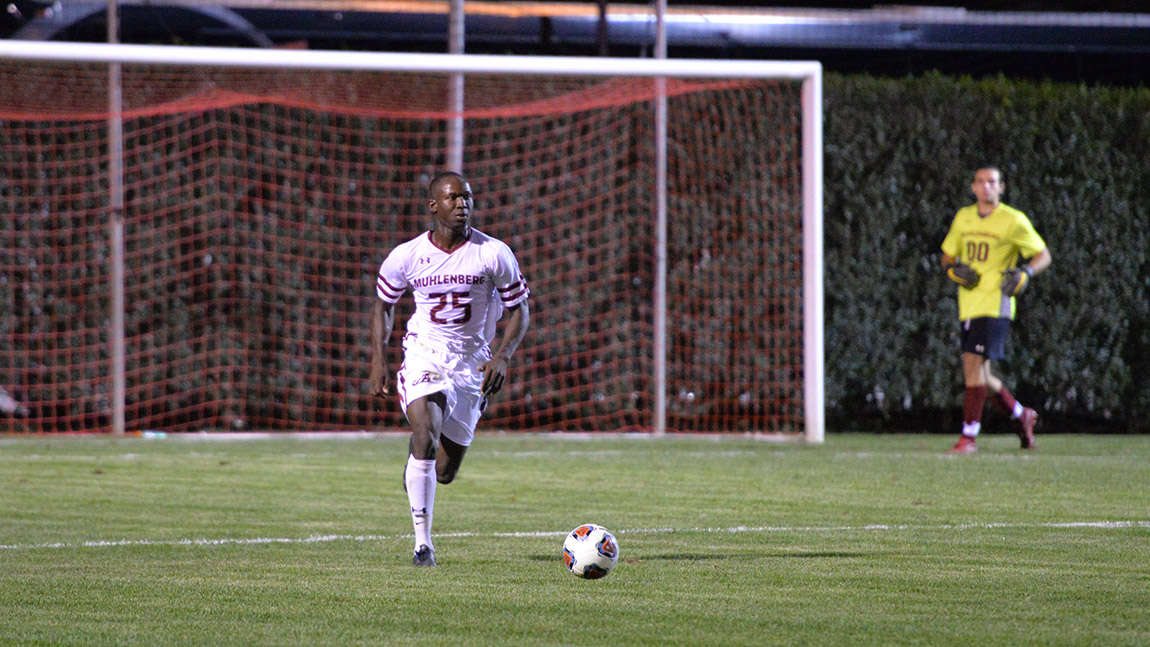 Gnim Bazim '21 (left) quickly found his place at Muhlenberg, joining the soccer team and completing multiple internships.
It was the end of finals week for first-year student Gnim Bazim, and his gut feeling was that he simply wasn't happy.
During his first year at a midwestern liberal arts college, Bazim tried to put down roots, but nothing seemed to be clicking. The then-19-year-old Bronx native knew that he wanted to go far from home for college, but the institution, located in the middle of rural Ohio, proved to be too far. Growing increasingly isolated and discontented, he soon realized that he had an important decision to make.
"Transferring was never supposed to be part of the plan," says Bazim. "But it was a conversation I had to have with both myself and friends from my high school. Ultimately, I decided to transfer."
Muhlenberg College had always been on Bazim's radar. His high school soccer coach is an alum and raved to Gnim about the school's great community. He had friends in the area that hosted him for visits and walked with him around Allentown's city streets. With each visit, he fell more and more in love with Muhlenberg, the city of Allentown and its surrounding areas. "It was all the right things I was looking for," he says. "So I decided to apply."
He applied to multiple colleges, but he fondly recalls that Muhlenberg was the only one to call him to inform him of his acceptance. "I remember this vividly," he says, his smile reflective and nostalgic. "I was at soccer practice in the Bronx. It was late. All of a sudden, I get this phone call with the area code 484…"
At the other end of the line was Eric Thompson '10, an admissions counselor and coordinator of transfer admissions at the College, who congratulated him on his acceptance. It was then that Bazim knew he belonged at Muhlenberg—and he couldn't wait to get started.
Bazim's Muhlenberg experience was unapologetically his own. By the end of his first week, he was employed by the Office of Financial Aid, which he credits as being the highlight of his extracurricular experience. "It was just so much fun working with great people like Greg [Mitton] Laura [Rassmussen]. I felt lucky to be a part of that community." He self-designed an internship in the Office of Admissions, joined the soccer team and rushed Alpha Tau Omega fraternity.
"That is what's so important about a liberal arts education. You want to learn outside of the classroom, and I did," he says. "I learned how to lead, how to be a part of a team and how to collaborate."
Bazim soon declared a major in media & communication and began considering a career in law. This eventually led him to Dublin, Ireland in Spring 2020, where he took courses at Dublin City University and participated in an internship. And this past spring, he graduated with high honors after defending his year-long dissertation project "Performative Representations of Diversity: BIPOC Students' Perceptions of Communication Images at a Predominantly White College."
While experiences like study abroad and his honors presentation were impactful, Bazim credits the smaller moments with creating the most lasting memories. "Walks across Academic Row. Sitting at those big circle tables in Seegers Union and getting a meal with my friends. Going to GQ late at night," he says. "Those are the things I'll remember forever."
This fall, Bazim is trading his red and white for maroon and burgundy; he will be attending Fordham Law School in his home state of New York. Although he is excited for what's to come, he wishes he could have had more time at his beloved College. For students looking to transfer themselves, he acknowledges that it is a difficult decision, but one that may be worthwhile in the end.
"Ultimately, it has to be you who decides it. You have to ask yourself: 'Can I see myself here?' When I asked myself that question about Muhlenberg, my answer was 'Absolutely!' But you can only do that if you visit. Hopefully, you'll feel what I felt. That's the Muhlenberg community."