Long-time Chemistry Research Course Continues to Light a Spark for First-Year Students
Project Lab, a decades-old, invitation-only course, remains a chemistry department highlight that gives undergraduates an early and holistic view of what it means to explore scientific questions through research.
By: Sarah Wojcik Tuesday, December 7, 2021 02:08 PM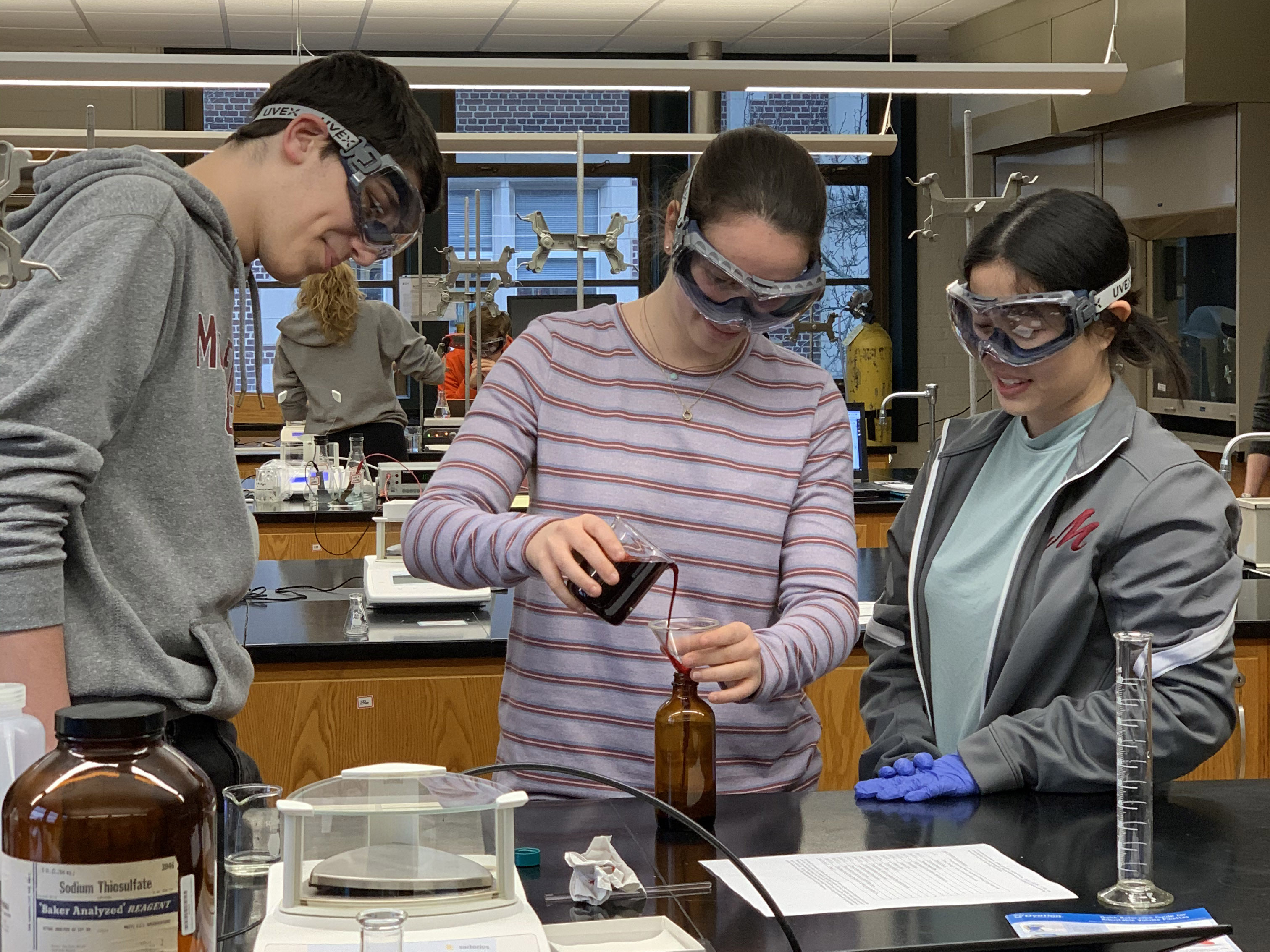 Giulia Gerschel '23, center, and Hannah Morris '23, right, complete research during Project Lab in Spring 2020. Photo courtesy of Silvia Porello.
During their time at Muhlenberg, chemistry majors are invited to reflect on the experiences that were among their most impactful. Professor Christine Ingersoll says there's one course mentioned again and again.
"The thing that comes up, year after year, is Project Lab," she said. "We'll hear, 'My top experience was Project Lab' or 'Three years ago when I was in Project Lab, that's what helped me get hooked.' It's one thing that we're really committed to continuing as a tradition and as an experience for our students."
It's understandable that the invitation-only course would make such an impression to those who had the opportunity to participate since Project Lab is a unique opportunity for first-year students.
In just their second semester in college, students are invited to participate in immersive, independent, small group research. In such a setting, faculty and students say science comes alive in the way that is usually reserved for students in their subsequent undergraduate years.
Project Lab is an open-ended lab experience for a small class of first-year students selected by faculty from the General Chemistry I course. Second-semester students are invited because of their academic standing, curiosity and interest in research and fascination with chemistry or a closely related field.
Students work in small groups where they experience what Ingersoll called a "holistic approach" of the chemistry research process in a compressed semester-long form: literature research, experimental work and finally the writing or presentation of their results and findings.
Many of the chemistry department faculty have taught at least one semester of the course, which has been around for decades, with themes that vary from year to year.
Hannah Morris '23, a chemistry major with a mathematics and music double minor, hadn't heard about Project Lab before the invitation arrived in her inbox in the 2020 Spring semester. The exclusivity of the course, typically capped at about 12 students, caught her immediate attention.
"I was all in," Morris recalls. "It sounded like an amazing opportunity."
Giulia Gerschel '23, a biology major with a minor in French, also saw the invitation as a challenge worth exploring. Gerschel and Morris knew one another from orientation, but they teamed up during Project Lab and have since become close friends.
Encouraged to unearth a research topic of their own, Morris and Gerschel examined the chemical reactions that make bleach work, particularly when it comes to removing red stains like blood.
And though the group would endure a particularly difficult spring semester—COVID-19 soon emerged and forced students home for the remainder of the year—both Morris and Gerschel insist that the early hands-on time in the lab helped them develop a more informed relationship with experimental science.
For Morris, the opportunity lit a spark, launching her into more research work starting in the summer of 2020 and continuing ever since. Morris said Project Lab helped her learn early, and in a less stressful environment, how failure is part of science.
"The frustration that I felt [when an experiment didn't go as planned] in Project Lab has helped me in other areas," Morris said. "It's something you learn from and it's not uncommon. It was good to get that exposure in the first year."
Gerschel said she learned more about what kind of research and experimental work she was most interested in. Project Lab, she said, helped her narrow down her interests and career path in a way that could have taken longer without it. And though Gerschel did not end up pursuing chemistry, she has no regrets about the course.
"If I was given that same decision, I would say yes a thousand times over," said Gerschel of a Project Lab invitation. "I really don't think the goal of Project Lab was to have groundbreaking research. The goal of it is to see like, okay, how do I deal with problem solving? How do I deal with working in a group? I think it's more focused on giving you a first glimpse into research."
For Spring '22, the course will earn students an Integrative Learning requirement. Professor Ingersoll is teaming up with Chemistry Lecturer and Instrument Specialist Kate Herrera, Ph.D., for a course focused on exploring environmental conservation restoration. The course will be conducted through a partnership with the Lehigh Gap Nature Center in Lehigh Township. Typically capped at 12 students, this year's course will be open to up to 15 students and will involve the first official community partnership in Project Lab history, according to Ingersoll.
Chemistry Lecturer Silvia Porello, Ph.D., led the course for the last two years and was the professor for Morris and Gerschel. Porello's favorite part of the course are the bonds that form between students and instructors. Porello theorizes that these connections are so strong because they're built in an environment where success is not guaranteed.
"These are experiments that I haven't tested before. So sometimes they work and sometimes they don't," Porello said. "So it's very interesting in that sense because they get a real experience of what it is to be in the lab: failing over and over again on your experiments until you find the right conditions and one day it might all work out. And then they're happy and they're dancing. It usually comes to that."
Ingersoll said the camaraderie of the chemistry department is a naturally occurring phenomenon in the major. But Project Lab helps it blossom early.
"Chemistry is hard. It was hard for me," Ingersoll said. "I don't know anyone who is like 'Oh chemistry! That's easy!' So it's very helpful to have, in their very first year, these connections begin to form. And these bonds are not just with each other—they happen with the faculty too. We all get closer."