Sophomores Will Get the In-Person Orientation They Missed
The College is planning an experience just for the Class of 2024 that offers opportunities to socialize and to participate in beloved Muhlenberg traditions that couldn't take place last year.
By: Meghan Kita Thursday, July 8, 2021 01:37 PM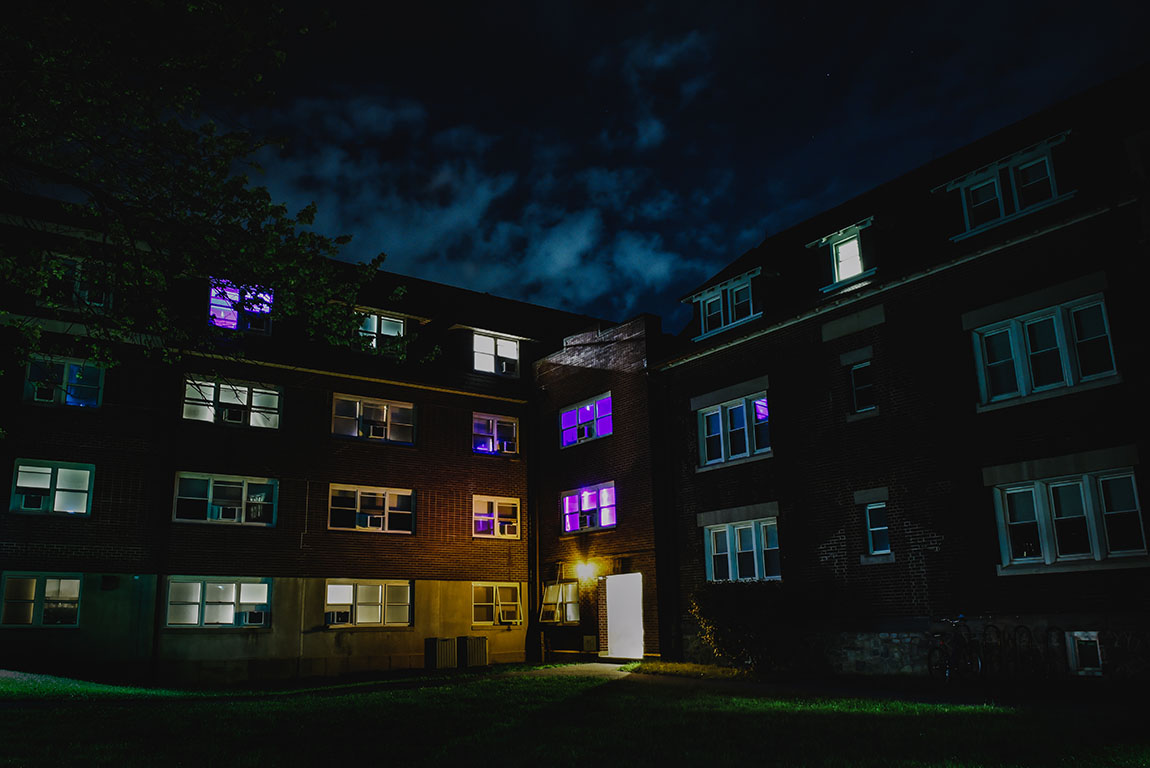 Instead of a candle-lighting ceremony at the start of the Fall 2020 semester, the Class of 2024 displayed glow sticks in the windows of their residence hall rooms to comply with health and safety guidance at the time. The class will get its own belated candle-lighting ceremony at the start of this academic year. Photo by Kristi Morris of Littlewing Photography
When Muhlenberg's Class of 2024 came to campus last fall, they moved into their rooms and more or less stayed there. Instead of exploring campus during welcome weekend—learning, socializing and participating in Muhlenberg traditions—the bulk of that programming was offered virtually, if at all.
It was a fitting introduction to an academic year characterized by remote instruction, social distancing and shifting restrictions based on COVID-19 Alert Levels, but "it was not the college experience that they or their families envisioned them having," says Assistant Dean and Director of Student Transitions Steve Dutton. "There was a lot of loss that happened with this particular class of students."
That's why the College is planning a sophomore-only orientation weekend experience. Sophomore Orientation and Reconnection (SOAR) will take place Friday, August 27, through Sunday, August 29. The Class of 2025 orientation will happen simultaneously but largely separately, allowing the schedule for sophomores to be self-guided and tailored to them.
"The needs they have are vastly different from the needs of brand new college students coming in," Dutton says. "Separating these into two different experiences gives us a chance to show [sophomores and their families] that they matter, that we care about them and want to support them."
Dutton began planning SOAR when it became clear that vaccinations would allow the 2021-2022 academic year to look a lot more like those of the pre-pandemic era, approximately in May. Orientation usually takes a full year to plan, but partners across the College—in housing, dining and student activities, to name a few—moved quickly to support this new programming. It will include information about college experiences sophomores might be considering (study abroad and Greek life, for example), ample opportunities for in-person socialization and the chance to participate in two Muhlenberg traditions the class missed out on.
"I sent out a survey to the Class of 2024," Dutton says, "and more than 70 percent of the respondents said yes, they wanted a candle-lighting ceremony and they wanted to sign the matriculation ledger."
The Class of 2025 will also be doing those things but at different times, to give each group a standalone experience and help them feel a sense of belonging in and affinity to their class.
"[SOAR] fills a void that's there. It fulfills a need that perhaps we have had all along," says Dutton, who adds that his office had been working to create a year-long, sophomore-only experience even before COVID-19 hit. "Being somewhat forced into this due to the global pandemic is one of the things that could turn out to become a mainstay. I don't know whether it always looks like SOAR, but it can be the foundation for a sophomore-year experience going forward."