Muhlenberg Celebrates Graduate and Continuing Studies Commencement
The October 9 ceremony marked the graduation of the College's inaugural master's degree cohort as well as two accelerated baccalaureate programs.
By: Bill Keller Wednesday, October 13, 2021 01:11 PM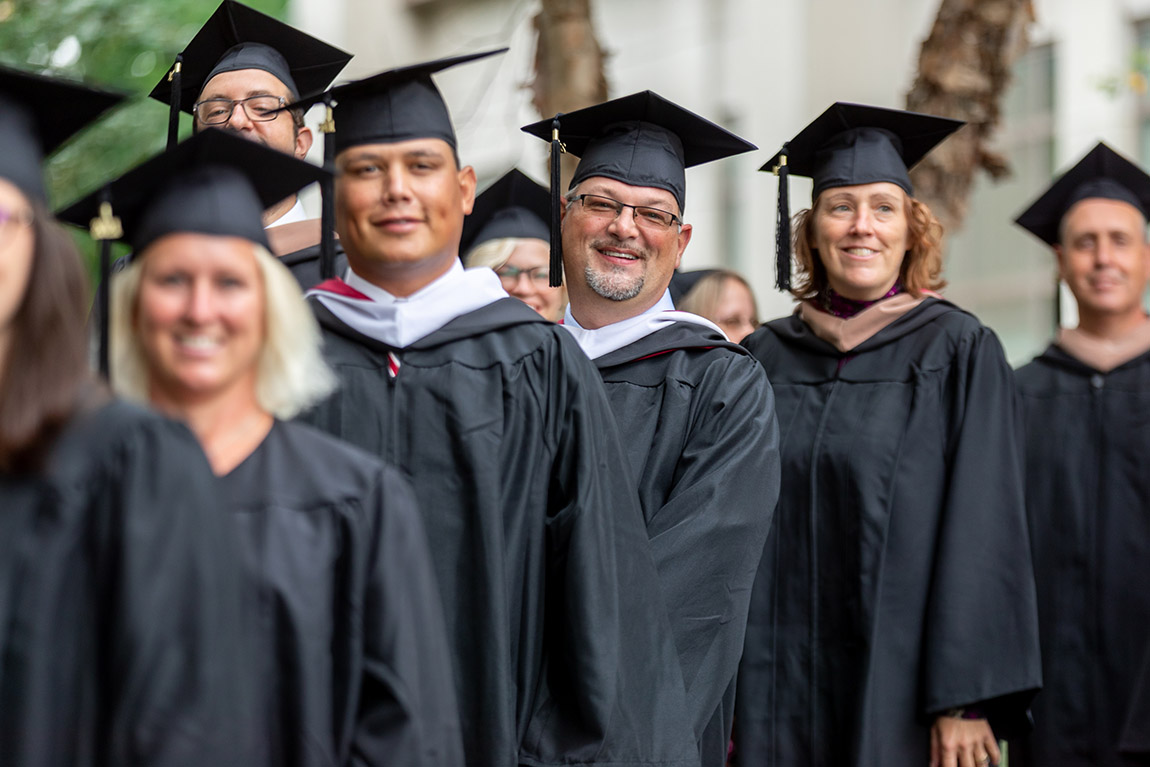 Photos by Marco Calderon.
Speakers included Cheri Fager, one of four who earned a master's degree in applied analytics, and Christina Tomsic, one of 24 who earned a bachelor's of business administration. An additional six graduates earned a bachelor's of information systems. The alumni were congratulated in remarks by Dean of Continuing Studies Jane Hudak and Dean of Graduate Studies David Donnelly.
In her remarks to the class, Muhlenberg President Kathleen Harring praised the graduates for the ideals and values each of them embraced during their educational journeys.
"Earning your degree means that you've acquired the skills and knowledge that are associated with your program. But you've also gained the skills that come from a liberal arts experience: the ability to communicate effectively with clarity and confidence and grace, a much deeper understanding of teamwork and team dynamics, leadership and a sincere commitment to serve and the critical thinking and problem-solving skills that allow you to adapt and grow in new and perhaps unimagined ways," said Harring. "This is the kind of learning that not only impacts your professional lives but influences and shapes your personal lives as well."
The Commencement speaker was Roberta Meek '06, lecturer of media & communication and Africana studies and director of the Africana Studies Program from 2014-2019. Meek recounted her own struggles and successes as an adult student who completed her undergraduate education over a 25-year period before advancing to doctoral studies at Temple University. She focused on the invaluable perspective adult students can offer to younger peers as they complete a collegiate education together.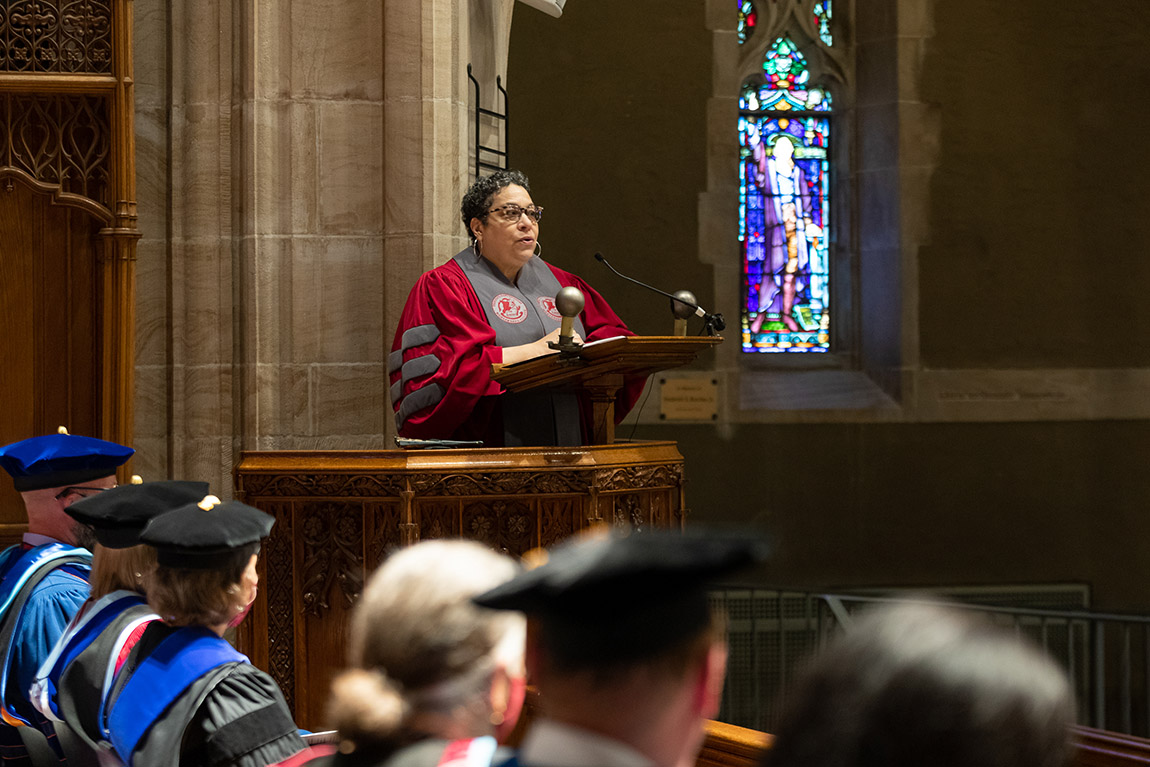 2021 Graduate and Continuing Studies Commencement Speaker Roberta Meek '06 addresses graduates.
"Folks like us … offer traditional-age students so much. You bring a wealth of lived experience and knowledge, and you also provide a terrific role model for them," said Meek. "You demonstrate for them that this chance to have [college as] their main job—one in which they're encouraged to be intellectually curious, to question everything, to share ideas, to engage in exciting dialogues with fellow students—is a true privilege. It is not something to be taken for granted."
Bachelor of Business Administration Cohort 33
Janet Brown
Kensy Dubon
Keila Rodriguez
Erika Clauss
Gloria Dugal
Deanna Shisslak*
Luz Cruz
Giovanni Dutan
Joseph Stanavage
Donna Curtis
Jamaira Lopez
Christina Tomsic*
Bachelor of Information Systems Cohort 34
Robert Lessard
Alessandro Minutillo
Yeriel Rosario
Sergio Maciujec
Angelo Ramos
Rachelle St. Pierre*
Bachelor of Business Administration Cohort 35

Hannah Brum
Jason Greis
Matthew McKinney
Emmett Cantrell
Linda Krim
Jody Rutt
Lisa Deutsch
Kathryn Kryzan
Lori Schaefer
Michael Gower
Heather Lindaman
Abigail Suarez
Master of Applied Analytics
Michelle Bittenbender
Cheri Fager
Jennifer Hartman
Karen Schulz