Kevan Shah '22 Named a 2021 Truman Scholar Finalist
The Harry S. Truman Scholarship Foundation received a record number of applications this year.
By: Kristine Yahna Todaro Monday, February 22, 2021 04:20 PM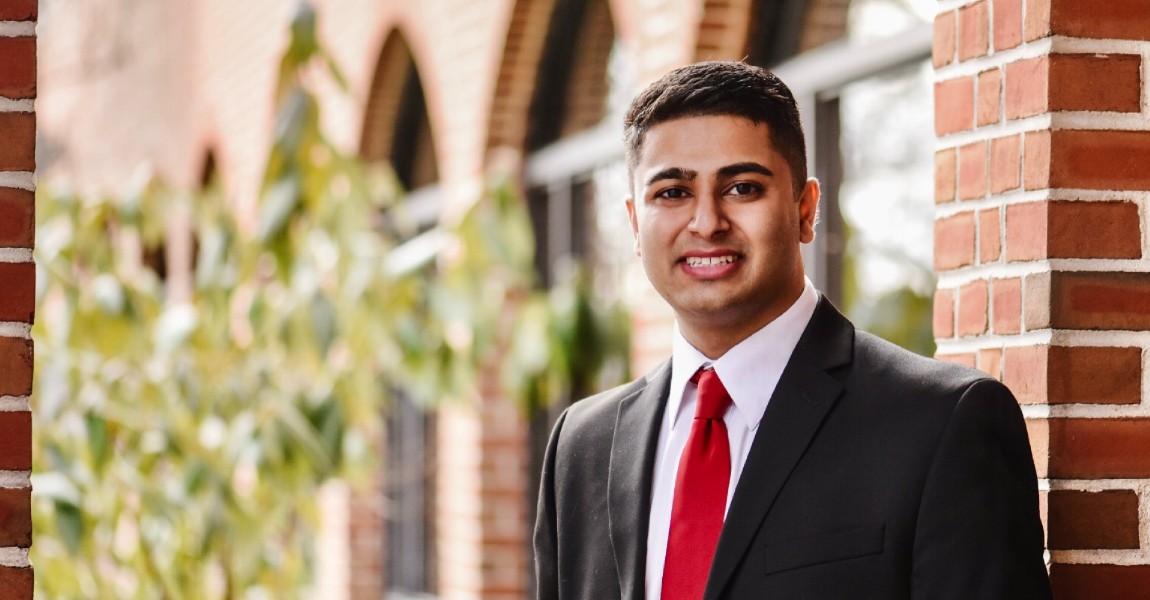 Shah, a public health and neuroscience major, is one of 193 students from 129 institutions selected as a 2021 Truman Scholar Finalist.
This year's competition elicited 845 applications from 328 institutions—a record number of applicants. Finalists will interview virtually with the Truman Scholarship Foundation's Regional Review Panels between March 1 and April 6, and the 2021 Truman Scholars will be announced by 5 p.m. ET on April 14.
Truman Scholars demonstrate outstanding leadership potential, academic excellence and a commitment to a career in government or the nonprofit sector. Each Scholar receives funding for graduate studies, leadership training, career counseling and special internship and fellowship opportunities within the federal government.
During high school, Shah spent time shadowing in an emergency room near his New Jersey home. On his first day, he saw a doctor use the drug naloxone to resuscitate an unconscious young man who had overdosed on opioids. "It was the kind of life-saving intervention that I thought only occurs in movies," he says. This led to contributing to a report about opioid addiction in New Jersey that went to state legislators.
At Muhlenberg, Shah received a grant from the College to conduct opioid research with Associate Professor and Director of Public Health Chrysan Cronin. The data he found indicated that programs that increase access to Narcan do reduce opioid overdose deaths, but those programs don't always offer training on how to administer it.
"With that in mind, I founded a nonprofit, End Overdose Together, that recruits, trains and mobilizes students to host workshops in the community to ensure that individuals are aware, able and ready to administer Narcan when confronted with an opioid overdose," Shah says.
Last year, Pennsylvania Governor Tom Wolf announced that Muhlenberg would be one of 13 higher education institutions in the state receiving an Opioid Prevention in Higher Education grant from the Department of Drug and Alcohol Programs. The $100,000 grant—the largest amount awarded to any single institution—supports a program in which Muhlenberg students learn to train members of the Lehigh Valley community to administer Narcan. With Cronin advising, Shah wrote the grant and is working with other Muhlenberg public health students to serve as the program's staff.
Established by Congress in 1975 as the living memorial to President Harry S. Truman and national monument to public service, the Truman Scholarship carries the legacy of the country's 33rd President by supporting and inspiring the next generation of public service leaders.
About Muhlenberg College
Founded in 1848, Muhlenberg is a highly selective, private, four-year residential, liberal arts college offering baccalaureate and graduate programs. With an enrollment of approximately 2,200 students, Muhlenberg College is dedicated to shaping creative, compassionate, collaborative leaders through rigorous academic programs in the arts, humanities, natural sciences and social sciences; selected preprofessional programs, including accounting, business, education and public health; and progressive workforce-focused post-baccalaureate certificates and master's degrees. Located in Allentown, Pennsylvania, approximately 90 miles west of New York City, Muhlenberg is a member of the Centennial Conference, competing in 22 varsity sports. Muhlenberg is affiliated with the Evangelical Lutheran Church in America.