Spring Exhibitions at the Martin Art Gallery & Galleria
The annual Thesis Exhibition showcases works by graduating seniors majoring in art and solo shows by artists Paulo Canevari and Greta Bergstresser are featured.
Wednesday, April 28, 2021 09:59 PM
The 2021 Thesis exhibition is on view in person in the Martin Art Gallery, and the solo shows can be viewed in the Galleria exhibition areas, both housed in the Philip Johnson-designed Baker Center for the Arts at 2400 Chew Street.
At this time, the exhibitions are open only to faculty, staff and students who have permission to be on campus during the spring 2021 semester. In accordance with College policy on reducing occupancy of public spaces and social distancing, no more than five people are allowed in the Gallery at one time. The Gallery will be open daily during CA building open hours, from 9 a.m. - 9 p.m. (To access the building, use a Muhlenberg ID card at the access points at the north and south entrances.)
---
2021 Thesis Exhibition
Seniors Jaelyn Blonder, Chloe Buergenthal, Elliot Ohnmacht and Kelly Lynn Steltz
Through May 13

Martin Art Gallery hosts the annual Thesis Exhibition featuring an array of works in various media by graduating seniors majoring in art. The show takes place through May 13 and is open daily to students, faculty and staff with permission to be on campus.
The 2021 Thesis class spans the spring and fall semesters and was led by Associate Professor Emily Orzech, with support by Muhlenberg Studio Art Faculty: Professor Raymond S. Barnes, Assistant Professor Frederick Wright Jones, Senior Lecturer Kevin Tuttle and Visiting Lecturer Matthew Williams.
---
Growing up Green
Greta Bergstresser
Through May 20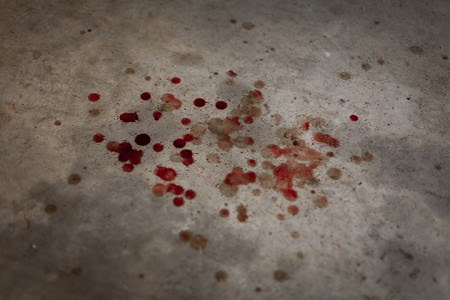 The solo show Growing up Green by Greta Bergstresser features an array of photographs organized into a series of visual essays that capture vignettes exploring traditional agricultural practices that she grew up with. The exhibition is on view through May 20.

At this time, the Gallery is only permitting Muhlenberg faculty, staff and students to view the exhibition in person. However, visitors are encouraged to visit the artist's website to view this and other projects.
Greta Kathryn Bergstresser was born in Lewisburg, Pennsylvania. She pursued an early interest in photography and was selected to attend the selective Pennsylvania Governor's School for the Arts. Greta graduated with a B.A. in Art from Muhlenberg College in Allentown, Pennsylvania in 2004 and proceeded to get her M.F.A. in Photography from the Rhode Island School of Design in Providence, Rhode Island. Greta currently resides in Stroudsburg, Pennsylvania, pursuing her own fine art photography as well as teaching photography at both Muhlenberg College and Lafayette College.
---
Bouncing Skull
Paulo Canevari
Through May 24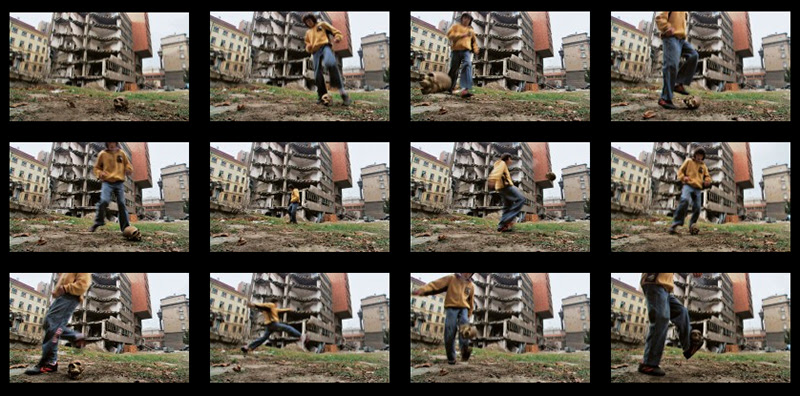 A young man enters the screen and immediately flicks up a most unusual ball, attempting to juggle it in the air for as many hits as possible. The ball rolls away and is swiftly brought back to center frame. Quickly, we realize it's not a ball, but what appears to be a human skull. The action is set against a backdrop of half-demolished buildings, and we hear the child panting, shuffling and straining against traffic noise in the distance. The extraordinary is superimposed on the everyday, provoking a host of unsettling associations.
Does the work offend through its callous disregard for a human life—or more specifically, the disregard for the formerly alive? What could this boy be thinking? What moral obligations is this protagonist failing to live up to? What are the implications of this work—ethical, political, historical? Canevari does not tell us how to think about the work, but only leaves us with a contextual clue: the video was shot in the shadow of the former Serbian Army Headquarters in Belgrade which was bombed in 1999 by NATO during the Kosovo war.
Bouncing Skull was presented at the 52nd Venice Biennale curated by Robert Storr in 2007, and is in the collection of the Museum of Modern Art.
Paolo Canevari was born in Rome in 1963, a third-generation artist in his family. Since his first solo show in 1991, in which he started using car tubes and tires, Canevari has developed a personal language aimed at revisiting the everyday and the most intimate aspects of memory. Over the years, and through the employment of a variety of media and techniques, from animation to large-format drawings, videos and installations, his projects have taken on a strong conceptual connotation. Focusing on the use of symbols, icons and images that are part of the collective memory, his works often invite viewers into a direct confrontation.
The artist was invited to participate in several biennials globally, including Liverpool Biennial 2004; the Whitney Biennale (2006), and the 52nd International Exhibition at the Venice Biennale (2007). Widely exhibited at prominent institutions around the world, Canevari's works have appeared at the National Gallery and MACRO, Rome; MART, Rovereto; Museion, Bozen; The Drawing Center, PS1 Contemporary Art Center and MoMA, New York; IMMA, Dublin; KW, Berlin; and Parkview Green Contemporary Art Museum, Beijing. Pieces by Canevari are included in prestigious international museum collections such as MoMA, New York; the Fondation Louis Vuitton pour la Creation, Paris; Rome's MACRO and MART, Rovereto. Canevari's works were recently seen in Self-portrait / Autoritratto, a solo exhibition at Cardi Gallery in London.