Muhlenberg Earns Accolades for Student Voter Participation
The College was awarded a platinum seal from the ALL IN Campus Democracy Challenge for nonpartisan student voter participation efforts in the 2020 Election.
By: Kristine Yahna Todaro Monday, November 8, 2021 02:05 PM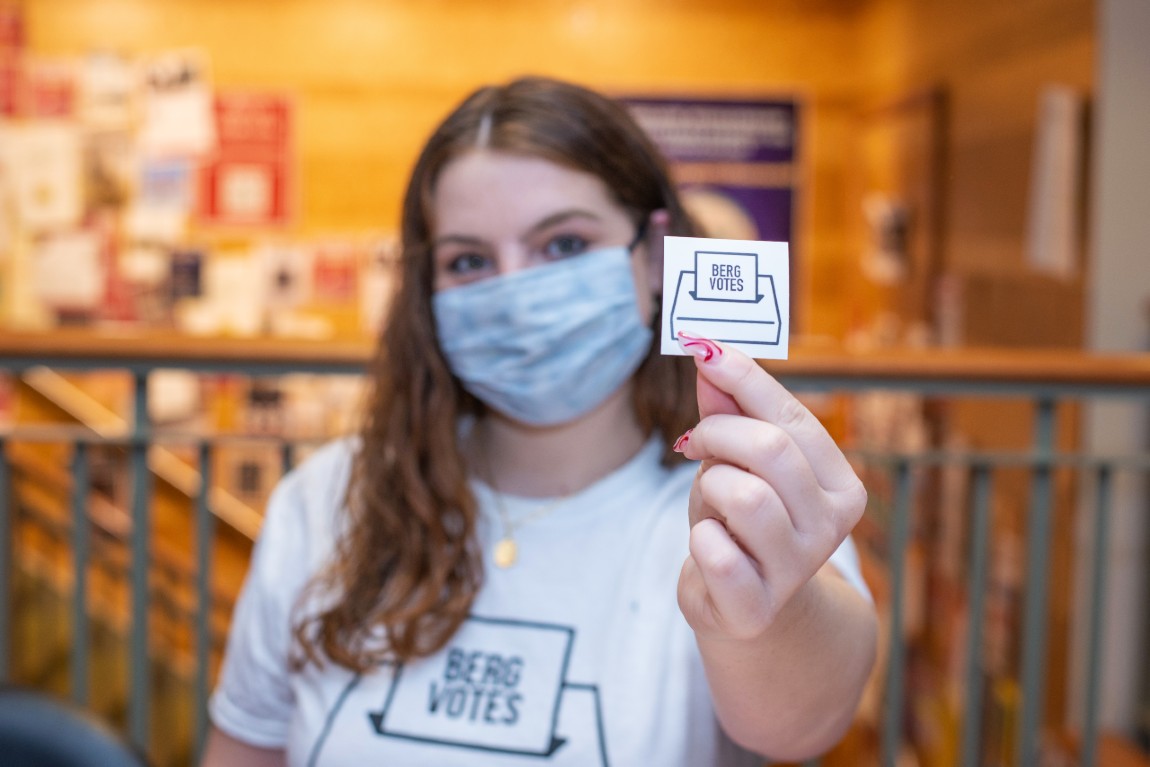 Current BergVotes President Ryan Abrams '23 displays a sticker promoting the student organization's work.
Today, the ALL IN Campus Democracy Challenge hosted an awards ceremony to recognize select higher education institutions, educators and students for their extraordinary work in student voter engagement during the 2020 presidential election.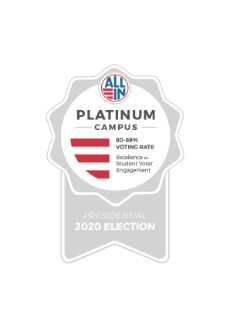 Muhlenberg has received the 2021 Platinum Seal for an 80-89 percent student voting rate during the 2020 Elections. See the full list of participating campuses here.
The 2020 presidential election engaged the largest and most diverse group of college students in U.S. history. More than 840 institutions enrolling close to nine million students participated in the ALL IN Challenge.
Muhlenberg was also recently recognized for its high student voting rates in a new report from the National Study of Learning, Voting, and Engagement (NSLVE). The student voting rate at Muhlenberg rose to 82.6% in last year's presidential election, far exceeding the 2020 national college-student voting rate of 69% for private institutions and 66% for all institutions.
The College's nonpartisan student organization BergVotes, the Office of Community Engagement (OCE) voter promoters and other volunteers helped ensure students were registered and able to vote in the fall 2020 presidential elections, whether they were on campus or taking courses remotely due to the pandemic.
The ALL IN Campus Democracy Challenge (ALL IN) is a national, nonpartisan initiative of Civic Nation, a 501(c)(3) organization. ALL IN strives for a more inclusive democracy—one in which all voices are heard. Their program provides structure, support, and recognition to strengthen college and university efforts to improve civic learning, political engagement and voter registration and participation.
About Muhlenberg College
Founded in 1848, Muhlenberg is a highly selective, private liberal arts college offering baccalaureate and graduate programs. With an enrollment of nearly 2,000 students, Muhlenberg College is dedicated to shaping creative, compassionate, collaborative leaders through rigorous academic programs in the arts, humanities, natural sciences and social sciences; selected preprofessional programs, including accounting, business, education and public health; and progressive workforce-focused post-baccalaureate certificates and master's degrees. Located in Allentown, Pennsylvania, approximately 90 miles west of New York City, Muhlenberg is a member of the Centennial Conference, competing in 23 varsity sports. Muhlenberg is affiliated with the Evangelical Lutheran Church in America.