Muhlenberg to Break Ground for Parkway Boulevard Building
One of the first 20 projects in the world to pursue CORE green certification, the new campus building will provide over 20,000 square feet of academic and student programming space.
By: Kristine Yahna Todaro Monday, May 3, 2021 10:06 AM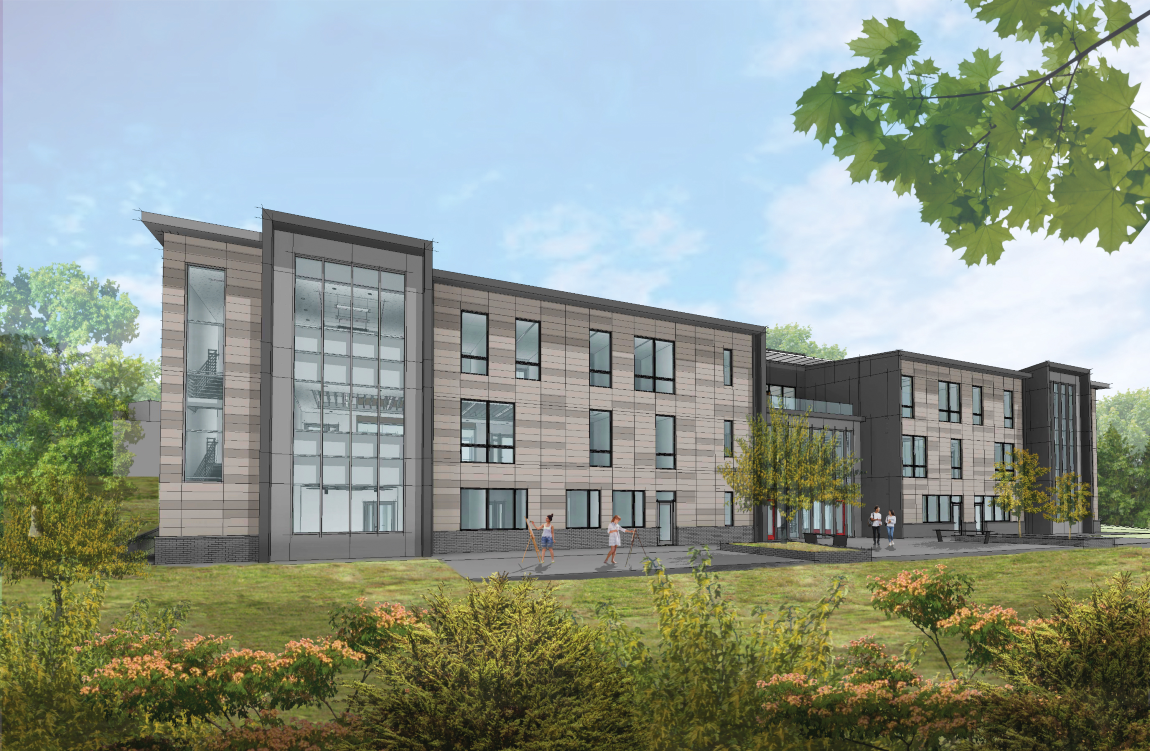 A south-facing view of the Parkway Boulevard Building, scheduled for completion in September 2022. Image by Re:Vision Architecture.
On Thursday, May 6, the College will celebrate the groundbreaking of the new Parkway Boulevard Building on the south side of Muhlenberg's campus.
Scheduled for completion in Fall 2022, the three-story building will reside on the hillside between Chew Street and Parkway Boulevard and serve as a new home for the Innovation & Entrepreneurship Program, Institute of Public Opinion, School of Graduate Studies, School of Continuing Studies and Office of Community Engagement. The building will also house art studio space.
A transformative $7.5 million gift received in 2020 is providing significant support for this capital project as well as the expansion and enhancement of The J. Conrad and Hazel J. Seegers Union. The donors, who wish to remain anonymous at this time, are a Muhlenberg alumnus of the 1970s and his wife.
Speakers at the May 6 groundbreaking event will include President Kathleen Harring, Richard C. Crist '77 P'05 P'09, chair of the Muhlenberg College Board of Trustees, and Scott Kelly, co-founder and principal-in-charge at Re:Vision Architecture.
State Representative Michael Schlossberg '05 and Allentown Mayor Ray O'Connell are both scheduled to speak at the event as well.
Muhlenberg College's Parkway Boulevard Building is one of the first 20 projects in the world to pursue CORE certification.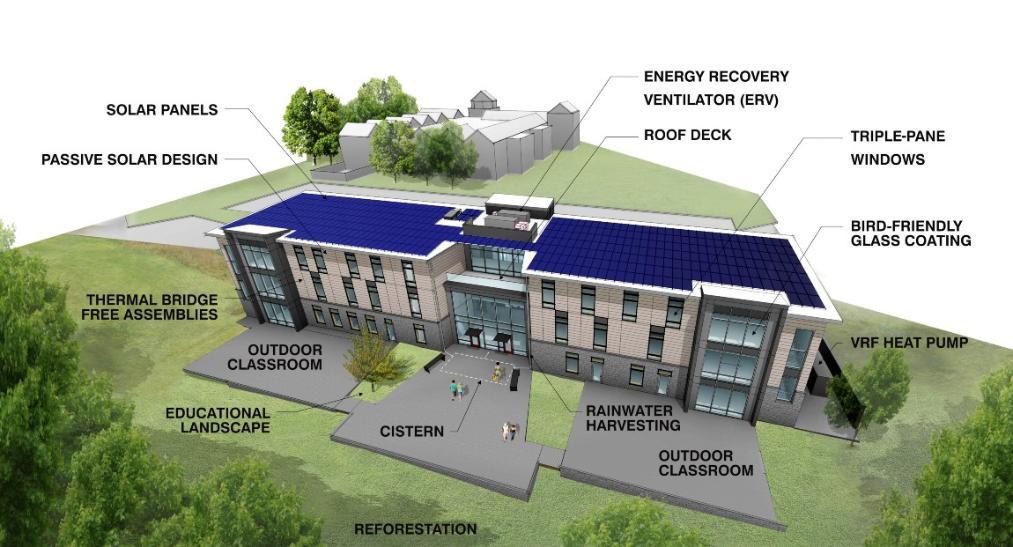 Image by Re:Vision Architecture

Living Building Challenge (LBC) Core Green Building Certification (CORE) is a framework that outlines the 10 best practice achievements that a building must obtain to be considered a green or sustainable building by the International Living Future Institute (ILFI). LBC is a certification program, advocacy tool and philosophy defining the most advanced measure of sustainability in the built environment today.
Highlights of the Parkway Boulevard Building's holistic and deep sustainable design include:
Native landscaping, which does not require irrigation or petrochemical fertilizers and works to restore the natural ecology of the site

Support for low-carbon and human-centered transportation with covered bike storage, shower facilities and electric car charging stations

A rainwater recycling system, which in conjunction with low water consumption flush and flow fixtures, will reduce building water consumption by over 50%

70% energy use reduction through efficient HVAC and lighting systems, a super-insulated envelope, passive-solar orientation and a 60kw rooftop solar panel array

Exceptionally high levels of indoor air quality utilizing continuous fresh-air ventilation and a green cleaning protocol

Utilization of locally sourced low-toxicity and low-embodied carbon materials

A fully accessible building and landscape providing universal access to a corner of campus previously only accessible via stairs

Utilization of a third-party diversity and inclusion assessment tool to benchmark the design and construction teams

Utilization of biophilic design principles to create a space that engages humans in direct and indirect experiences with nature

Educational elements woven throughout the building and site creating a teachable resource out of the building
In addition, Muhlenberg Professor of Ornithology & Conservation Biology Dan Klem—the world's foremost authority on bird collision and bird-safe glass—and Acopian Ornithological Specialist Peter Saenger, worked with the team at Re:Vision Architecture to ensure that the windows in the building will have bird-safe coatings.
About Muhlenberg College
Founded in 1848, Muhlenberg is a highly selective, private liberal arts college offering baccalaureate and graduate programs. With an enrollment of nearly 2,000 students, Muhlenberg College is dedicated to shaping creative, compassionate, collaborative leaders through rigorous academic programs in the arts, humanities, natural sciences and social sciences; selected preprofessional programs, including accounting, business, education and public health; and progressive workforce-focused post-baccalaureate certificates and master's degrees. Located in Allentown, Pennsylvania, approximately 90 miles west of New York City, Muhlenberg is a member of the Centennial Conference, competing in 23 varsity sports. Muhlenberg is affiliated with the Evangelical Lutheran Church in America.