Recent Grad Earns Accolades for Her Financial Advising
Sydney Kozakis '21, who rose to the top of Northwestern Mutual's pool of more than 2,500 college financial representatives, is embarking on the career she's dreamed about for years.
By: Meghan Kita Wednesday, June 23, 2021 00:32 PM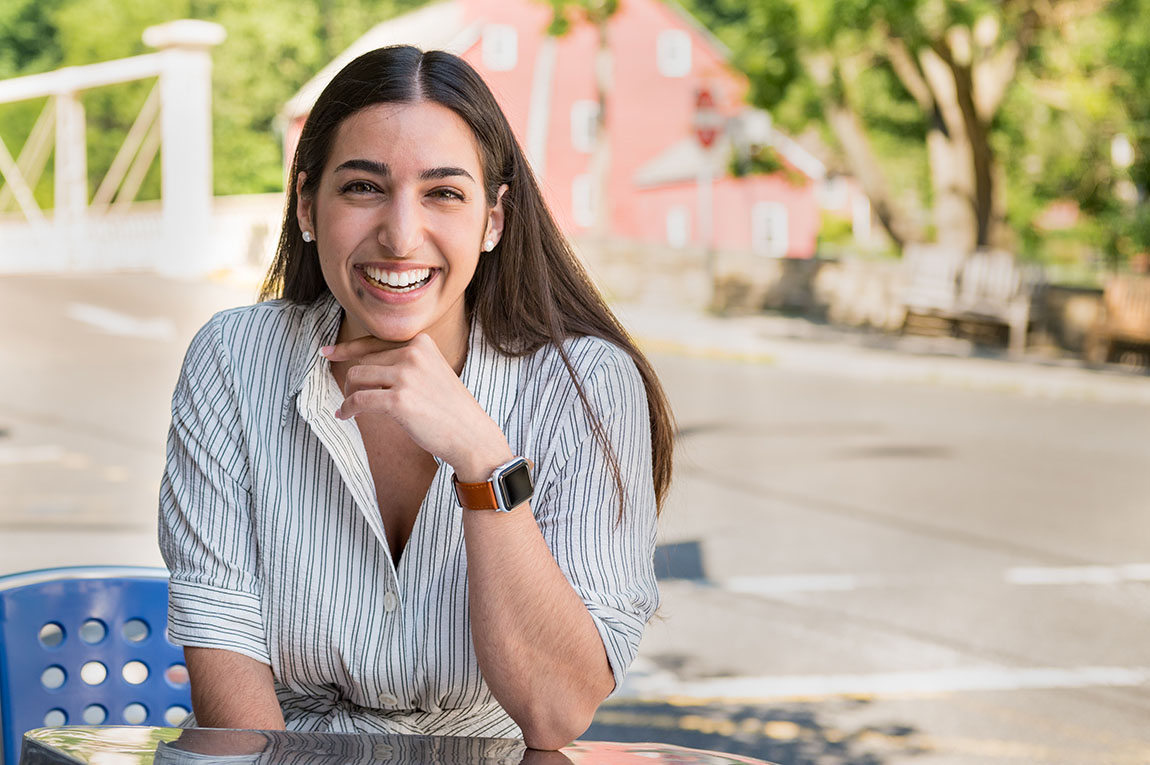 Sydney Kozakis '21. Photo by Bill Keller
When you ask a kid what they want to be when they grow up, "a financial planner" is not an answer you'd expect. But Sydney Kozakis '21 says she knew from a young age that she wanted to do what her father did.
"I just remember growing up and seeing him with his clients, watching people get married, have children, buy homes, take the vacations they wanted to take, send kids away to school, handle life's surprises and more, all because of the planning that my father did for them," says Kozakis, who just graduated with a business administration degree. "From a young age, I took such an interest in financial planning, financial literacy and how much of an impact being financially secure can have on your future."
Kozakis just started as a full-time financial advisor with Northwestern Mutual, where she began interning as a college financial representative the summer after her sophomore year. Her performance last year made her the top college financial representative out of a field of more than 2,500 interns nationwide. Kozakis is only the second woman in history to receive this honor, which is based on a point system that quantifies each representative's output, and the program dates back to the 1960s.
"The vast majority of the industry is made up of men," Kozakis says, noting that only 20 percent of Certified Financial Planners (CFPs) are women. "I know a lot of outstanding men in the industry—my dad is one of them—but the truth is, many of them are just not reaching out to women."
Identifying this disparity helped Kozakis build her client base, which college financial representatives must do on their own. She began by planning for friends and family, and those contacts referred her to people in their networks, and so on. She now has hundreds of clients, many of whom are young women.
"To me, there is no better feeling than sitting down with a woman who's been afraid to ask the questions she needs to ask about her finances, who's been afraid to start investing and start making those good money decisions early on, and being able to break things down and simplify and demystify the whole industry for her," Kozakis says.
This November, Kozakis will take the CFP board exam. She began working toward this milestone, which requires taking six exams en route to the final comprehensive one, while juggling Muhlenberg coursework and the needs of her clients. Now that she's graduated, she's able to focus more on earning the CFP designation, a process that many CFPs spread out over periods of five or more years.
"If I'm going to be sitting down with people and helping them with their money every single day, I should get the highest designation in the industry," she says. "Getting myself educated to the extent that I have has helped tremendously in terms of the impact that I've been able to make."