Sneakers and Supreme
As founder of the online brand SAINT, Matt Steiner '21 shapes the social media conversation surrounding streetwear.
By: Dan McQuade Monday, March 15, 2021 10:44 AM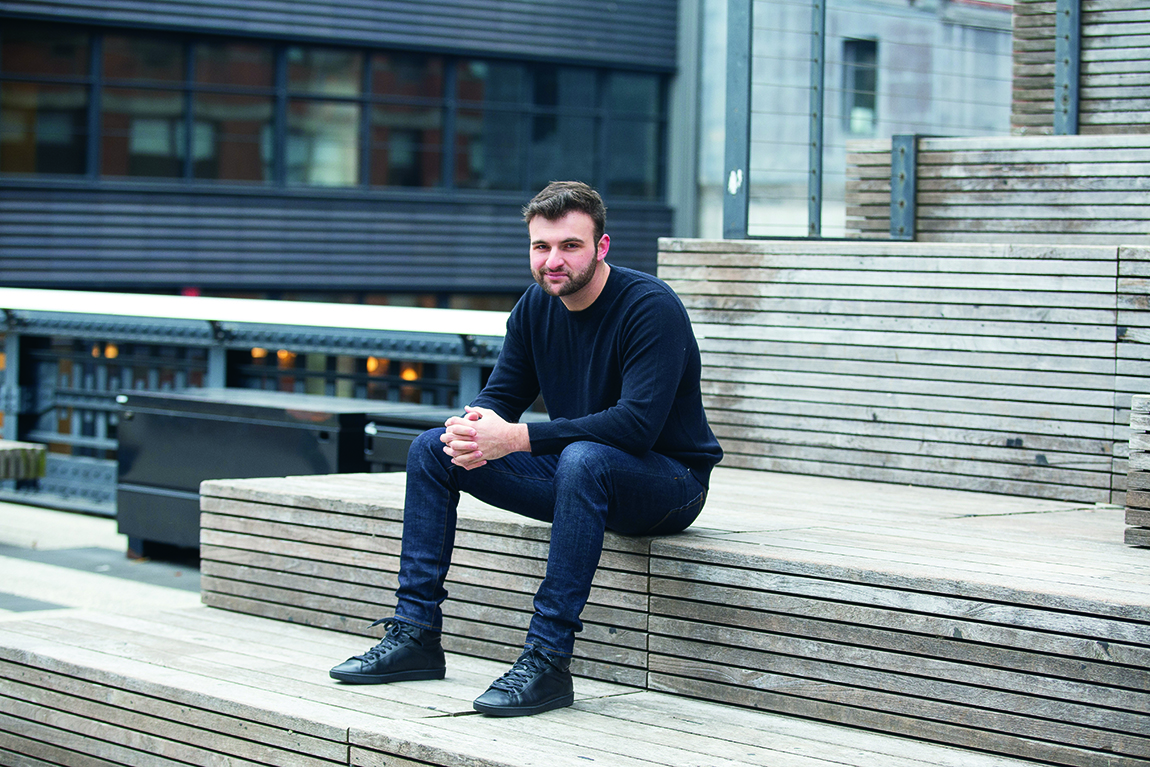 Matt Steiner '21 says he only wears a few pairs of his personal sneaker collection, including these Saint Laurent high tops. Photo by Brooke Slezak
On December 5, 2020, Matt Steiner '21 rolled out of bed and got onto Twitter. One of the biggest sneaker launches of 2020 was about to happen, and his account, @SAINT, needed to be part of the conversation.
For some people, sneakers are no longer a purchase to make once or twice a year. Some have sneaker collections that swell to hundreds or even thousands of pairs, shoes they may or may not ever wear. And Steiner, who has about 30 pairs himself, is there to capitalize on the fervor.
December 5 marked the release of the Yeezy 350 V2 in the "bred" (that is, black and red) colorway. Adidas first released the collaboration with Kanye West in 2017, and it attracted buyers for its hipness, its classic color scheme and the fact it can resell for hundreds of dollars over its $220 retail price. Steiner deals in these kinds of releases with his brand SAINT, a catchall hype machine (fueled by Twitter, Instagram, TikTok and a website) for the hottest sneakers and streetwear.
On launch days, Steiner creates what the site calls "moments"—collections of tweets that help users catch up on trending topics. That December morning, he composed his own short tweet about the sneakers (a photo captioned "Who copped?"), added a few other tweets to the moment and published. When users clicked on the Twitter moment, they saw Steiner's tweet for SAINT at the top.
"That'll do a couple million views, that moment," Steiner says. "It's on the front page of everyone's Twitter for hours."
Steiner, a business administration major and innovation & entrepreneurship minor at Muhlenberg, began his foray into the online sneaker sphere with The Supreme Saint in 2015. He and his partner created a website that enabled customers to pay for the ability to purchase limited-edition products from Supreme, a New York City-based skate brand. Customers would give Steiner's company their addresses and credit card information and a list of which products they wanted. The Supreme Saint (which was not affiliated with Supreme) would then use a bot, a computer program that ensured Steiner and his partner would be first in line, to purchase Supreme products upon their release. Steiner's company charged a fee for each transaction; one week, when Supreme released a collaboration on a pair of Air Jordan sneakers, Steiner's company made $20,000 by facilitating those sales.
But as more and more people got into creating bots, The Supreme Saint lost some market share. In 2018, Steiner bought out his partner and pivoted the business from a focus on Supreme to a focus on hot clothing and sneakers of all brands. SAINT no longer facilitates purchases; instead, it reports on them.
Steiner's SAINT brand is unique in that it is primarily Twitter-based. The account has more than 186,000 followers—about 120,000 more than when he switched its focus away from Supreme. The streetwear brand remains popular, though: One SAINT tweet from early 2020 about Supreme's collaboration with Oreo racked up 8 million impressions (the number of people who saw the tweet) and 4 million engagements (the number who retweeted, liked or otherwise interacted with the tweet).
At this point, Steiner's focus is on continuing to build the brand to make it increasingly appealing to potential buyers. He's already had discussions with individuals interested in purchasing parts of his business. Meanwhile, he's been working to complete his senior year, including taking all remote courses last fall. (COVID-related changes haven't been entirely bad for SAINT, though: "A lot of people have been on their phones looking for stuff," he says.) He returned to his home in Fort Lauderdale, Florida, at the start of the pandemic, but last fall, he and friends rented a house in the Poconos for two months to get a bit more of the college experience. He ended 2020 living with a friend in New York City.
"It's great to get the experience of living here," he says, though the transition to remote learning has been challenging. Still, he adds, "It's my senior year. It feels good no matter where I am."