The Silent Second Pandemic
Dr. Dayna McCarthy '05 works with patients who suffer from persistent symptoms for months after a COVID-19 diagnosis.
By: Meghan Kita Tuesday, April 6, 2021 01:52 PM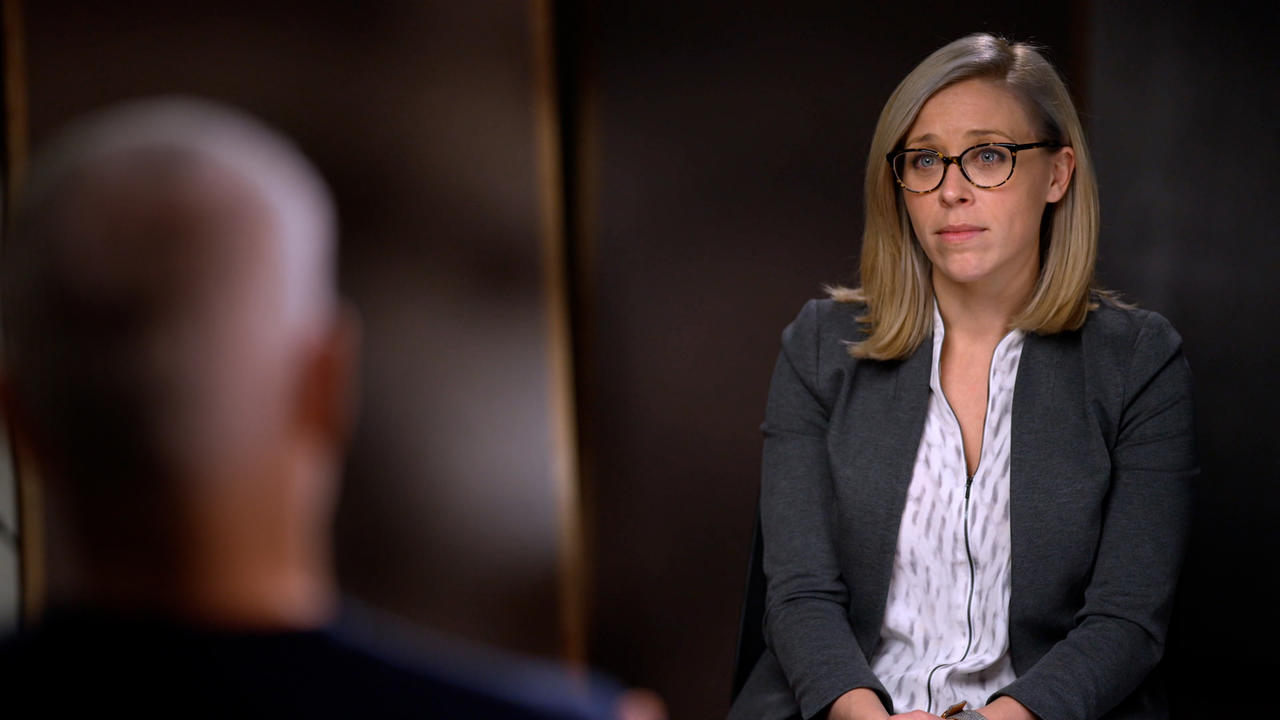 Dr. Dayna McCarthy is a physician with the Mount Sinai Health System. Here, she discusses long-term impacts of COVID-19 on CBS' 60 Minutes. Photo courtesy of CBSNews/60MINUTES.
When COVID-19 clobbered New York City in the spring of 2020, Dr. Dayna McCarthy '05 was one of many Mount Sinai Health System physicians who "redeployed." McCarthy's specialties are rehabilitation and sports medicine, but during the COVID surge, she helped wherever she was needed.
Among other responsibilities, she worked on adapting the remote patient monitoring system the rehabilitation team had used for stroke patients to work for acute COVID patients. Upon a COVID-positive patient's discharge from the emergency room, they would be onboarded into the patient monitoring system and given a hotline number and a home pulse oximeter, a tool that measures blood oxygen levels. If the levels dipped below a certain threshold, the patients were told to call the hotline, which physical and occupational therapists had been redeployed to monitor. This allowed the hospital system, which had already exceeded capacity, to keep tabs on borderline patients without admitting them.
McCarthy and her colleagues expected to be able to discharge patients from the remote monitoring system after 21 days—anyone with mild enough disease to avoid hospital admission should be better by then, they thought. But, "that wasn't happening, in a number of patients that was high enough to be concerning," says McCarthy, who was a business administration major and music minor at Muhlenberg. At the same time, Mount Sinai doctors became aware of communities forming on social media of "COVID long-haulers," patients who continued to experience symptoms long after a positive test.
In May, Mount Sinai announced the opening of its Center for Post-COVID Care. By late January, more than 1,600 patients had utilized the center. Approximately 10 percent of COVID patients may go on to suffer from persistent symptoms, which can include fatigue, brain fog, headaches, shortness of breath, heart rate variability, tingling in the extremities, loss of taste and smell, gastrointestinal distress and intolerance of physical and/or cognitive exertion.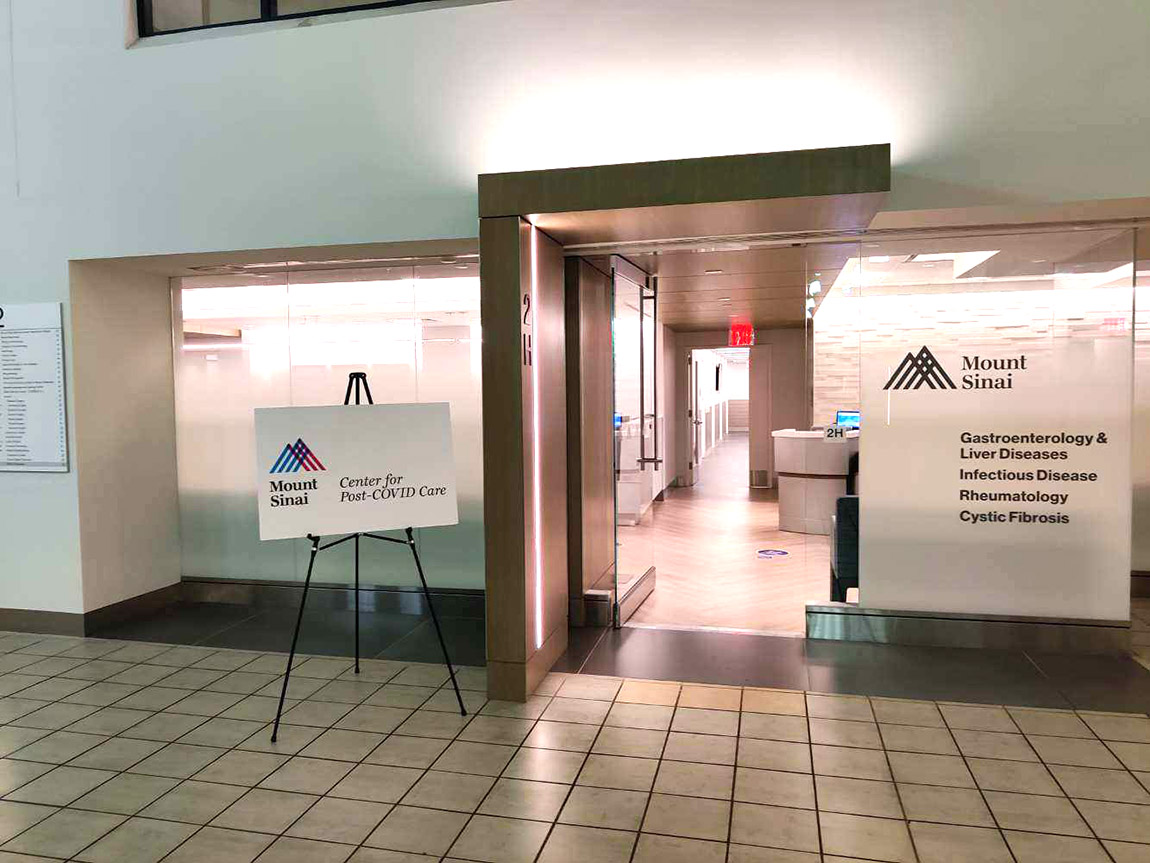 In May 2020, Mount Sinai opened its Center for Post-COVID Care. Image courtesy of Mount Sinai Health System.
McCarthy herself is among those affected—she developed acute COVID in March and seemed to recover. But soon after she returned to work, she began to forget what she was doing midway through a task. She developed severe headaches. She tried to return to exercise—she'd worked out six days per week pre-COVID—and could barely manage five minutes of gentle pedaling on her Peloton. In June, she noticed that while her senses of smell and taste had returned, they were wonky—shampoo smelled like ammonia, everything tasted burnt.
"I am one of those people who said, 'Okay, I'm young, I'm healthy, I'm going to get over it.' In hindsight, I did myself a disservice," McCarthy says. "I jumped back into work and was helping on every single level I could."
An immune system overreaction is what causes post-acute COVID syndrome, though why some patients' immune systems overreact while others' don't is a question Mount Sinai doctors and scientists are working with colleagues elsewhere to try to answer. However, some common characteristics among the Center for Post-COVID Care's patients may offer clues. For example, two-thirds are women, who are more likely than men to suffer from autoimmune disorders than men, and almost all are "the Type A, fifth-gear New Yorker," per McCarthy.
Whether returning too quickly to one's pre-COVID lifestyle can cause persistent symptoms or whether the people who do so are more likely to have the ability and desire to seek treatment is unclear. McCarthy worries about the patients the health-care system is missing—those who are uninsured or underinsured, or who may not have the time or means to undergo the extensive testing (to rule out other conditions) and long-term rehabilitative care patients with post-acute COVID syndrome need.
What that care looks like varies from patient to patient, but much of it involves optimizing a patient's sleep, nutrition and stress levels. Patients might also undergo physical therapy that focuses on regulating the nervous system, starting with breathing exercises. Improvement can be painfully gradual and nonlinear, and none of McCarthy's patients have, so far, made a complete recovery. As she points out, the original SARS disease left some patients with long-term symptoms that took an average of 18 months to resolve.
If 10 percent of the more than 28 million Americans who've been diagnosed with COVID so far go on to suffer from persistent symptoms, the impact will be tremendous. In addition to the aforementioned strain on the U.S. health-care system, the economy will also suffer—the vast majority of McCarthy's patients were young and healthy prior to COVID, and now some are too sick to work. But, McCarthy understands why this phenomenon has gotten relatively little attention. (The National Institutes of Health, for example, only announced an initiative to study "long COVID" late this February.)
"Here's the problem: We're still in the midst of a pandemic," McCarthy says. "This is the silent second pandemic. Nobody has the wherewithal or the capacity to focus on that."
McCarthy has been interviewed by 60 Minutes, The New York Times and CNN about post-acute COVID syndrome. At Muhlenberg, she was a business administration major and music minor.