Turning Grief into Action
If Jacob Sarrel '21 gets his wish, his current marketing campaign will end very soon.
By: Mike Falk Thursday, March 25, 2021 01:30 PM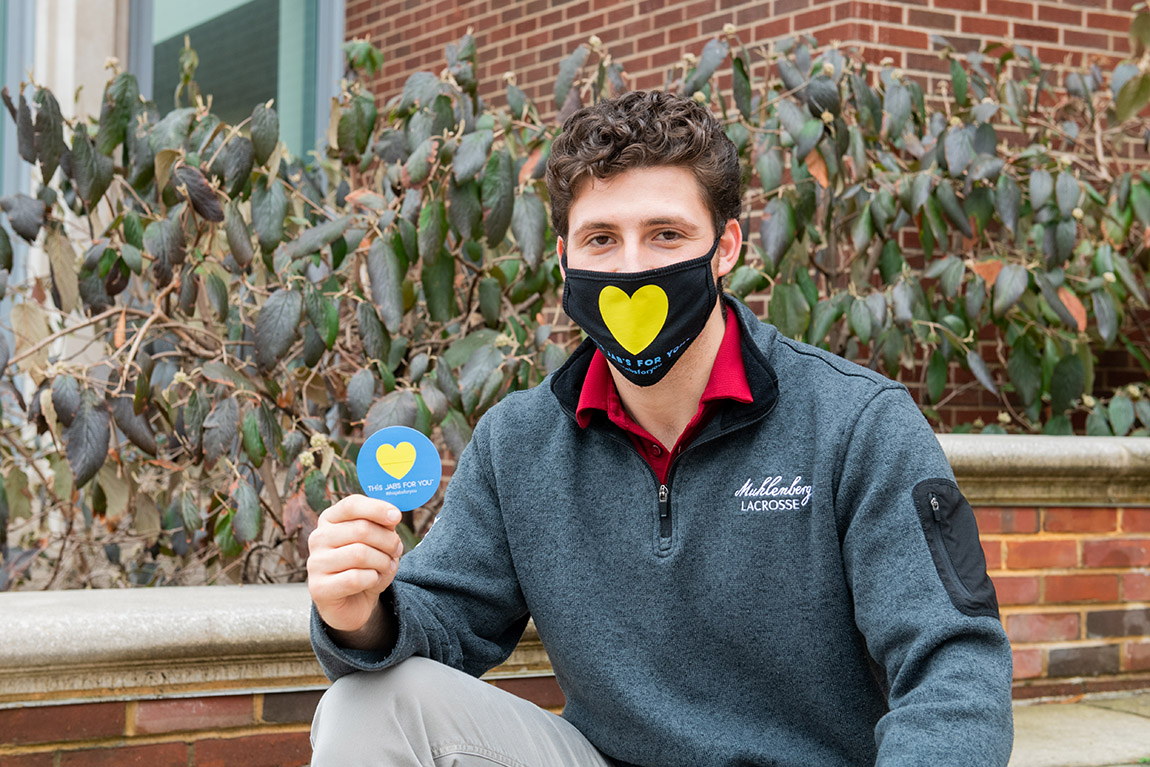 Jacob Sarrel '21 holds up a sticker and wears a mask with the "This Jab's For You" logo; he's working with his family on a campaign promoting COVID-19 vaccination.
Sarrel, a business administration major and member of Muhlenberg's men's lacrosse team, lost his father to COVID-19 last April. Louis Sarrel had been undergoing treatment for lymphoma and was in remission when he succumbed to COVID just days after his 58th birthday.
In January, Jacob's uncle Steven Arsht, an orthopedic surgeon at Mount Sinai Hospital in Manhattan, was overcome with emotion upon receiving the first dose of vaccine. Remembering his deceased brother-in-law, he thought "this jab's for you."
Thus was born what has turned into a website (thisjabsforyou.com) and social media campaign that promote vaccination by encouraging people to dedicate their shot, or jab, to someone or something else that has been impacted by the pandemic.



Jacob Sarrel recently shared his story and work with the College's athletic communication staff on the Muhlenberg Mules Podcast.


"After months of grieving and being there for my mother and brother, my family embarked on a (hopefully) nationwide vaccination campaign," says Jacob. "We thought that every single person has been affected by COVID in some way, and what better way to decrease vaccine hesitancy than by dedicating the jab to someone or something else!"
The site includes templates to print out, featuring a yellow heart, and a touching video that stars Marla Sarrel, Jacob's mother, dedicating her vaccination shot to her late husband.
This Jab's For You, or TJFY for short, has also partnered with 16-year-old artist Hannah Ernst for digital portraits created to memorialize COVID victims. According to the website, "Hannah's work reminds us that 'these are not just numbers, they are lives.'"
"We've been very pleased," says Jacob of the response to TJFY. "We're based in New Jersey, but there's something about running the social media and seeing random pictures of people that are complete strangers in Florida, Manhattan and other places. We have no clue who they are, but they were deeply affected and have a big smile on their face as they're thinking about their loved ones during this."
The ultimate goal, of course, is to get everyone to embrace vaccination so life can return to normal as soon as possible. And when that happens, there will be no need for TJFY.
"I couldn't really wrap my head around that idea," says Jacob of TJFY being a short-term campaign. So he consulted with Gail Eisenberg, senior lecturer in Muhlenberg's accounting, business, economics and finance (ABEF) department who he had classes with the previous two semesters.
"Professor Eisenberg really simplified it and made me understand that you have to break this down into smaller sectors to grow as quickly as possible," he says. "You don't want to target people that aren't your audience yet, but they will be in a month. She helped me with who to focus on during what stages."
So what started as a family tragedy has turned into a real-world marketing experience for Jacob, who says he's been able to use the skills he's learned in his coursework for the TJFY campaign.
"I'm thankful for Muhlenberg and the ABEF department for helping me hone in on those skills," he says.