Second Annual Shankweiler Scholars Lecture Explores Sleep Hygiene
Dr. Shelley Hershner will discuss the importance of sleep and the challenges facing college students without sufficient rest.
Monday, February 21, 2022 10:14 AM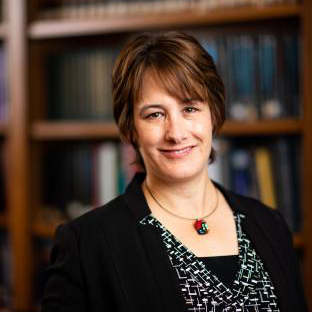 The Muhlenberg Shankweiler Scholars Class of 2024 will welcome Dr. Shelley Hershner to the College on Wednesday, March 2 at 7 p.m. Hershner will present "Sleep to Stay Awake" and will explore why college students are often sleepy, how this can affect students' academic performance and mental health as well as strategies for improving sleep hygiene. The event is free and open to the public.
Hershner is an associate professor of neurology and the director of the Collegiate Sleep Disorders Clinic at the University of Michigan. Her research and academic focus is on disordered sleep among college students and transgender individuals and how sleep impacts academic performance. She founded the innovative Collegiate Sleep Disorders Clinic, which has helped thousands of students at the University of Michigan over the last 10 years.
Hershner has created public health campaigns to promote healthy sleep on campus through outreach programs to students, teaching providers and advisors about the importance of sleep and educating student health advisory programs.
The Shankweiler Scholars lecture is an annual event in which the second-year class of Shankweiler Scholars identifies a topic related to the study of medicine and society, invites a scholar or practitioner whose research or work speaks to that issue, then invites that person to come to campus to share their research or work with the community. This 2021-2022 topic is sleep hygiene and the effects of sleep deprivation among college students in terms of their academic performance and mental health.
The Shankweiler Scholars Program is an honors program designed for highly motivated undergraduates who are preparing to pursue an MD degree after graduation and a life of serving humanity through clinical practice and/or research. As a liberal arts pre-medical experience, the program is particularly well-suited for pre-medical students planning to major in the humanities or social sciences or natural science majors with broad intellectual interests.