Professor Publishes Open-Source Book on Vidding
Francesca Coppa, chair of English literatures & writing and director of women's & gender studies, chronicles the history of the practice of fans splicing together video and music to create transformative works.
By: Meghan Kita Wednesday, April 13, 2022 01:38 PM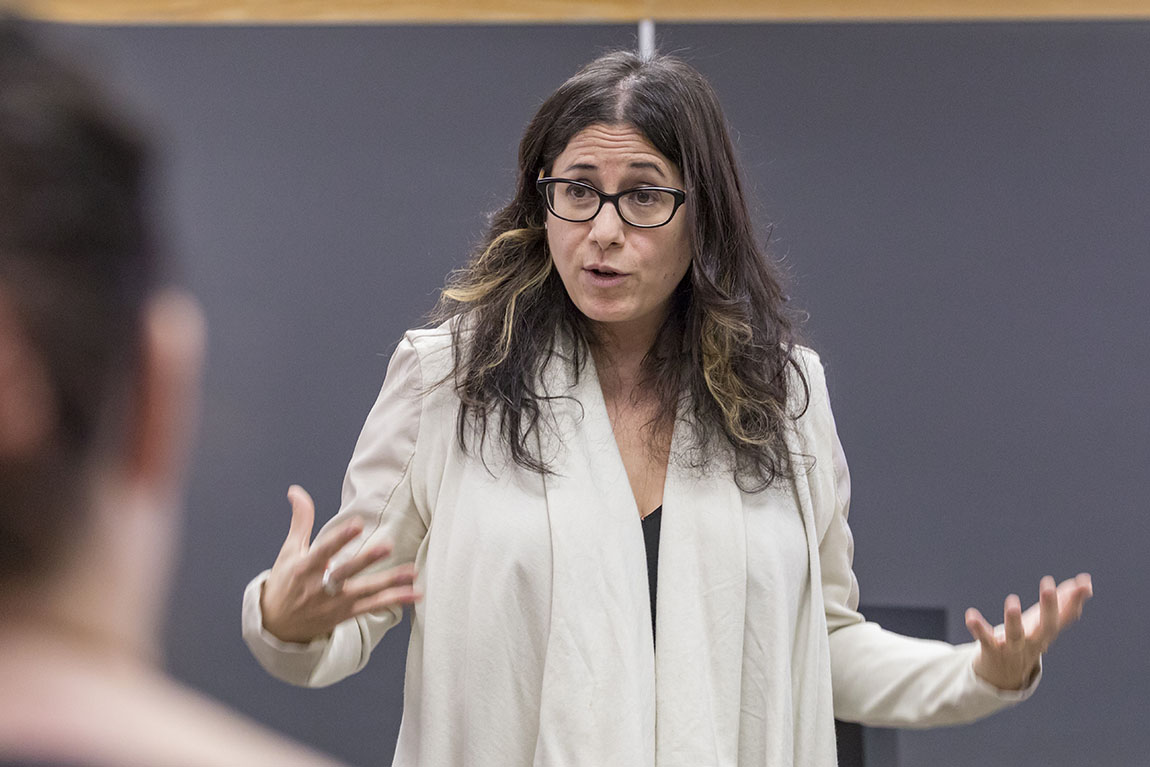 Professor of English and Film Studies Francesca Coppa teaching in 2018. Photo by Paul Pearson
Even though Professor of English and Film Studies Francesca Coppa's new book, Vidding: A History, is available as a paperback book, print has its limitations.
"I do a lot of my publication in open-access online journals, particularly when I'm doing stuff with media, because it's very easy to embed images and video," Coppa says. "The opportunity to do film studies work while integrating moving pictures is irresistible."
Vidding is also available as an open-access text online. Coppa says the support she received from Muhlenberg was instrumental in allowing her to publish the book this way. In addition to financial support, Coppa worked with the College's digital learning team (who helped her organize and store the videos before they went to her publisher) as well as a group of students (who helped caption the videos to ensure accessibility).
"I am really, really grateful to Muhlenberg and really proud of this work, which I think could only have happened here," Coppa says.
Vidding is a fan practice that dates back to the late 1960s, when Star Trek fans, inspired by the Beatles' exploration of avant-garde filmmaking, spliced together TV footage and pop music to create something new. Vidding continued on fan-traded VHS tapes throughout the ensuing decades, but with YouTube's launch in 2005 and the rise of broadband internet, smartphones and social media, it has expanded to a much larger audience. For example, Coppa was recently quoted in a Mashable article about vidding on TikTok.
Vidding is an art form dominated by women, Coppa says, many of them queer and/or people of color. Coppa, who also directs the Women's & Gender Studies Program, likens vidding to tailoring clothes: "Pop culture is kind of off-the-rack," she says. "[Vidders] are like, 'Okay, well, that doesn't really fit me, so I'm going to rip out the seams and change the sleeves and put a collar on it.' You remix something that doesn't quite speak to you."
The ability to embed video isn't the only reason Coppa favors open-access scholarship. She believes that it's better for students and professors to be able to utilize vetted, accurate information that's free and readily available—a position that Muhlenberg as an institution supports as well.
"The idea of walling up knowledge is just antithetical to everything any teacher wants to do, and certainly liberal arts college teachers," she says. "It's so important and so easy to give people access to good-quality scholarship. What you don't want is a world where inaccurate information is free and good information is paywalled. That's how you end up with a society that falls apart."