A Pediatrician's Remedy for Burnout
Running and coaching helped Dr. Michelle Quirk '05 realize she wanted to transition from a career as a hospitalist and urgent-care provider into a primary-care position.
By: Meghan Kita Friday, January 28, 2022 10:29 AM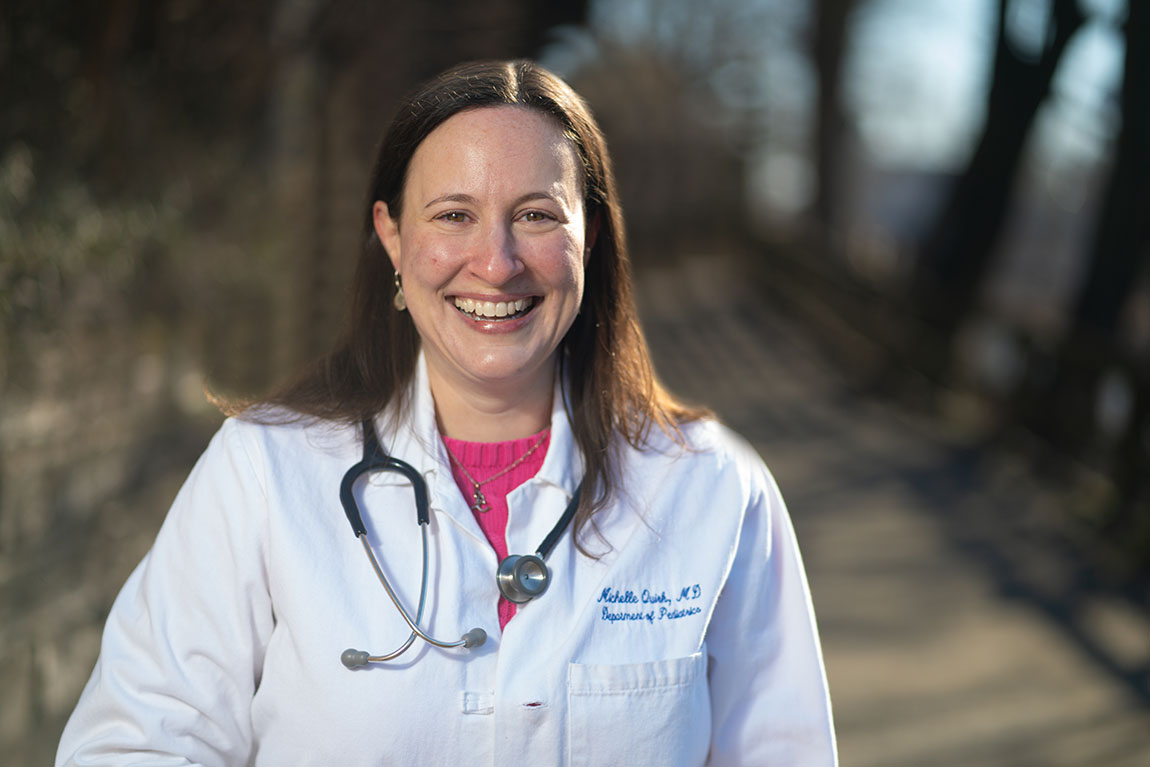 Dr. Michelle Quirk '05. Photos by Margo Reed
Burnout in medicine was prevalent even before the pandemic hit, according to Dr. Michelle Quirk '05. She knows because she experienced it. After her residency ended in 2012, she began work as a pediatric hospitalist and urgent care provider with Children's Hospital of Philadelphia. She was drawn to pediatrics because of how helpful she could be.
"I really liked how we could make an intervention and see the results quite quickly. Kids would come into the hospital so sick, you make an intervention and they're walking out the door feeling better," she says. "For the most part, there are a lot of great stories and outcomes in pediatrics."
Less great, however, was her schedule, which included weekends and holidays, some day shifts and some night shifts and some shifts that required her to be on call at the hospital.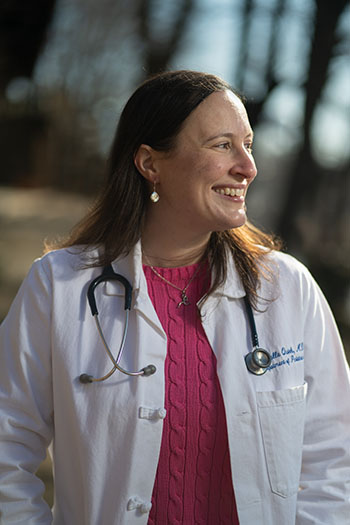 "In my first job, I was experiencing burnout, but I didn't know that's what it was. Now, people are talking about it more," says Quirk, who was a philosophy major on the premedical track at Muhlenberg. "Burnout in medicine is at an all-time high. Doctors are leaving medicine. The answer is not for all the doctors to leave."
The answer, for her, has been to practice what she preaches to patients and take care of herself. At first, she did that by starting to run. She completed her first 5K in 2013 and her first marathon in 2018.
"After that, I felt like I became an evangelist," she says. She started writing training plans for her family and friends. They found success and suggested that she think about coaching others. She took a certification course through Road Runners Club of America and founded a coaching business, Mindful Marathon, in 2019. She typically works with about five clients at a time.
"That has been a huge key for me in keeping me able to stay in medicine and do it a bit more on my terms and have this other thing that I do as well," she says. "Both of these things keep me going. I don't know that I could do one without the other."
2019 was also the year she applied for a primary-care pediatrician position in West Philadelphia, a role she began in July 2020. She realized that taking care of herself also meant a more regular schedule, without the sleep interruption of night shifts, and she has that now.
"It's been a really nice change to have patients I know and to follow them for well visits," she says. "The most rewarding part is being able to make a difference in the lives of children, catching them at that young age where you have a lot of influence, hopefully, to instill lifelong habits that stay with them."