Emanuela Kucik's Book Selected for Groundbreaking Publishing Partnership
One of the inaugural titles in a new collaboration between Columbia University Press and Howard University, Professor Kucik's literary history will focus on Black authors, genocide and the power of literature to turn the tide of public opinion.
By: Kristine Yahna Todaro Thursday, August 11, 2022 11:15 AM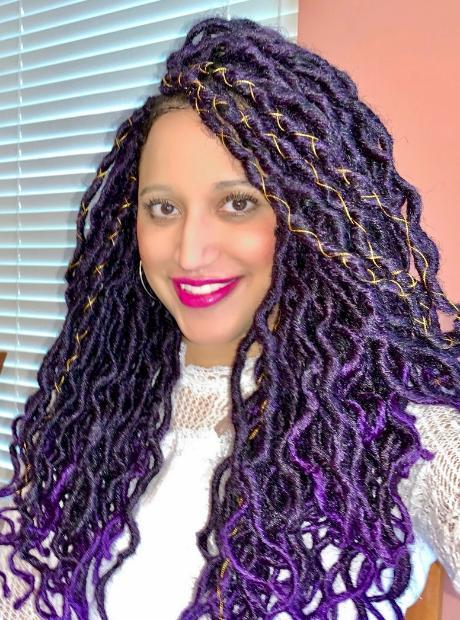 A forthcoming book by Assistant Professor of English and Africana Studies and director of Africana Studies Emanuela Kucik will be part of the Black Lives in the Diaspora: Past / Present / Future scholarly book series in the field of Black studies published by Columbia University Press (CUP) and Howard University.
This collaboration between a historically Black university and an Ivy League university's press is the first of its kind in academic publishing, according to the CUP website, and Kucik's publication will be one of the inaugural titles in the ongoing series.
Kucik's book manuscript, The Black Blood of Genocide: Tracing Genocide in Post-Holocaust African Diasporic Literature, is a literary history of how, since WWII, Black authors across the globe have used literature to raise awareness about anti-Black genocide and to encourage the public to help end that violence.
With the adoption of the Genocide Convention by the United Nations in 1948, "acts committed with the intent to destroy, in whole or in part, a national, ethnic, racial, or religous group" became illegal under international law (Article II, Genocide Convention).
Kucik notes that: "Post-Holocaust, Black writers around the world have tried to use the Genocide Convention to end anti-Black violence in their respective regions. For instance, African American authors in the Post-World War II U.S. took this concept of genocide and used it in specific ways to try and end lynchings and show the world that this violence now defied international law under the 1948 Genocide Convention. There is an underexplored, decades-long relationship between Black authors, Black communities and the concept of genocide, and Black Blood examines that relationship through a study of literature by Black authors from around the world and from various time periods."
The book is organized into sections that address Post-Holocaust Black writing from the following regions and time periods and about the following topics: the United States (lynching and police brutality in the Post-World War II Era through today); Nazi Germany (surviving the Holocaust and its aftermath as a Black German); Haiti (the 1937 Parsley Massacre of Haitians in the Dominican Republic); Rwanda (the 1994 Genocide against the Tutsi); and Sudan (the genocide in Darfur, which began in 2003 and continues today).
While Kucik's book engages with literature by analyzing fiction, memoirs and essays, it also considers literature as an expansive category and includes extensive analyses of newspaper writing as a form of literary production. The first two chapters, for example, explore the impact of the Black American Press on conversations around anti-Black genocide in the Post-World War II United States. Kucik notes that Black communities "were not waiting for the courts to agree with them and grant them a verdict of genocide. In the United States, for example, they were using newspapers and literature to convince the public that violence such as lynching was genocidal. These authors recognized that turning the tide of public opinion could be just as impactful as a courtroom verdict, and they published piece after piece to reach as many people as possible in the fight against anti-Black violence."
Kucik, who was recently named the inaugural Faculty Fellow for Diversity, Equity and Inclusion Initiatives at Muhlenberg, says she chose to teach at the College in part due to its commitment to interdisciplinarity. She feels the same about this project. "The series editors from CUP and Howard are really interested in how the various disciplines with which my project engages come together to explore this issue. Black Blood examines the overlap(s) between newspaper articles, memoirs, novels, genocide, human rights, and public opinion, and I am so grateful that the series editors are deeply invested in exploring those overlaps with me."
When discussing how she hopes Black Blood contributes to building a world without racialized violence, Kucik emphasizes again the importance of interdisciplinarity, noting that "we need the humanities, the natural sciences, the social sciences and other fields to work together to unravel and solve the rampant violence that people around the world are facing today."
It is Kucik's hope that the literary history presented in her book will inspire people to think about the ability of literature and writing to move us toward a world without genocide. "As I read their works, these authors gave me so much hope for a better, more just world; in the midst of unimaginable pain produced by the violence leveled against their communities (and, in many cases, by the murders of their family members), they produced bodies of inspiring work to help as many people as possible avoid the devastation they were experiencing. Their selflessness- sparked my project and motivates me daily. Since Black Blood is rooted in their life-changing, courageous words, my book is, at its core, an optimistic one. Genocide is a heartbreaking topic, but the book is, ultimately, a story of possibility and hope."