Jakeim Hart '16 to Make Broadway Debut in "Almost Famous: The Musical"
He will play band manager Dennis Hope and serve as understudy to the lead role of Russell Hammond.
By: Meghan Kita Monday, August 15, 2022 10:34 AM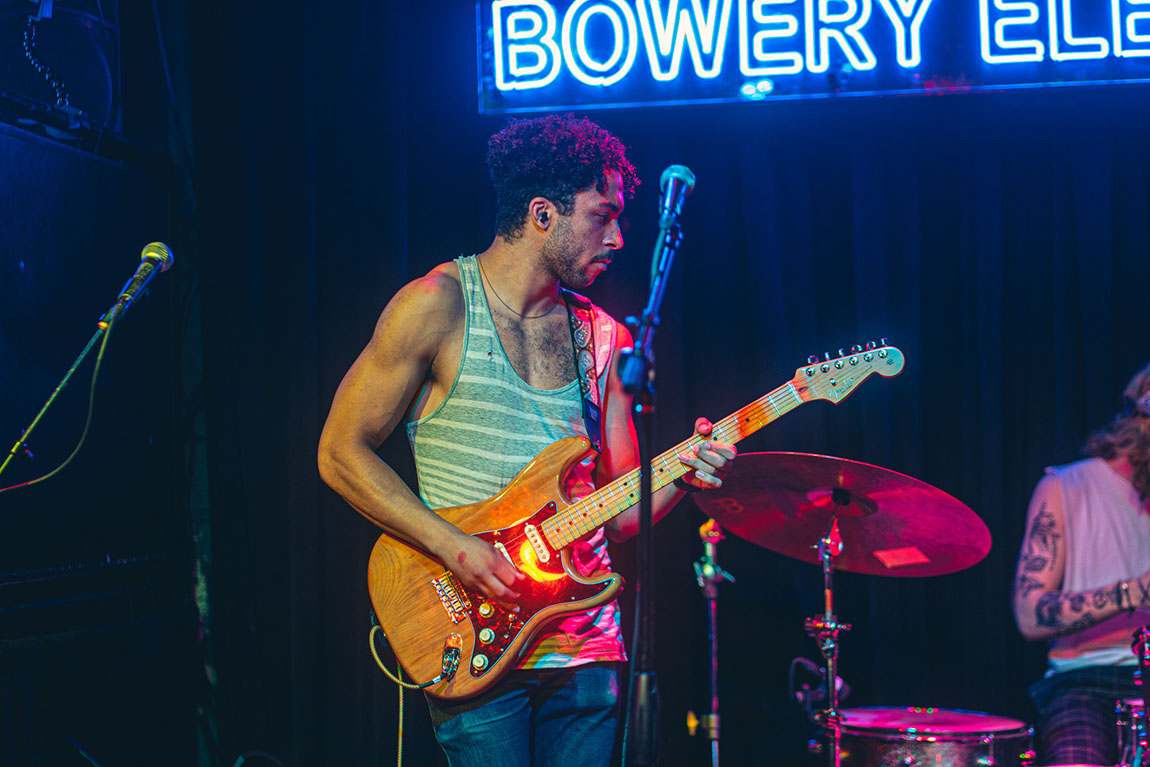 Jakeim Hart '16 performing in August 2021
Within just a few years of graduating, Jakeim Hart '16 learned the off-Broadway musical he'd been performing in, Sing Street, was being transferred to Broadway. He and his castmates were rehearsing eight hours a day, six days a week, to prepare for previews, which were set to start at the Lyceum Theatre on March 26 of that year.
That year was 2020, and we all know what happened next: Broadway shut down on March 12, and performances did not resume until 18 months later. (Sing Street has yet to hit Broadway, and if it does, it will be without its original cast.) The day of the shutdown was Sing Street's first day in the Lyceum for tech rehearsal: "We basically had a glorified sound check and then we were told the world was maybe ending," Hart recalls.
"You work so hard for something to come together, you see the finish line, the tape is right there, you're about to cross over and then it's like, 'You're disqualified,'" Hart says of the Sing Street experience. "It forced not only me but a lot of artists to go inward and see what else we have to offer the world besides our performances."
He found solace in music: He's been a musician (guitar, bass, piano, drums) for longer than he's been an actor. Many of his Sing Street castmates turned to music, too, and when venues began to open up in the summer of 2021, he returned to the stage to perform songs with four other artists who'd also seen their Broadway dreams dashed.
"It was my first time playing my original music for people. It was a good gig," says Hart, who was a theatre major and Africana studies minor at Muhlenberg. "We all turned toward each other because it was the only way to get through the day, making good music with one another."
Another show that had been set to debut on Broadway in spring 2020, Almost Famous: The Musical, had maintained some cast from its original run in the fall of 2019 but had a handful of roles open. Hart sent in a tape last year for the lead role, Russell Hammond, a role played by Billy Crudup in the 2000 film the musical is based on. When producers reached out to his agent months later, and after a callback over Zoom, they offered him the role of band manager Dennis Hope, which Jimmy Fallon played in the movie. (Hart will also be the understudy for the lead role.)
"[Hope is] this bloodsucking music executive—the absolute scum of the earth, responsible for ruining rock 'n' roll. Obviously, he thinks he's a good guy, and he sees the potential for all this money to be made, so he's just doing his job at the end of the day. I'm trying to find the humanity and the humor [in the character]," Hart says. "I am a musician. I would hate this dude if I ever met him. But you've got to work past that so the scene works."
The Almost Famous cast begins rehearsals at the end of this month. Previews are set to begin October 3 at the Bernard B. Jacobs Theatre, with an official opening on November 3.
"I've experienced the whole 'getting close and then just not making it' thing a couple times in my very short career," Hart says. "I've been told the more that happens, the better—it shows you're getting closer and closer to something. I'm choosing to think of it that way."
About the Muhlenberg College Theatre & Dance Department
Muhlenberg offers Bachelor of Arts degrees in theatre and dance. The Princeton Review ranked Muhlenberg's theatre program in the top twelve in the nation for eight years in a row, and Fiske Guide to Colleges lists both the theatre and dance programs among the top small college programs in the United States. Muhlenberg is one of only eight colleges to be listed in Fiske for both theatre and dance.