Shankweiler Scholar Helps Foster Allentown Children's Love of Learning in Community Bike Works Internship
Samantha Lipson '24 created her own reading program, Earn A Book, at the community nonprofit.
By: Sarah Wojcik Thursday, September 15, 2022 09:47 AM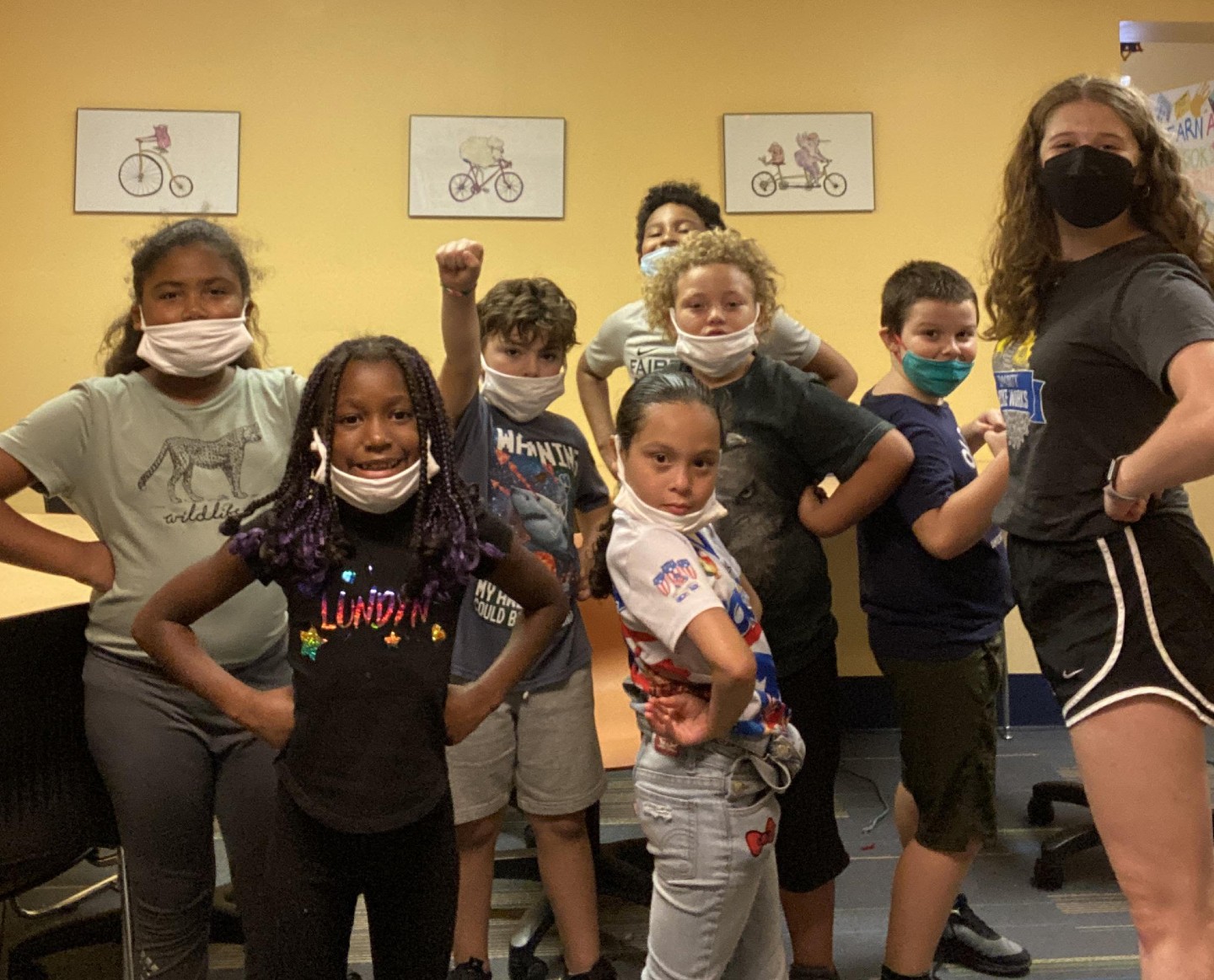 Samantha Lipson '23, far right, strikes a super hero pose with the children participating in the Earn a Book reading program, a part of the Allentown-based Community Bike Works.
Samantha Lipson '24 spent her summer training aspiring super heroes, resourceful creators, budding astronauts and miniature botanists.
The prehealth biochemistry and dance double major used the power of books to unlock the imaginations of grade school children in Allentown while fostering a lasting love of reading.
Lipson, already involved with the America Reads program through the Office of Community Engagement at the College, sought to make an impact locally. Lipson's internship was made possible through the Office of Community Engagement's Community Internship Program. This year, the program was funded through a $40,000 grant from the Harry C. Trexler Trust. She secured a position with Allentown's Community Bike Works, a nonprofit youth organization founded by alum Stefan Goslawski '68.
The organization is known for its Earn a Bike program, where kids help refurbish bikes and learn about riding safety while earning their own bicycle and helmet through attendance and participation in a weekly after-school program. Once they've earned a bike, children have continued access to the Community Bike Works building, which provides healthy snacks, a community library and educational programming.
Lipson spent her internship with Community Bike Works creating and running a new program, Earn a Book, which targeted students 7 to 9 years old.
"The goal for this program was to foster a love for reading, build each child their very own libraries and create a safe place for learning, while maintaining an inclusive environment that included diverse readings," Lipson explained.
Lipson created an original lesson plan based on group reading, moral lessons and messages about empowerment and growth. Lipson wanted the students to realize the treasure trove they had within their community: the Allentown Public Library.
When Lipson took the students to the library, they picked out any books they liked. She said this agency not only inspired excitement but also helped to eliminate the stigma of different reading levels. Students were able to work with program staff to improve their reading skills without pressure.
"Each child was on a different level. Some of them could read well, and some struggled. Some spoke English as their first language, and some spoke Spanish as their first language and were working to learn English," Lipson said. "In the end, I learned how to work with each of the children and to highlight their strengths and help them to improve their individual reading levels."
Interacting with children from different socioeconomic and linguistic backgrounds helped open Lipson's eyes to new perspectives.
"It was educational and wonderful to be exposed to … different cultures and perspectives," Lipson said. "As an aspiring doctor, I think it is really important to respect and try to understand people from various backgrounds."
Lipson said she learned the value of flexibility and adaptability while working for a nonprofit, where staffing and resources can be limited. But she said the opportunity to interact with the children of the community each day provided an endless supply of inspiration.
When she looks back on the experience, Lipson, a Shankweiler Scholar, said she's confident that her Muhlenberg experience provided her the support to succeed at her internship.
"My Shankweiler curriculum includes a focus on communication through cultural awareness, language and dance," she said. "I was able to continue learning more about different people's life experiences, while connecting through books."