In-Person WeWork Internship Preps Theatre Major for Post-College Life
Joey Marcacci '23 supports the members of two coworking spaces in his hometown of San Francisco.
By: Meghan Kita Wednesday, July 27, 2022 07:16 AM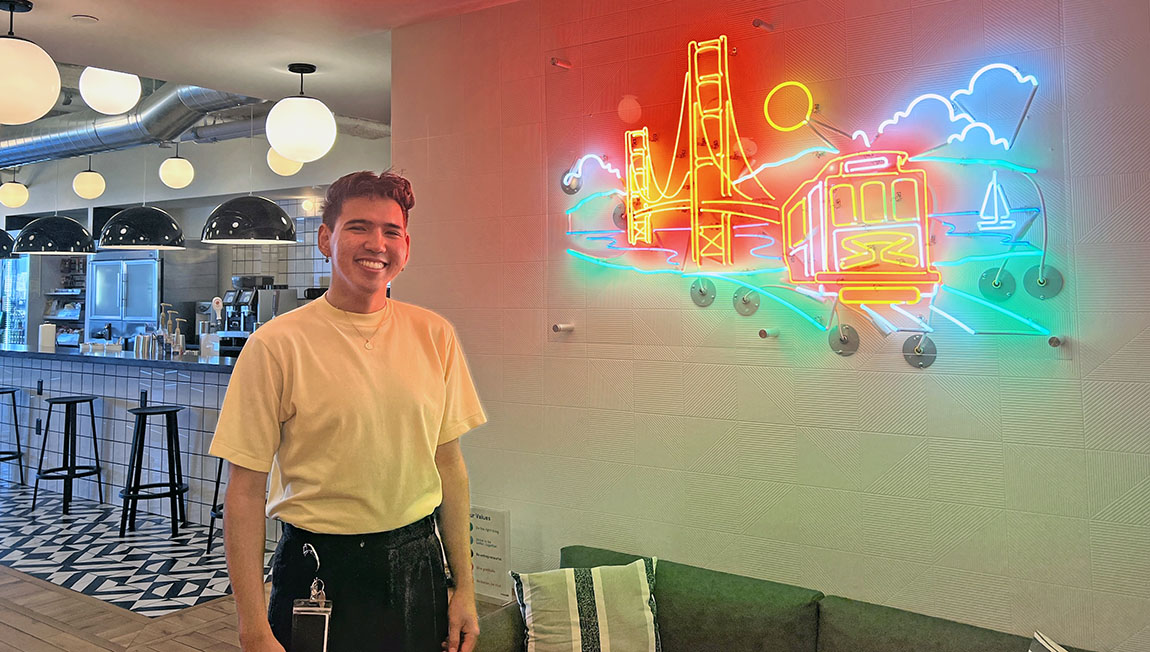 Joey Marcacci '23
Joey Marcacci '23 has not yet watched the Hulu documentary about his summer employer, WeWork, but he is familiar with its dramatic past. For those who are not, the company, which popularized coworking spaces in urban areas, failed in its initial public offering in 2019, the start of what a New York Times report called "an implosion unlike any other in the history of start-ups."
"Even during orientation, they were very open about it," says Marcacci, a theatre major and business administration minor. "There are a lot of people I get to network with and talk with who've been here since all the craziness that happened. The people who stuck with the company talk about how they really saw a future with the company and it coming out better, which it has since then."
Marcacci is a full-time, in-person community intern for two WeWork locations in his hometown of San Francisco. He works at the front desk and ensures that members have what they need and that the facilities are fully operational and stocked. He also works on projects, including planning events at the two buildings for members. Each day is different and he's rarely behind a desk for too long—two things he enjoys about the work.
"While I see myself as a performer and a creative person, I also have an interest in business and industry operations. I feel that both of these passions have contributed to my success at this internship," he says. "What I really appreciate is that one of WeWork's values is 'be entrepreneurial,' which makes me feel like I, even as an intern, have the opportunity to be listened to and bring up bold ideas that can help the company grow in a substantial way."
He also appreciates the experience of physically going to the office (or, the coworking spaces) every day, especially after only having remote internships previously: "Commuting and having a full-time job are important skills to have," he says. "As a college senior, it's really important to have that experience, [to get] into the mindset and process of what it's going to be like to be a fully-functioning adult after college."