New Mathematics Course Creates Opportunity to Elicit Social Change
A new course taught by Truman L. Koehler '24 Professor in Mathematics Linda McGuire is one of the mathematics & computer science department's latest efforts designed to address issues of equity, diversity and inclusion in the discipline.
By: Heather Mayer Irvine Thursday, March 10, 2022 03:55 PM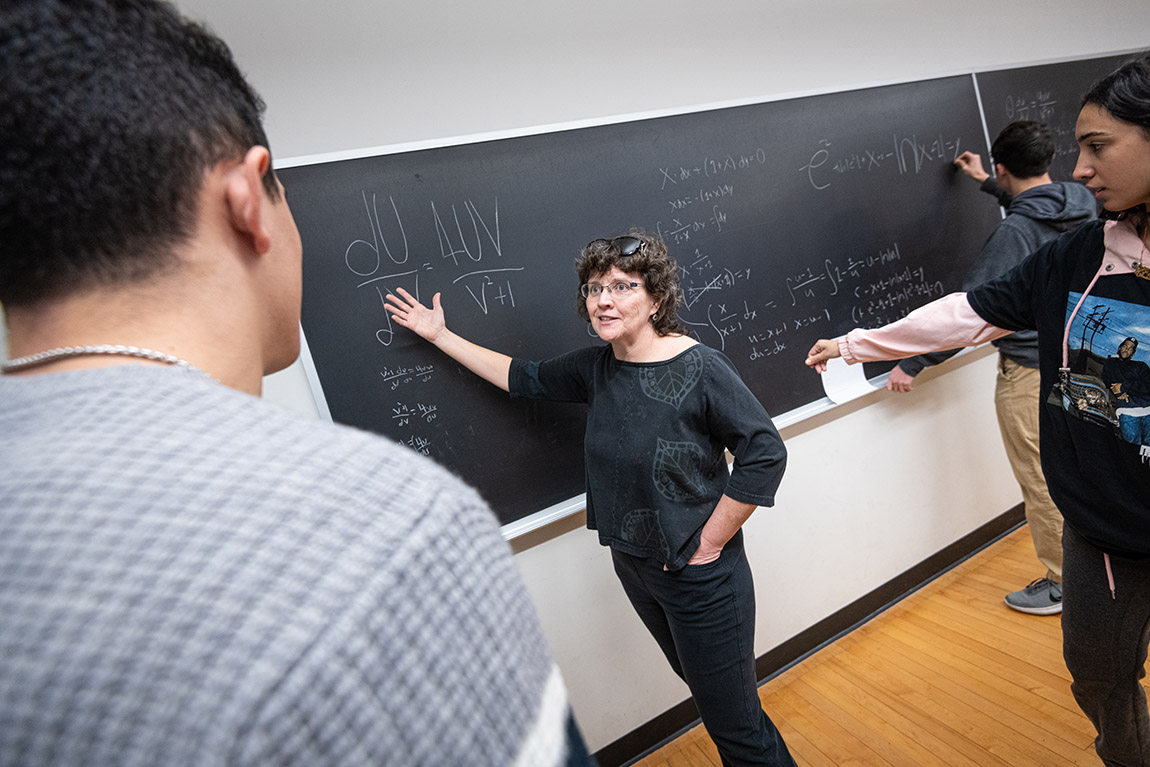 Truman L. Koehler '24 Professor in Mathematics Linda McGuire speaks to a student in October 2019.
Truman L. Koehler '24 Professor in Mathematics Linda McGuire's Mathematics for Social Justice, which launched in the spring 2022 semester, shows students how math can help them understand and critique public discourse, assess data in the public sphere and pose probing and well-informed questions.
"We want to show them how mathematics can support their efforts to support change," she says.
McGuire knows that the science, technology, engineering and mathematics (STEM) field can be intimidating; 40 percent of interested students switch majors before graduation. She hopes a course designed to show mathematics' real-world uses will draw in students who might not otherwise focus on STEM—and allow those students to apply what they learn to advancing social justice efforts.
McGuire's students study algorithms and the role they play in everyday living. For example, in predictive policing, computer systems analyze data to determine where to deploy police or to identify people who might be more likely to report or be a victim of a crime. Algorithms may be used during hiring processes to determine who might get shortlisted for an interview based solely on numbers.
"We look at some basic math and suggest how those algorithms are working under the hood," McGuire says. The course, she says, will show students the limitations of relying solely upon math in situations that are more complex than the numbers alone would indicate.
This type of insight can lead to questions for software developers about how a particular program is developed, making them rethink that process.
"That alone can lead to a powerful outcome," she says.
Abbey Robuck '24, an international studies major, was hesitant about taking a math course to fulfill the reasoning curricular requirement. But she trusted McGuire and was intrigued by the course.
"I loved the premise of integrating humanities into a math class," she says. "It made the course seem more approachable, and it has allowed me to learn about social justice in a new and different way."
McGuire is excited about the prospect of the future of the course; the spring section filled up, and it's been approved for the fall semester.
"Our department knew the course had potential to draw students because so many Muhlenberg College students are interested in activism and social justice," McGuire says. "It fits in with our liberal arts mission, and students will bring different experiences."
Harli Strauss-Cohn '24, a sustainability studies and international studies double major with a concentration in gender and sexuality, chose the course because it fulfilled a requirement while also having the potential to help them use math in their real-world interests, including predictive policing and other issues of inequity.
"This class continues to broaden my knowledge of math and its impact on people and our politics, which will benefit me as I try to work, vote and act for justice and restructure harmful practices and structures," Strauss-Cohn says.