Political Powerhouse
Alex Wagner '23 strives to make a difference, at the College, in Pennsylvania and beyond.
By: By Kevin Rosa '23 Monday, October 10, 2022 04:03 PM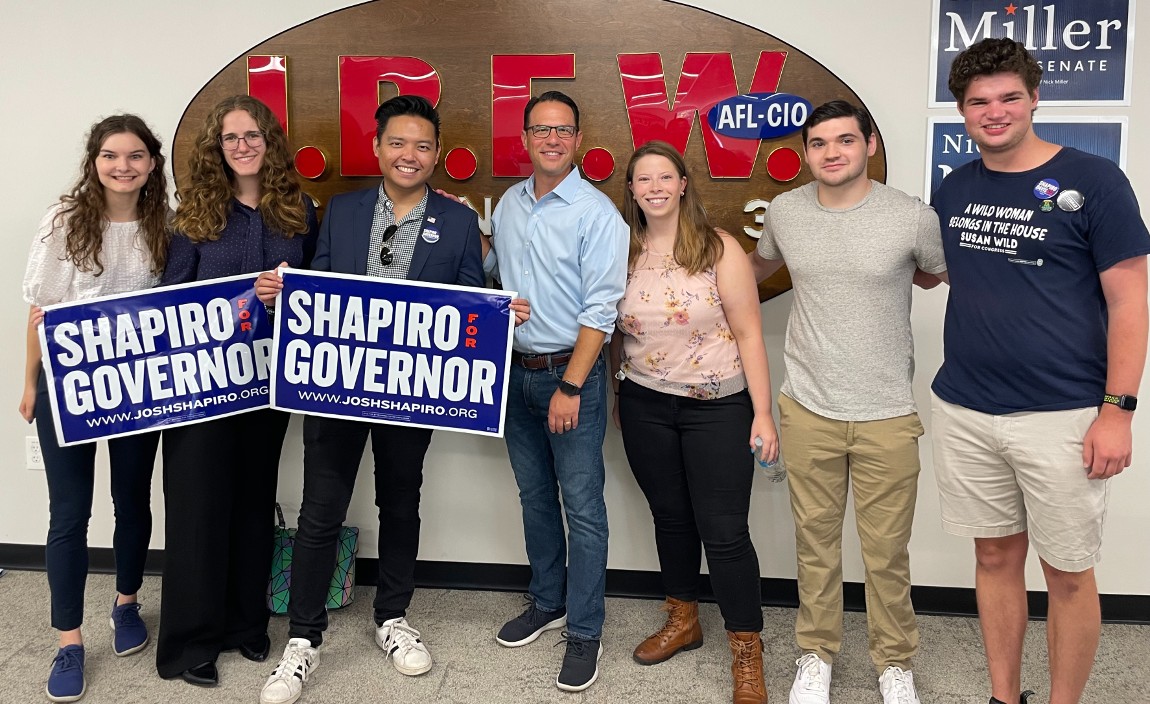 Senior Alex Wagner (third from left) and other students with Josh Shapiro (center) who is running for governor of Pennsylvania.
Senior Alex Wagner is no stranger to the tough grind of politics. Throughout his years at Muhlenberg, he has been involved in various political campaigns — from working with Andrea Campbell who is running for attorney general in his home state of Massachusetts, to assisting Pennsylvania candidates John Fetterman and Josh Shapiro.
After serving as a paid intern last year on Fetterman's ongoing campaign for the U.S. Senate spot, Wagner worked on Campbell's campaign over the summer. A history and political science double major, he was responsible for managing interns for the entire state of Massachusetts, which involved assigning tasks and making sure the interns' work experience was enjoyable. It entailed, he says, "tons of phone calls, long car rides and a lot of coffee."
Campbell won the primary. Wagner's experience, along with the midterm elections looming on November 8, spurred him to continue with these efforts back at Muhlenberg for Pennsylvania, an important battleground state.
Wagner, who is the political director for the College Democrats, recently founded a Muhlenberg chapter of Students for Shapiro, an organization designed to encourage students to both register to vote and to help elect Josh Shapiro as the new governor of Pennsylvania.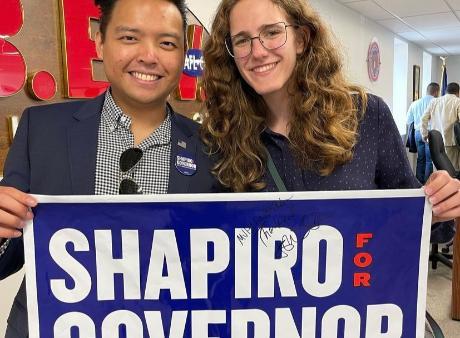 Along with co-director Alex Schamberger '26 (pictured with Wagner) and other students in the College Democrats, Wagner has been canvassing, staffing phone banks and weekly text banks, working with state party officials and setting up voter registration.
With the important midterm election races heating up, Wagner hopes to make a contribution during his final year at the College and to make many more in his future endeavors.
Muhlenberg College offers over 120 student clubs and organizations, including College Democrats, College Republicans and BergVotes. Learn more here.