Muhlenberg grad works in Sierra Leone as part of Princeton in Africa Fellowship
Olivia Charendoff '20 is working with the International Rescue Committee to help support business development, healthcare initiatives and female empowerment in the African country for the next year.
By: Sarah Wojcik Monday, August 8, 2022 03:16 PM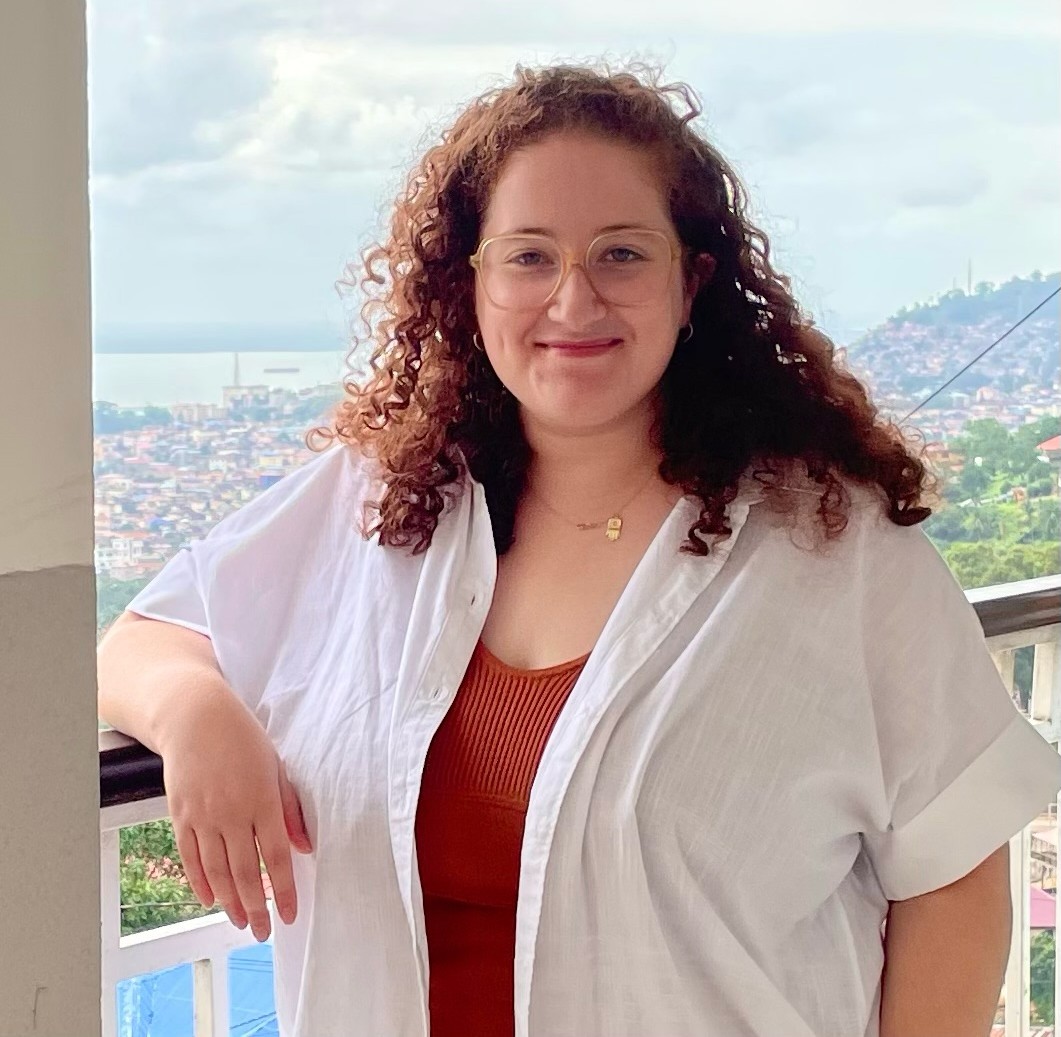 Olivia Charendoff arrived in Freetown, Sierra Leone in July 2022.
Olivia Charendoff '20 spent the years since her graduation from Muhlenberg helping with peacebuilding efforts in Africa from afar. Internships with Search for Common Ground and Centers for Civilians in Conflict, two D.C.-based organizations focused on strengthening peace efforts and protecting vulnerable civilians on the continent, were fulfilling and impactful.
The only thing missing was experiencing these efforts on the ground, alongside the people she was learning from, working with and helping to support.
That all changed this summer after Charendoff earned a spot as part of the Princeton in Africa Fellowship. She and 27 other fellows will spend the next year working alongside 17 organizations within 13 different African countries.
Princeton in Africa is an independent, non-profit organization affiliated with Princeton University and seeks to develop future leaders dedicated to African affairs. Charendoff is the first Muhlenberg alumni to earn a fellowship with the program.
A French & Francophone studies major with minors in political science and anthropology, Charnedoff is living in Freetown, Sierra Leone, for the next year. She is working with the International Rescue Committee, where she'll be writing grants and supporting projects aimed at helping support business development in the country, healthcare initiatives and female empowerment.
Charendoff believes it's essential that people supporting positive change in countries like Sierra Leone spend time there themselves to understand the culture and the people.
"One of the reasons I went after this opportunity was because I had done so much remote support programming … I really wanted to get experience actually living and working in one of these countries," Charendoff said. "We tend to forget that all people don't live the way we do and all people aren't always interested in living the way we do. I hope that this year gives me the knowledge and experience that makes my participation in international development more ethical."
When she reflects on how she arrived in the bustling port city through such a competitive fellowship, Charendoff's mind immediately goes back to her Muhlenberg experience and the ways in which she was encouraged to expand her academic interests at every turn.
"There's so much mentorship and so much one-on-one attention paid to your path and the support you need," Charendoff said. "Something that definitely got me to where I am now is that anything I was interested in, I was allowed and encouraged to explore and tie it into what I was already doing."
Initially interested in studying theatre, Charendoff said she was captivated early by French & Francophone studies. As her years went on, she found herself drawn to political science and anthropology and—more specifically—the ways in which the fields approached concepts with different viewpoints.
But it was her French studies, Charendoff said, that helped propel her to her post-graduate opportunities, where her fluency and translation skills were in high demand.
"French & Francophone studies opened up so many doors for me. I'm so grateful for that major," she said.
So far, living in Freetown has been humbling, Charendoff said, as she learns to navigate a world very different from the one she's been used to. Unable to use the internet to get the answers she needs, Charendoff has found an unexpected trade-off: immediate entry in a welcoming community.
"And that's something that I've learned so many Americans take for granted—we have so much information at our fingertips that we don't have to interact with the people in our community," she said. "But if I need something here, I have to get it by word of mouth. And so these social relationships here are totally different. People here operate with much better faith assumptions in people they don't know."