Student Spotlight: Mustafa Hall
Meet a student who found an outlet for self-discovery and self-love through writing and poetry.
By: AJ Henley '24 Tuesday, April 12, 2022 09:54 AM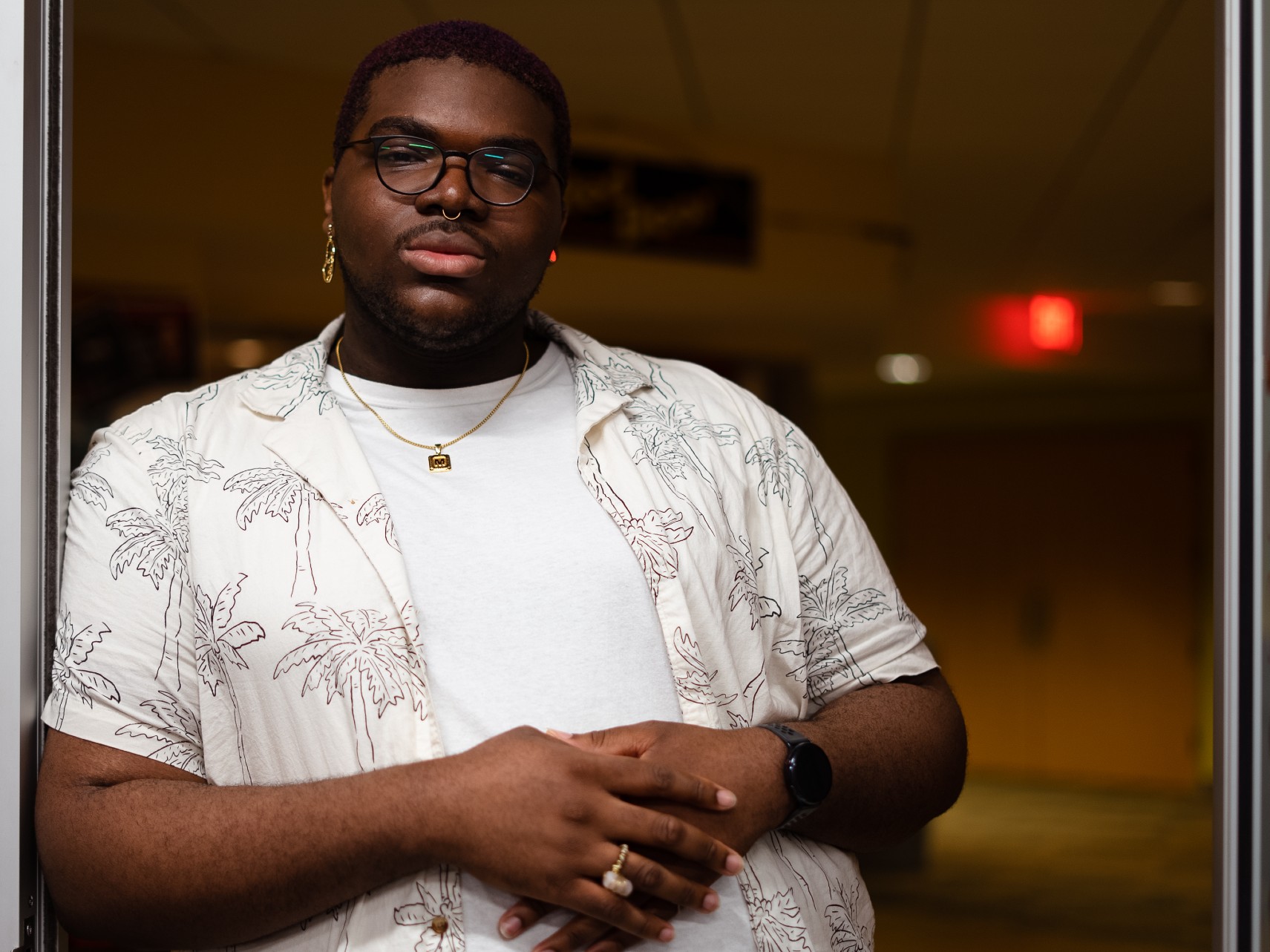 Photo by Anaya Battle '22
The following Q&A is an excerpt of a student spotlight piece about Mustafa Hall '23, written by AJ Henley '24. Hall is the Op/Ed editor and a regular contributor to The Muhlenberg Weekly as well as a member of the President's Diversity Advisory Council, a cohort of faculty, staff and students committed to enhancing diversity and equity on campus. To read the full story, visit the Office of Multicultural Life website.
---
Mustafa Hall '23, a sociology major with an Africana studies minor, says that his journey at Muhlenberg College has been influenced heavily by his identity.
My relationship with my identity at Muhlenberg has been a process that has required immense self-work, introspection and therapy. When I look back at my freshman year, I see someone desperately trying to understand how they relate to a student body that is heavily white and straight.
It's obvious now that my self-identity never faced so much rattling. I simply didn't know who I was. However, over time and now being in my junior year, I understand where I lie in relation to those around me: I simply don't fit and I don't seek to. To fit in means to conform and to conform means to bend and crack at your spirit to make it palatable to those around you. I refuse to do that. With that, I have found my people who match my energy and am content with not blending in with the larger white, straight population of Muhlenberg. I find joy in standing out, and I take immense pride in being overtly against the norm of what it means to be a Black man.
His identity as a Queer Black man affects not only his personal experiences, but his art as well.
My main art form is writing and poetry. Writing has always been a major part of my life as well as my Black Queerness. Writing allows me to better understand myself and the lived experiences that have influenced how I navigate the world. Furthermore, in every piece that I write (poetry, an Op/Ed, etc.), my Blackness and/or Queerness are involved in some way or another. It's impossible, in my eyes, to separate art from complex and layered identities because they feed and thrive off of each other. Without my art, my Black Queer identity is hollow. Same thing for my writing in relation to my identity.
From drag shows to open mic nights, he has thrived onstage at Muhlenberg, though he didn't expect it.
My all-time favorite experience at Muhlenberg was being a part of my first ever drag show, the first semester of freshman year. Prior to this show, I have never performed in front of people nor nurtured the feminine energy that coats parts of my soul. This show taught me so much, but the lesson that I hold closest to my heart is that I can do absolutely anything that I set my mind to—and that I am a powerful being, filled with vigorous energy. It also bettered the relationship I had with my Queerness and melted years of shame off while simultaneously pushing me to ask myself, "Who am I and how do I want the world to see me?"