The Fairest of Them All
George Psomas '05 reflects on his time in the Broadway National Tour of "My Fair Lady."
By: Grace Oddo '22 Thursday, August 4, 2022 03:27 PM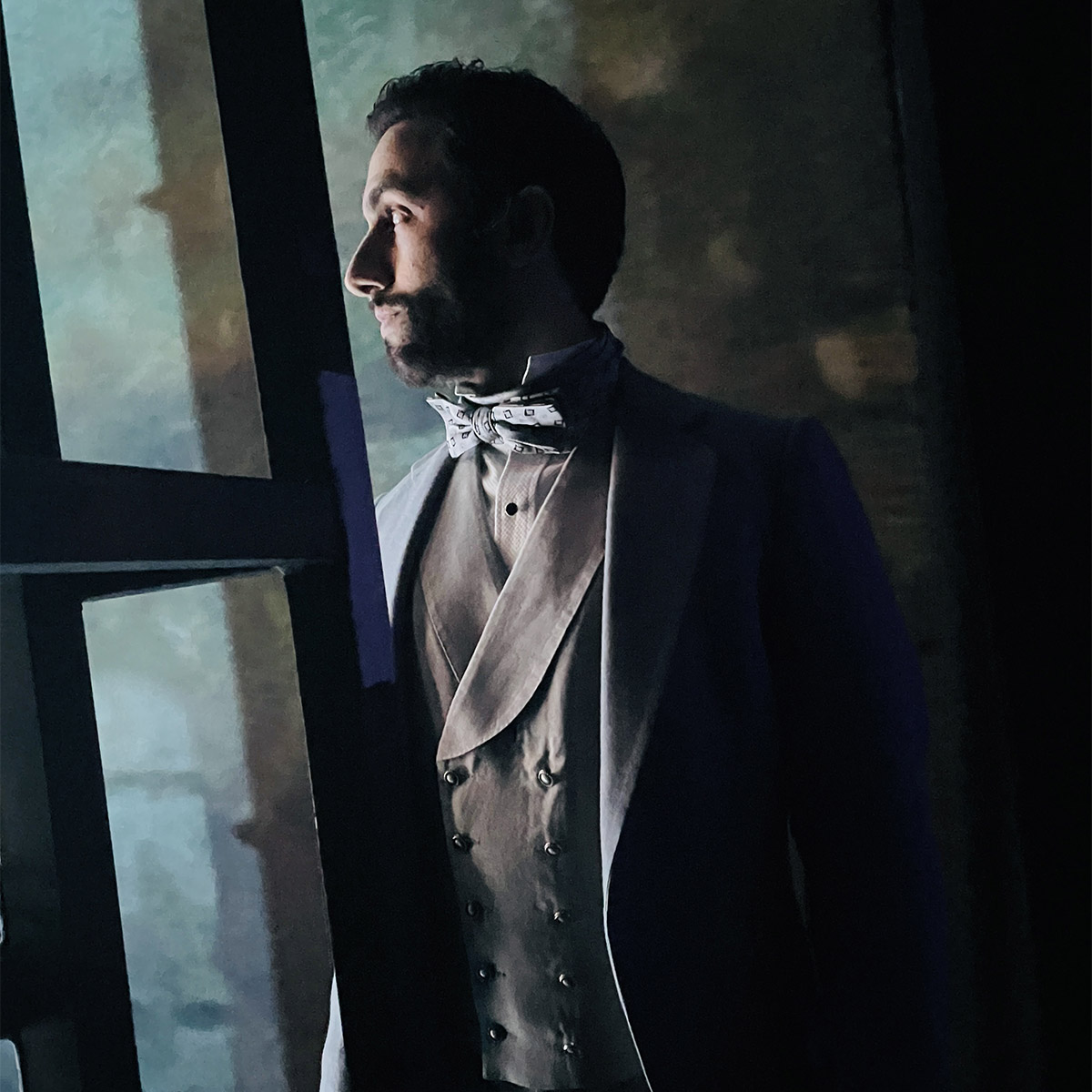 George Psomas '05 is wrapping up the Broadway National Tour of "My Fair Lady." Photo courtesy of George Psomas.
In August of 2021, George Psomas '05 was walking down West 34th street in New York City when his phone rang—it was his agent, calling with big news. Someone had recently dropped out of the national tour of My Fair Lady, and a replacement was needed as soon as possible. Psomas, who had been working in real estate while COVID rampaged, said yes immediately.
"We were one of the first shows to re-open after the Broadway shutdown," says Psomas. "So of course I said yes! It was an unexpected and very exciting turn of events."
Psomas gave the interview for this piece from his hotel room in Detroit, where the national tour of "My Fair Lady" is performing one of its final legs. Psomas has been on tour with the company since September 2021.
"Being on this tour has been such a blessing," he says. "We have seen so many great cities and performed in some of the most beautiful theatres in the country."
Psomas refers to the casts that he performs with as his surrogate "families." When he was in the Broadway revival of South Pacific in 2008, he had his "South Pacific family." Years later, he appeared in the 2015 Broadway revival of Fiddler on the Roof—the cast of which he affectionately refers to as his "Fiddler family." Out on the road, the cast of My Fair Lady is as close as can be, as Psomas gushes that he wouldn't have it any other way.
"When you get to build and create art together…that's something really magical," he says.
Psomas, who was a theatre and business major while at Muhlenberg, covers "11 male tracks", sometimes even playing multiple roles in one performance. Not only did Psomas have to learn a lot, he had a limited amount of time to do so—the rehearsal and tech process was only 10 days long.
"Having only seen [My Fair Lady] twice before, this process was very intense," recalls Psomas. "But at the end of the day, you are hired for a reason. You have to trust the process and trust in yourself."
Psomas also understudies the role of "Freddy" and has performed the role 14 times thus far throughout the tour. Freddy sings "On the Street Where You Live," an iconic Broadway standard. Getting to sing a song sung by so many greats from both stage and screen has been an incredible experience for Psomas.
"Getting to stand in a Catherine Zuber tuxedo [Zuber is the Tony Award-winning costume designer of My Fair Lady] while singing one of the greatest songs in musical theatre?…You can't beat that."
Another Muhlenberg alum and friend of Psomas', Michael Biren '08, is also in the cast and serves as dance captain.
"The last time Michael and I were in a show together was when we did Pirates of Penzance at Muhlenberg; I played the Pirate King, and he played Samuel. It's been so great getting to work together professionally and having another member of the Muhlenberg community here—definitely a full circle moment."
Psomas also admits that being on a national tour during COVID-times is extremely challenging both onstage and off. Production staff take extra precautions to keep members of the company safe, including mandatory testing and masking. These safety protocols have led to some humorous moments.
"Have some of us walked on stage in a mask before? Absolutely. But these are just the times we're living in. We just laugh it off," he says, chuckling.
The tour concludes in Fayetteville, Arkansas on August 14. After that, Psomas looks forward to returning home to New York City, where he will be the title character in the workshop of a new musical.
"It's a workshop of a new musical that I've been with for a few years now," he says. "My character ages from 5-50 years old over the course of the piece. It's a very heartfelt coming-of-age story and I'm really excited about it."