Moving Toward Diversity
A new website showcases student research on Black history at Muhlenberg.
By: Meghan Kita Monday, March 28, 2022 07:56 AM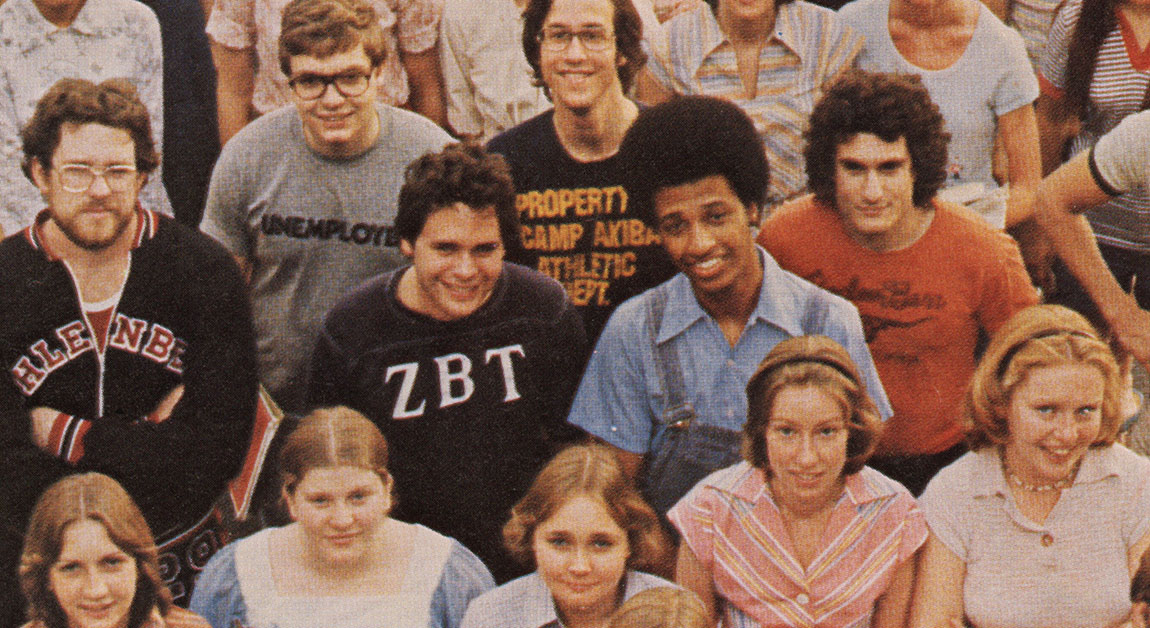 Harold Hillman '77 (in blue) was one of the alumni interviewed for a project exploring Black history at Muhlenberg.
Last spring, Hailey Petrus '23 and Samantha Brenner '21 conducted independent research to help create Toward Diversity, a site that chronicles the history of the Black community at Muhlenberg. The students each got to choose what they'd like to focus on. Petrus found herself drawn toward the parallels between Black student experiences in the past and those of today. For example, in 1971, Black students asked for a Black residential house, a request that the president at the time denied. This academic year, the Black Students Association (BSA) finally got one.
"As we continue to do more diversity, equity and inclusion [DEI] work at Muhlenberg, I think it is still very important to acknowledge the small wins and victories that we've had thus far," says Petrus, an American studies major who's president of the BSA. "There's so much that Muhlenberg has done so far that does deserve to be recognized as well as so much we still have to work on."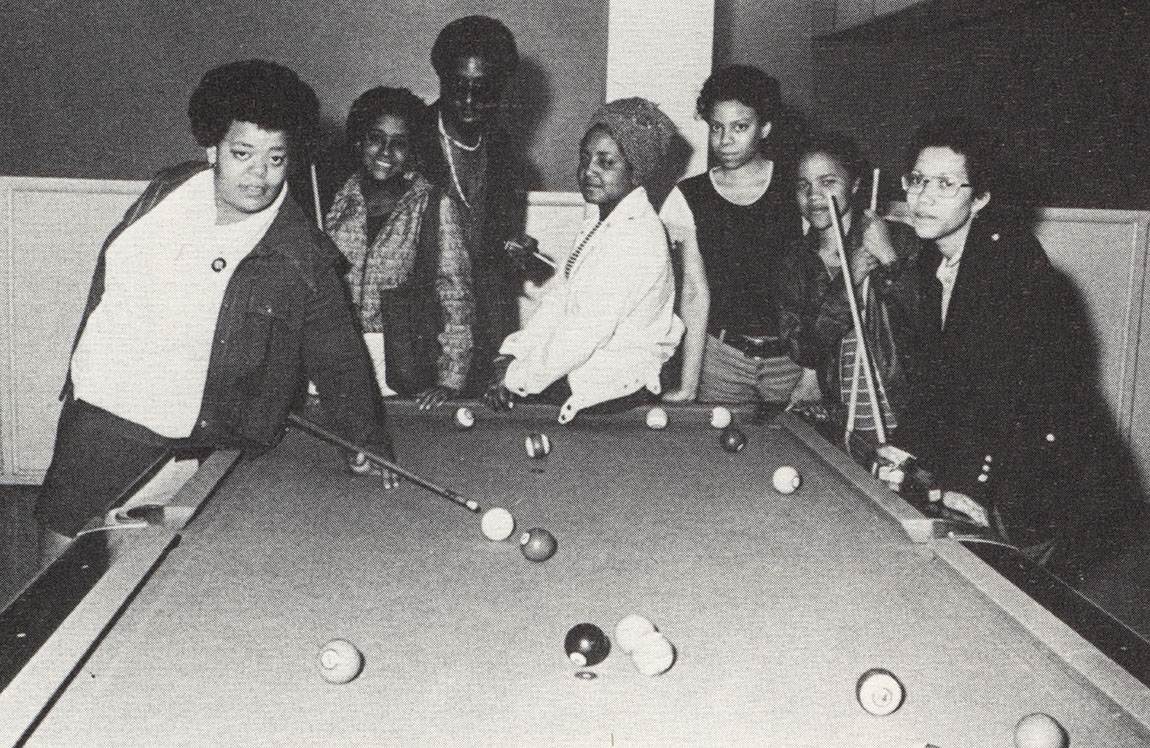 The Association of Black Collegians (pictured in the 1973 Ciarla yearbook) was an early precursor to the BSA.
Toward Diversity is the latest chapter of the Muhlenberg Memories Project, a site that compiles student coursework and research pertaining to the College's history. The faculty and staff behind the site are Special Collections and Archives Librarian Susan Falciani Maldonado, Emerita Assistant Professor of Media & Communication Kate Ranieri and Digital Cultures Media Technologist Anthony Dalton.

The idea for Toward Diversity came from Lecturer of Media & Communication and Africana Studies Roberta Meek, who mentioned to Falciani Maldonado that a peer institution had something similar. Falciani Maldonado then realized there was no centralized location for the College's DEI history. As students worked on other sections of the Muhlenberg Memories Project and uncovered DEI-related information, she would note it. About two years ago, as Ranieri prepared to retire, the team decided to begin this work in earnest.
They approached Assistant Professor of English and Africana Studies and Co-Director of Africana Studies Emanuela Kucik, who's also faculty advisor for the BSA, to see if she might know of students interested in an independent research project about Black history at Muhlenberg. Petrus and Brenner signed on. Throughout last spring, they met weekly with the instructor trio to hone their areas of interest and to learn how to navigate the archives and collect oral histories. (As part of the project, the students and instructors conducted 12 interviews with alumni, students and former and current faculty and staff.) That experience was especially illuminating for Brenner, a Jewish studies major and an English minor: "It was very hard for me to learn this, but my perfect Muhlenberg was not perfect for other people …It was hard to hear about all these [alumni] coming to the same school I was going to and having terrible experiences."

Petrus (right) interviewed two current students, including Veda Bridgelal '24 (left), as part of the project.
After the students finished their work, the Muhlenberg Memories Project team brought the student work together with their own research to create the site that became Toward Diversity. Late last fall, they shared the site with Petrus, Brenner, Meek and Kucik, as well as Associate Provost for Faculty and Diversity Initiatives Brooke Vick and Associate Dean of Students and Director of Student Diversity Initiatives Robin Riley-Casey.
"We wanted to see if there were unanswered questions or anything not represented accurately or that might be problematic," Falciani Maldonado says. "We wanted feedback because we wanted this to tell a story without being distracting in any ways that were not helpful."
At that point, Kucik suggested debuting the site during Black History Month. The team planned an event that took place over Zoom on February 15. The students and faculty presented their work, and then guests had the opportunity to ask questions of them or of the three alumni interviewed for the project who were part of the panel of guests. One hundred people registered to attend the event, and most were in attendance.
"To look at the site is fantastic, but to hear from these individuals who actually lived this makes it so much more real, for students in particular," Kucik says. "For students, it can feel like it's so long ago, so divorced from the students' reality. To see these alumni, it makes their experience so much more present. It comes to life in a different way."
One of the panelists at the Zoom event on February 15 was Natalie Francis Shannon-Jackson '73, who was also interviewed for an oral history alongside her roommate and friend Colette Crum-Coates '73.
"It was rewarding to share my past experiences and see the present accomplishments of the current Muhlenberg community. I really felt that Muhlenberg was interested in recreating the history of African American student involvement on campus. I was so honored to have participated in that," Shannon-Jackson says. "When I saw the progress that has been made in terms of African American participation in Muhlenberg life ... I felt Muhlenberg is supporting diversity on many different levels. I was honored to know that my personal struggle had some part in creating these positive changes in student life today. I was moved by it. I would've never expected such a dramatic change from then to now."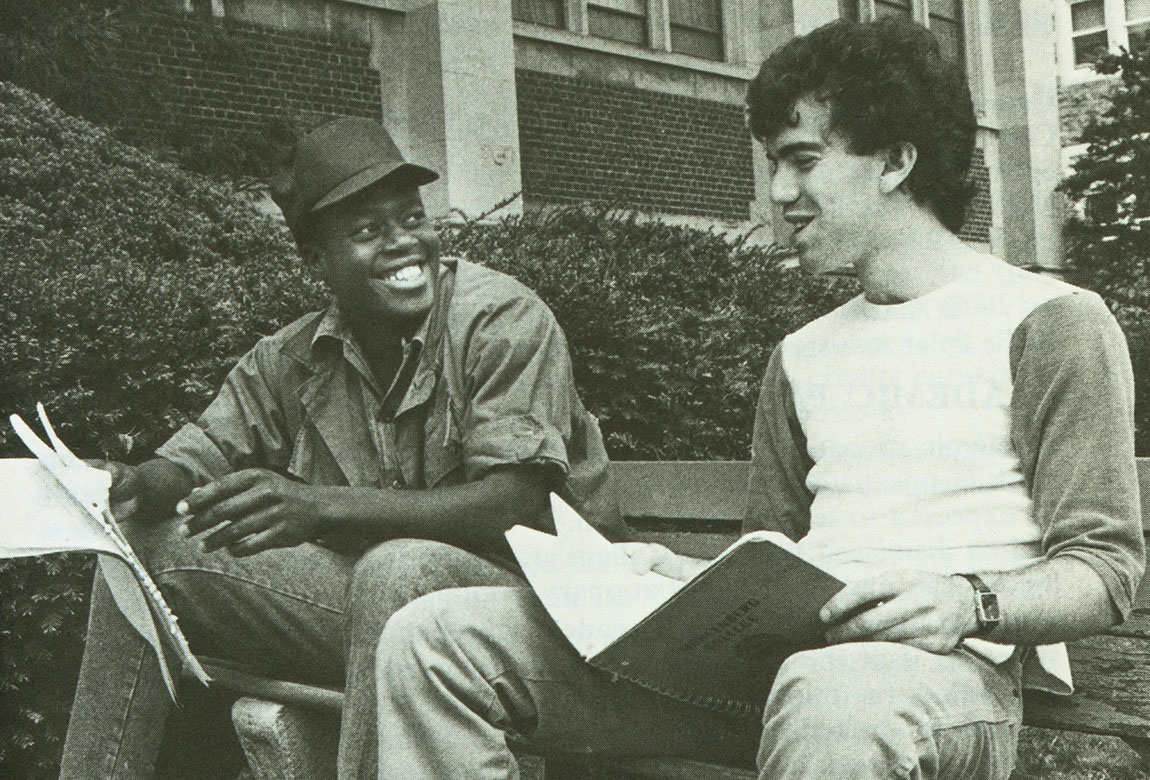 An image from the 1984-1985 course catalog
Toward Diversity was presented as a work in progress. The team would like to enlist students to collect more oral histories (of the 25 alumni they contacted, they only heard back from eight) and pursue ideas that came about during this first independent study. For example, as Brenner looked through catalogs to chronicle how diverse course offerings changed over time, she noted how frequently Black students were pictured. The use of pictures of students of color in College publications is something Petrus says the group discussed as a future potential area of research. This summer, Giovanni Merrifield '23, a Spanish major and Africana studies minor, will research the life and activism of the late Diane Williams '72, who cofounded the College's first affinity group for Black students and whom the BSA house is named after.
For Petrus, the project is about "being able to know those stories, being able to acknowledge those stories and being able to acknowledge those people and what they did for Muhlenberg," she says. "If they wouldn't have come here and fought those fights that they fought, I probably wouldn't be here now. I do believe that that set the tone for the rest of us to come in."