Muhlenberg Announces Winners of Writing and Journalism Awards, Honors Seniors
The Creative Writing and Journalism Program hosted its first in-person awards dinner since the pandemic began.
By: Grace Oddo '22 Thursday, May 5, 2022 09:12 AM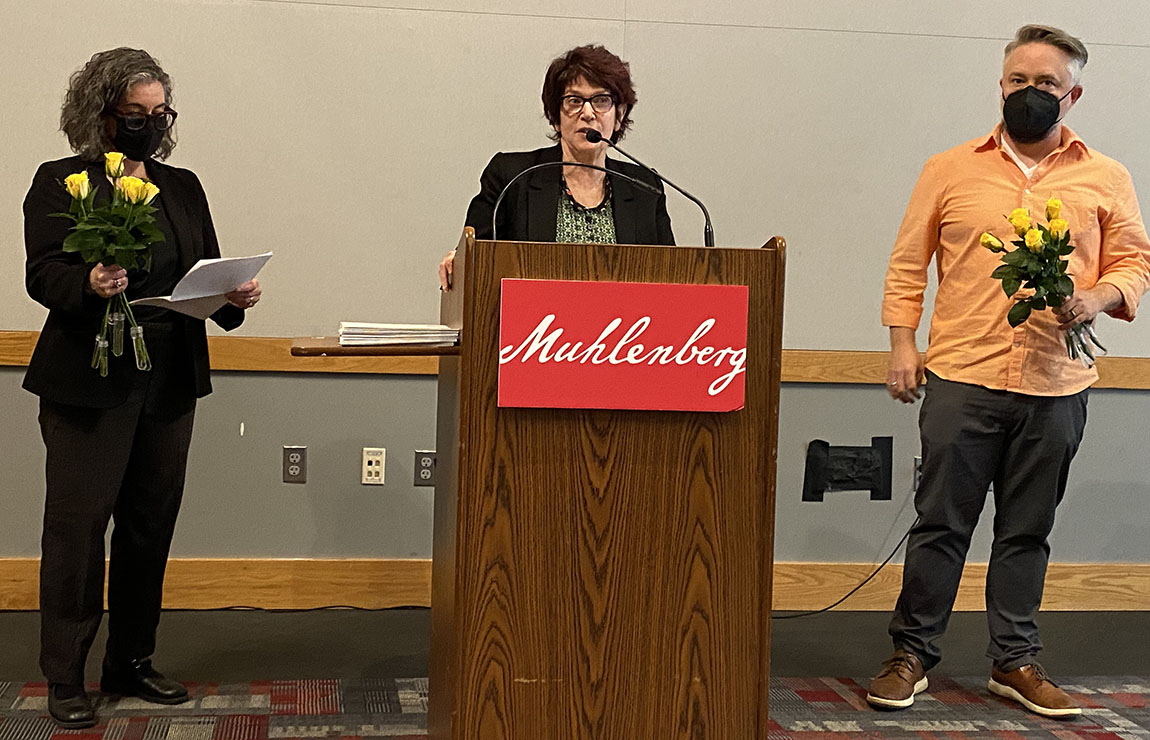 Lecturer of Media & Communication Sara Vigneri, Associate Professor of English Literatures & Writing Linda Miller and Visiting Assistant Professor of Theatre and Writer-In-Residence Gabriel Dean at the writing awards ceremony. Photo by Grace Oddo '22
On Monday, April 25, Muhlenberg's student writers gathered in the Great Room to enjoy a meal and to hear the winners of the Edwin W. Miller Writing Awards and The Muhlenberg Weekly Journalism Awards. This is the first time that the awards ceremony has been in-person since the start of the pandemic.
"Everything went so well," says Linda Miller, associate professor of English literatures & writing and director of the Creative Writing & Journalism Program. "Programs like these are so successful because they develop a sense of community. We all get to come together and celebrate what we do, which is writing."
The Edwin W. Miller Awards, named after the late publisher and editor who had a passion for higher education, recognizes students who have done outstanding work in the categories of fiction, nonfiction, poetry and drama. Students can submit pieces of their choosing, which are reviewed by faculty as well as a professional writer. Similarly, The Muhlenberg Weekly Journalism Awards honor the writers of the College's student-run newspaper. This year, the categories were news stories, feature stories and opinion/personal essays. All winners received cash prizes and feedback from the judges.
At the end of the awards presentation, Miller presented seniors Ally Duvak '22, an English major and creative writing and French & francophone studies double minor, and Caya Greenspan-Layman '22, a sociology major and creative writing minor, with the Excellence in Writing Award, which is given to two seniors who have done exceptional work. Duvak's passion for playwriting was commended; for Greenspan-Layman, her Honors thesis. Additionally, all graduating seniors were sent off with a yellow rose and a hug from Miller.
Recipients of each award are as follows:
Edwin W. Miller Writing Awards
Awards in Fiction
First Place: HoneyJo Yanko '25 for "I Used to Have My Mother's Eyes"
Second Place (tie): Emma Klaus '23 for "Lost City" and Peyton Sloan '23 for "Canary"
Honorable Mentions: Avital Zemel '22 for "A Sculpture of His Body After Alice Neel's Andy Warhol," Sarah Wedeking '24 for "Now You See Me" and Morgan Bishop '22 for "Breathe"
Awards in Poetry
First Place (tie): Sophie Naghski '24 for "Blooming Earthward" and Oyinkansola Adebajo '24 for "Not Your NBC"
Second Place (tie): Hannah Weil '23 for "The Three Stages of Small-Town Entrapment & other poems," Margaret Silbaugh '23 for "Things I Find in Boxes in the Basement" and Nico Correa '24 for "Mapping My Hometown with Radio Static"
Honorable Mentions: Hope Biddle '23 for "The Likelihood of Being Forgotten & Other Poems" and Haylie La Testa '23 for "I Am the Witch"
Awards in Nonfiction
First Place (tie): Libby Bergier-Pesin '23 for "Welcome Home & Other Essays," Caya Greenspan-Layman '22 for "Double-Barreled Blues" and Carina Filemyr '23 for "Series of Sequential Shifts"
Honorable Mentions: Nora Dryden '24 for "Schrodinger's Cat," Carly Giacoio '22 for "Purple Planet" and Hannah Michelson '22 for "Podophobia & Podophilia"
Awards in Drama
First Place: Bird Palermo '25 for "The Mud"
Second Place (tie): Lauren Silverstein '23 for "Is He Gay?" and Amira Jackson '24 for "The Blessed Kent of the Amobis"
Honorable Mentions: Hannah Michelson '22 for "Wedding Day," Taylor Cornelius '22 for "Ivory" and Daliah Bernstein '21 for "Agnoshtick"
Awards for Excellence in Writing
Ally Duvak '22 and Caya Greenspan-Layman '22
The Muhlenberg Weekly Journalism Awards
Awards in News Reporting
First Place: "The Allentown housing crisis: the fight for affordable housing" by Kat Dickey '22
Second Place: "From prison to 'Berg: The story of Jose Rivera" by Alex Blum '22
Awards in Feature Stories
First Place: "The sad fate of recyclable plastics" by Amanda Clark '22
Second Place: "Our lives will never be the same again" by Katie Behling '22
Awards in Opinion/Personal Essays
First Place: "Considering the ethics of family vloggers" by Brianna Kovit '23
Second Place: "We too deserve to smile" by Mustafa Hall '23