"Change Is Easier to Create Together"
In my second year taking part in the Alliance for Justice Active Leadership initiative, I served as a student co-facilitator, which gave me a lot of confidence to bring into other campus leadership roles.
By: AnnaMaria Fernandez '24, as told to Keanna Peña '25 Wednesday, February 15, 2023 03:28 PM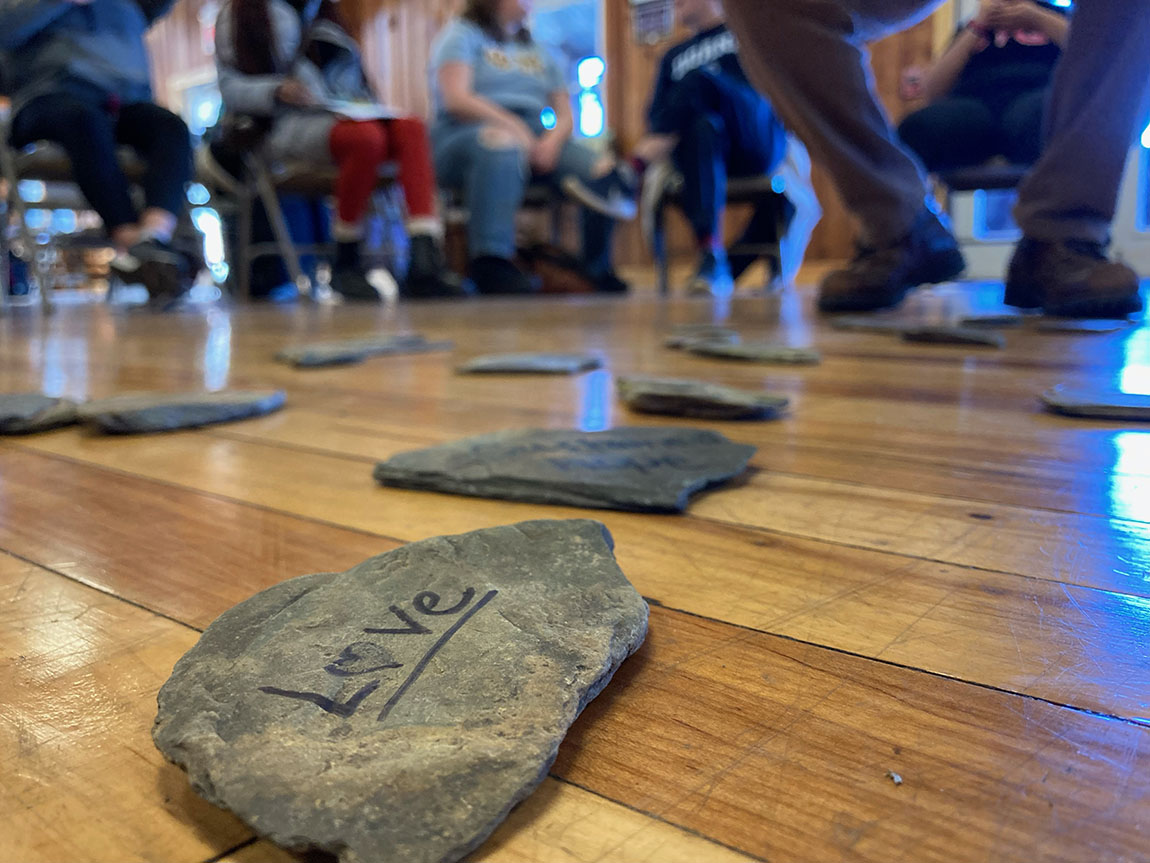 As part of the AJAL retreat, participants were asked to write a word that they were carrying with them from the experience on a rock. Photo courtesy Janelle Neubauer.
The Alliance for Justice Active Leadership (AJAL) initiative aims to provide a network of students with the resources and tools to proceed in coalition building with and beyond each other. Since 2010, it has been a collaborative campus initiative that consists of two two-hour workshops and a weekend-long retreat. AJAL is facilitated by the Offices of Multicultural Life, Community Engagement and Religious & Spiritual Life. This year, for the first time, students were invited to be co-facilitators in the hopes that it would affirm student leadership and give students an opportunity to share with their peers what they have learned about engaging their community. AnnaMaria Fernandez '24, a theatre and sociology double major and a dance minor, was one of the student co-facilitators of AJAL this year.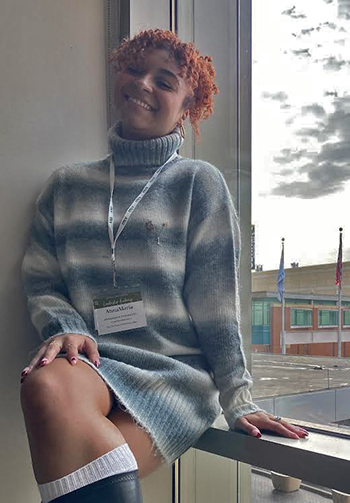 The first time I went to AJAL [as a sophomore], I had just been appointed vice president of diversity, equity and inclusion of my sorority, Alpha Chi Omega. The Panhellenic Council, the Muhlenberg governing body of sororities, requires each sorority's diversity leaders to go to AJAL.
When I went last year, I learned a lot of valuable information and resources that I could not only take back to my chapter but use to make a difference on campus. I learned how to facilitate and participate in dialogue; the difference between dialogue, discussion and debate; and how conversation is not just used to bounce ideas around but can also be used to create change. I learned how change is easier to create together versus alone.
This year I got an email from [Associate Dean of Students and Director of Student Diversity Initiatives] Robin Riley-Casey, [Associate Director of Community Engagement] Eveily Freeman, [Chaplain] Janelle Neubauer and [Director of Community Engagement] Beth Halpern, asking me to apply to co-facilitate AJAL. It was the first time they ever asked students to do that. Muhlenberg had never invited students to work with the Offices of Community Engagement and Multicultural Life to create the schedule and decide what [student participants] would actually do. In the past, they had students facilitate activities or give morning affirmations, but they never had any students work to create, collaborate and teach.
Michaela Morgan '23 and I were the first people they chose to become co-facilitators of AJAL.
As a whole, my experience was really unique. I was given the same amount of authority as the staff leaders. They viewed Michaela and I as equals and truly wanted our input. I felt seen, and so to be told that I was doing a good job, that what I was doing was making a difference, meant a lot to me.
The staff leaders of AJAL wanted me to bring my own perspective without censoring, and it gave me a lot of confidence in going forward with my next endeavors, especially because I'm now president of my sorority. As president, I have to be unbiased and I have to facilitate dialogue. AJAL organizers created a space and an opportunity for me to feel and know that I am qualified.