In-Person Alumni Week Returns To Muhlenberg College With New Career Center Connections Conference
The cross-disciplinary two-day event includes speakers and panel discussions centered around alumni who hail from a variety of fields and industries.
By: Sarah M. Wojcik Thursday, March 9, 2023 10:01 AM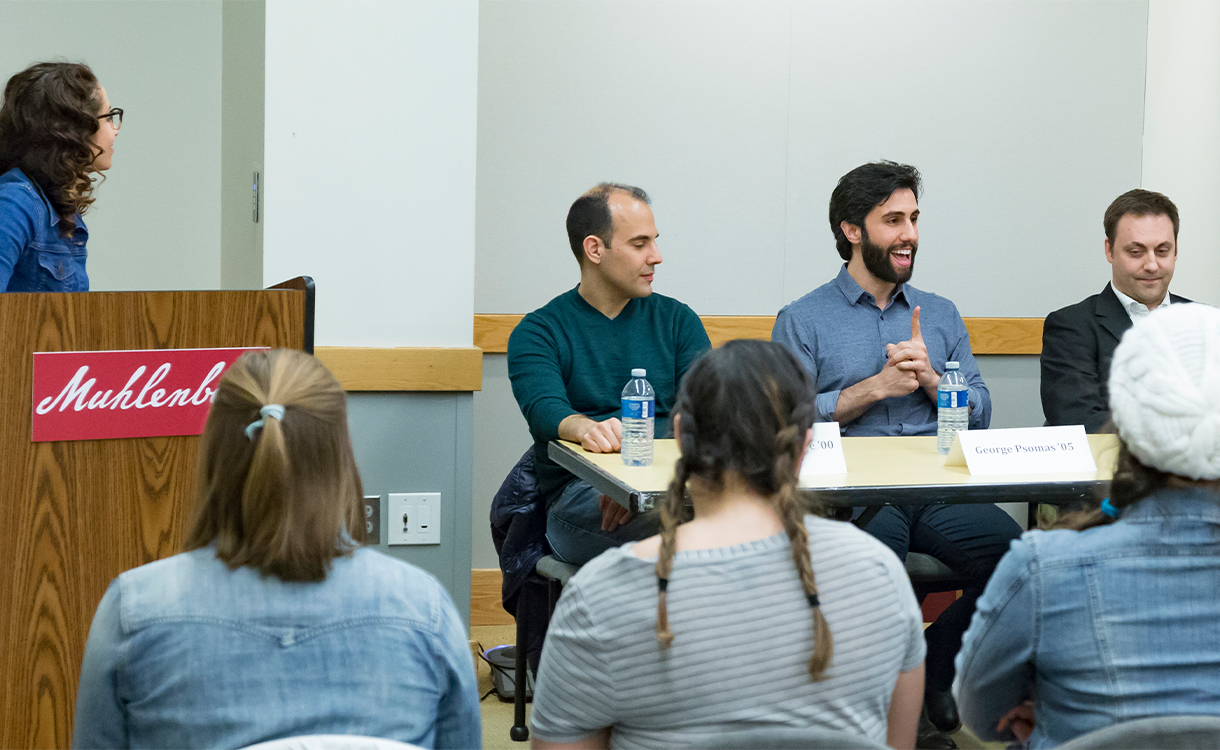 A panel of alumni visited Muhlenberg College in 2017.
Muhlenberg students will have the opportunity to return to in-person networking during this year's Alumni Week as the Career Center adds a new component to the long-held tradition: the Connections Conference.
This two-day event, on March 23 and 24, will include a variety of alumni speakers and panel discussions where students can gain insight and inspiration from fellow Mules. Students must register for the events they're interested in attending. A full schedule and links for registration are available on the Connections Conference Alumni Week webpage.
The Department of Media & Communication and the Film Studies Program were the pioneers of Alumni Week and this year are offering students a packed four-day schedule of events from March 20 to March 23.
Chiquita Griffin, director of employer and alumni engagement with the Career Center, said the new Connections Conference is designed to tap into many different majors and professional pathways.
"The return to an in-person format allows a different level of connection than the virtual events," Griffin said. "Students will have the opportunity to not only engage during Q&A but also in more casual conversations between sessions as well as over lunch. We're really excited to provide such a range of alumni in the Connections Conference, there is really something for all students."
Thursday, March 23, will feature three panels: one with alumni who are thought leaders, one with alumni who are trailblazers and one with alumni working in engagement and social responsibility.
Friday's sessions, which start at 10 a.m., drill down into more specific industries with alumni sharing about marketing, research, accounting and more. Students can also learn about critical information regarding employment benefits and job offers from the College's Vice President of Human Resources Jill Walsh.
Both days include opportunities for students to chat, network and connect with visiting alumni.